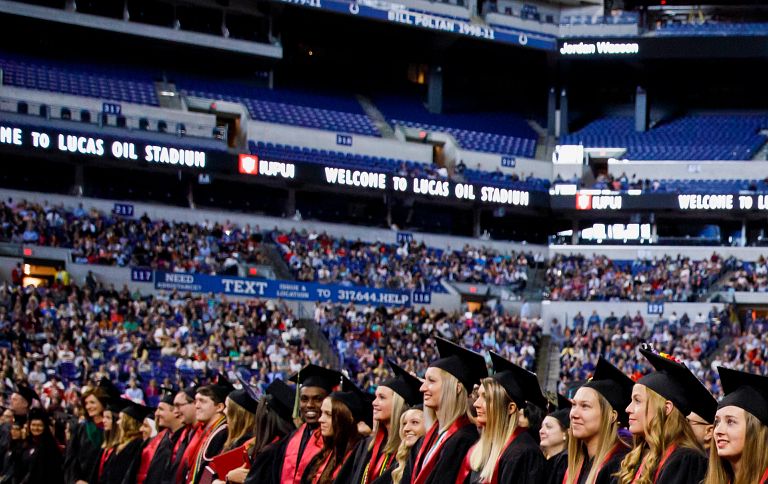 The world looks a bit different this time of year for IUPUI graduates than usual. Rather than happy families packing an arena for commencement, those same families are preparing to crowd around screens to celebrate their graduates virtually.
When they do, they'll see Lore'al Avery. A graduating senior, Avery was selected as the 2020 commencement speaker after an interview process. Her online speech will reach approximately 7,000 classmates and their guests.
But her journey to the finish line didn't happen without a few bumps in the road. IUPUI had been her destination for some time, after she was exposed to the university thanks to her mother.
"I first heard about IUPUI because my mom went here for a while when I was 15, and she bought me a sweatshirt from the campus bookstore," Avery said. "I used to go to the IT building with her and thought it was so cool.
"I did my own research and learned that IUPUI had a really strong business school, and at that point I knew it was where I wanted to get my degree."
She enrolled at IUPUI for her freshman year, but things didn't turn out the way she had planned. She failed a class, withdrew from the university and found herself across town at Ivy Tech. Two years and four appearances on the dean's list later, she returned for some unfinished business at IUPUI.
"Honestly, the transition back to IUPUI was intimidating to me," Avery said. "While the staff in University College and the Kelley School of Business were very helpful, in the back of my mind, I was scared that I would fail a class again and go through the same experience I had the first time around.
"But I was surrounded by people who encouraged me and led me to resources to help me understand material and eventually complete my degree."
Not only did Avery find success in the classroom, but she got involved in plenty of campus groups and activities. Since May 2019, she's served as the communications and marketing intern for the IUPUI Office of Community Engagement, and she's also spent time as a peer advisor in the Office of Academic and Career Development. She is a member of Alpha Kappa Alpha Sorority Inc. in the Kappa Chapter and serves as the vice president of the Circle City National Panhellenic Council.
Juggling everything isn't always the easiest, but Avery has leaned on the people she's met at IUPUI to help her through it all.
"The true balance comes from the relationships I have had with the people in my life and the people on campus – specifically Sarah Eltzroth, the staff in University College and Charlie Johnson – who would help me evaluate everything and stay focused on what was most important and in line with my goals," she said.
To put a bow on her time at IUPUI, Avery will fulfill a goal as the commencement speaker – a goal she had added to her vision board in 2016. Now she's here with a story that she hopes helps others, and a message that she hopes resonates with those who will come after her.
"Enjoy the journey," Avery said. "College goes by so fast, and you only get one undergraduate experience, so get involved, make connections and make the best of it. Take advantage of every opportunity when it presents itself, especially those out of your comfort zone, stay focused – and take lots of pictures."
To learn more about IUPUI's celebration of the Class of 2020, visit the IUPUI commencement webpage.