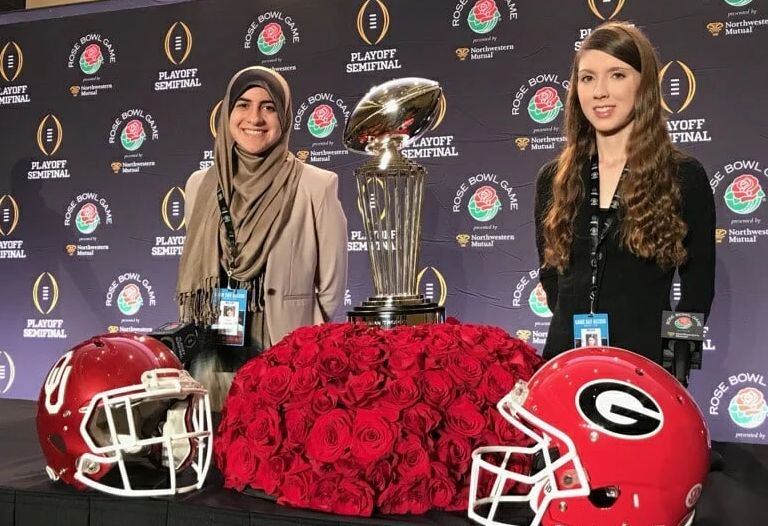 How do you go from being the opinion editor of your high school newspaper in Brownsburg, Indiana, to being hired by The New York Times as a culture reporter?
Ask IUPUI's Sarah Bahr, and she can walk you through her eight-plus-year journey in about 20 minutes while she waits in the deserted John F. Kennedy International Airport for her flight back to Indianapolis.
Her first step after starting at IUPUI in the fall of 2014 was interning with the University Writing Center in fall 2015, and then again the next semester.
Some journalism students at IUPUI haven't even stepped foot in the Writing Center, many wondering what sort of help they could give someone who isn't focusing on an English degree.
Thanks to Bahr, this journalism student need no longer wonder.
"It was really helpful journalistically, actually," Bahr said. "It teaches you not just how to interview people, but how to ask questions. By the time they come to the Writing Center, students have been researching for so long that they're struggling to put it into words. It's kind of what journalists do – digesting lots of information and explaining it to someone who doesn't have the knowledge."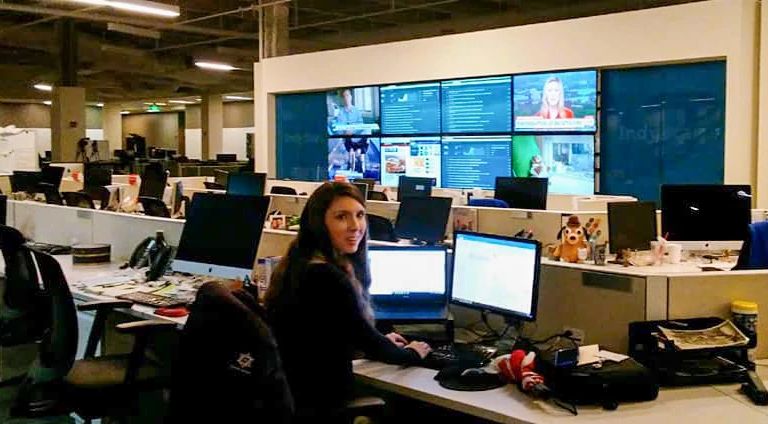 As far as publications go, Bahr job-shadowed at Indianapolis Monthly magazine, which helped get her foot in the door for a future summer internship. Although the only financial compensation she received was reimbursement for parking, Bahr enjoyed the freedom she was given to pitch story ideas and the opportunity to talk to all sorts of people across Indianapolis.
"Although it was unpaid," Bahr said, "I later started to freelance for them, which more than made up for it."
From there, she applied for and got the Pulliam internship with The Indianapolis Star, and after that became a freelancer for that publication as well. She pitched a story about an IUPUI student in Chris Lamb's Feature Writing course, which the paper published in the spring semester of her senior year.
"I was totally green at the time," she said. "The Star doesn't really accept freelance pieces because it has its own content management system, and now having worked there, I know how rare that opportunity was."
Bahr graduated in 2017 after triple-majoring in English, Spanish and journalism, and she continued to freelance for publications such as Forbes Travel Guide, Newfields magazine and Indy Maven while looking for a full time job. She also continued her education at IUPUI in pursuit of a master's degree in English, which she completed this spring.
The biggest piece of advice she gives about freelancing is that long as you have writing samples to show, there are no barriers to where you can pitch stories. Just remember to research the publication to see if it has already covered the topic, and know the audience you're pitching to, she said.
"I was an editing intern at The New York Times last summer, and near the end of the summer, I pitched a story," Bahr said. "I had gone a little crazy and saw 30 theater shows in 10 weeks, so I sent an email to the theater editor telling him about it, and he agreed it was a little unusual.
"I met with him and discussed it, and then I wrote an essay for them about it. Technically, I was still working for them, but since I took on the story on top of my editing duties, I was paid for it as a freelancer, and by the time it was published, my internship was over."
On June 8, Bahr will begin her new job as a culture reporter for the Times, a position she highlighted as her "dream job" in an undergrad course.
"I enjoyed working for their editing desk, but my true passion is theater," said the woman who averaged seeing three productions a week for two and a half months. "I had made a career plan in my Media Management class that said I wanted to have the culture reporter position there in about 15 years, but here I am, 10 years ahead of schedule."