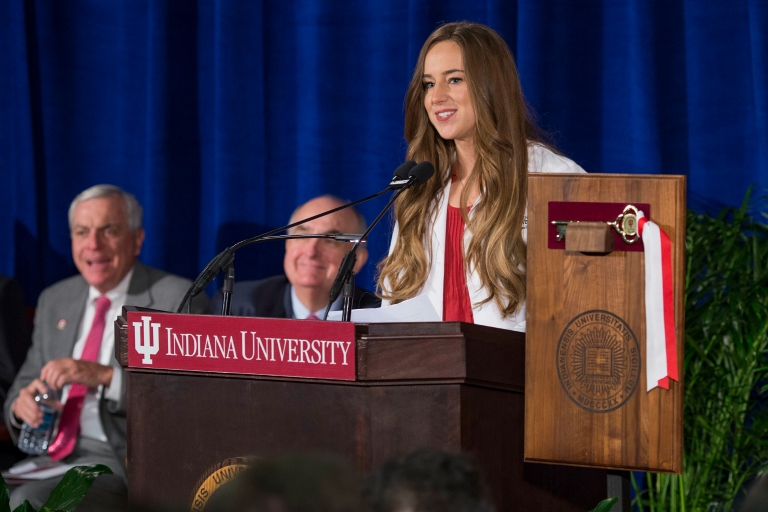 Inside the Indiana University School of Dentistry, portraits of graduating classes and decades of dentists chronicle its history throughout the hallways. The Stetzel family will soon make their fourth addition to those walls.
Leah Stetzel, DDS '20, is joining the family legacy of her grandfather, Robert M. Stetzel (DDS '53); father, Mark R. Stetzel (DDS '84); and sister Jill Stetzel Torkeo (DDS '19) by graduating from the school this year.
"I'm so excited to join the profession and officially become a colleague of my grandpa, dad, sister, classmates and mentors," Leah said. "I'm really optimistic about the future of dentistry and am very grateful for the opportunities I've had."
The Stetzels, from Fort Wayne, are well-respected and highly accomplished in the profession. Both Robert and Mark served as president of the Indiana Dental Association, with nearly 30 years separating their tenures. Robert, who passed away in 2012, received the IU School of Dentistry's Distinguished Alumnus Award in 1988 for his work as an instructor at both IUPUI and IU Fort Wayne in the 1970s. Jill, two years older than Leah, was heavily involved in many student organizations at the school, including chapter president and national regent for the Student Professionalism and Ethics Association.
Leah, a three-year Class of 2020 president, was aware that her last name might carry some familiarity around the school. Various staff and faculty spoke about how her grandfather was their dentist or that they knew her dad or sister.
"I am honored to be a part of IUSD, and during my academic career I did feel a responsibility to be a leader, just as my grandfather, father and sister were leaders," Leah said.
"I wanted to be engaged and connected in my school community because I saw how my dad and grandpa maintained lifelong connections with classmates and professors from IUSD, and I wanted that for myself and my future."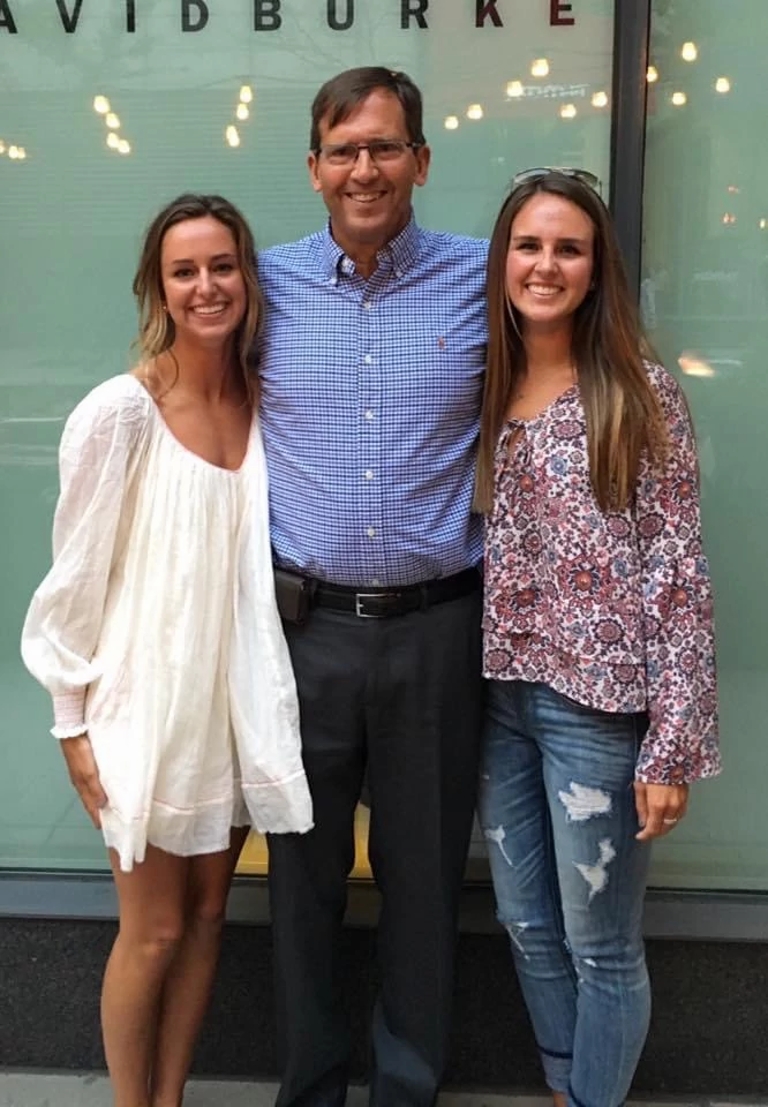 With her family's legacy preceding her, Leah was motivated to make an impact, and her resume resembles a phone book more than a sheet of paper. In addition to her class president responsibilities, she was heavily involved in a variety of dental organizations, volunteer opportunities and educational experiences. With a schedule nearly always filled, Leah made the dean's list three times and was named to the 2020 IUPUI Elite 50, a prestigious award given to students who demonstrate excellence beyond the classroom.
"Leah is incredibly kind, she is sensitive, and she will not stop until she completes a task," Jill said. "When she accomplishes a goal, we're all obviously incredibly proud, but we're not at all shocked by her achieving above and beyond even her own expectations."
With three generations and four dentists, dentistry is the family business.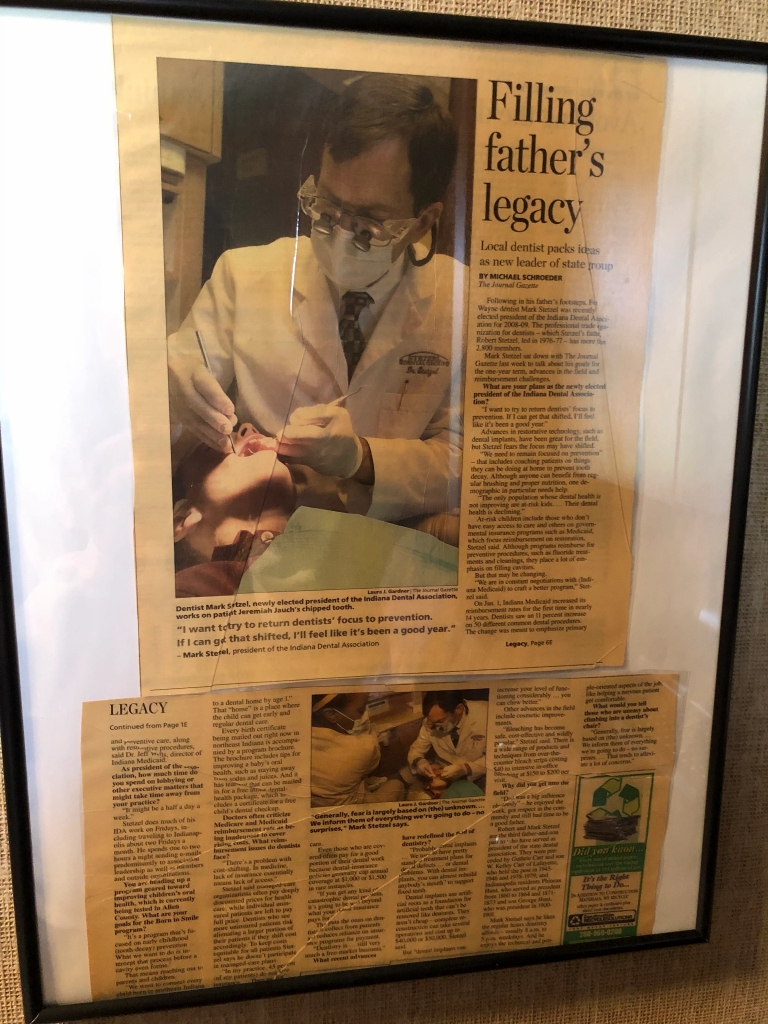 In 1956, Robert started the Stetzel Dental Group in Fort Wayne. Mark joined his father upon graduating in 1984 and took ownership of the family practice when Robert retired in 2002. Jill followed in her father's footsteps and joined the team in 2019.
Mark's brother Eric is also associated with dentistry, as he founded the Panoramic Corporation, which manufactures panoramic x-ray machines for dental offices.
At a young age, Leah was aware of the importance of the profession to her family. Her grandparents lived in a nearby neighborhood, so they saw them often, and family dinner conversations were frequently centered around dentistry. The friends the Stetzels often spent time with were other dentists and their families.
As Jill and Leah grew older and followed the career path, one topic continued to dominate the conversation.
"My poor mom and brother-in-law – they have to listen to so much talk about dentistry," Leah said with a laugh. "But they are pretty good. They know the tooth numbers and terms, so they can follow along for the most part.
"We are a really close family, and dentistry just brings us closer."
But even though dentistry has been a constant presence in Leah's life, it wasn't always her path. She didn't always know that she wanted to pursue it as a career.
Robert and Mark shared a similar interest in the career because of a desire to be in health care and help people without the stress and gravity of life-and-death circumstances. Jill was playing with Play-Doh dental sets at an early age and always had the natural inclination.
"I came out of the womb knowing I would be a dentist," she said.
As the youngest in the family, Leah wanted to go her own way. Thoughts were given to becoming a professional ice skater, chef, anesthesiologist, nurse, lawyer and marine biologist. But as she got older and more mature, she felt more of a pull to the dental world.
During her sophomore year at Miami University, an advisor surprised her by saying she would graduate with her biology degree in three years. Instead of picking up an additional degree, Leah decided that she would apply to only one dental school, the IU School of Dentistry, where Jill had just started.
Only two years separate the sisters. The duo are very close and were even tennis doubles partners in high school. They were together as students at the dental school from 2016 to 2019.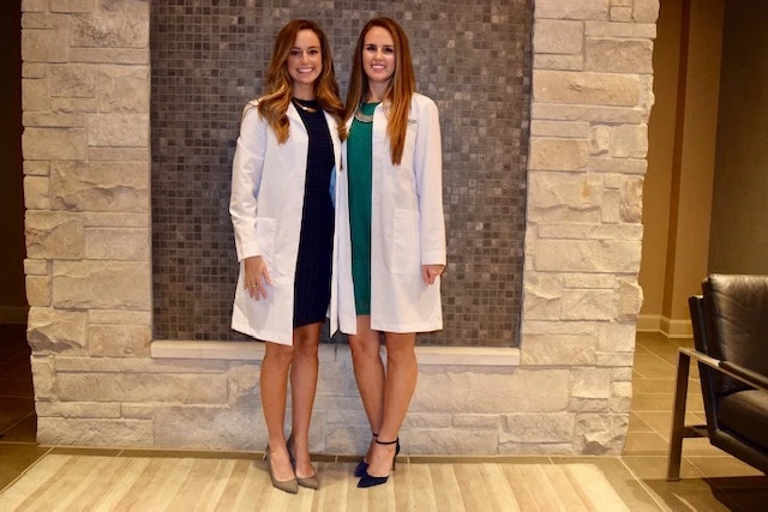 "People who know us both have described us as complete opposites, and my dad has always joked, 'it's hard to find two people who are so completely different without one of them being a criminal,'" Jill said. "Typically, I'm the more sensitive, quiet and analytical one. Leah can be a bit more fast-paced, adventurous and quick minded."
As Leah was contemplating the pursuit of dentistry, her internal pros-and-cons list kept gaining more pros. It satisfied her thirst for science and health care knowledge, and she knew that helping people would be fulfilling. The profession would allow for a good work/life balance – she had always respected and appreciated how present her father and grandfather were able to be in her life. She was also excited for the artistic aspect of dentistry.
Leah was accepted to the school, and the fourth Stetzel dentist from IU was in the making.
"Its long-standing reputation as a leading dental school in the country made IU the obvious choice for all of us," Mark said. "Having such a rich resource in your home state makes it easy. You could say that IU has been like dentistry is for us – you look at other options. and IU just rises to the top and becomes the obvious choice."
The family had envisioned the two daughters eventually joining Mark at Stetzel Dental Group upon graduation. Jill has happily been at the office with her father for a year.
"Joining my dad in practice has literally been a dream come true," she said. "I was super-nervous to get started, as I felt that I had such big shoes to fill, but my dad has been such a great mentor, teacher, boss and friend to me throughout the whole process."
During Leah's second year of dental school, an orthodontics class changed the plans and cultivated a new passion. In orthodontics, Leah likes being able to help someone visually and to work mostly with kids. She is excited for the opportunity to give others confidence through their smiles and be a positive influence in young people's lives.
"Every case is a transformation," she said. "It's really rewarding to have that with every one of your patients."
Leah talked with her father and sister about her decision. She admitted it was hard to turn down a mentorship from her father and to work alongside her sister, but she's following her heart. Leah is starting a residency in orthodontics at Ohio State University in the fall.
"I know what made them so successful was the passion for it, so I knew I had to pursue something I was passionate about," Leah said.
Mark was hopeful to one day have his daughters working together at the practice, as the time with his dad "were some of the very best years." But Mark looks at his relationship with his brother Eric and doesn't know if they would be best friends and as close if he had become a dentist too.
"Dentistry is indeed important to us, but it is insignificant compared to the importance of our family's love for each other," Mark said. "Leah figured that out before I did. Orthodontics fits her better, intellectually and technically. Eric is my idol. His strengths are in areas where I have weaknesses. We complement each other that way. Leah wishes she were more like Jill, and I know that Jill feels the same."
In the midst of Leah's final months at IUPUI, the COVID-19 pandemic struck and disrupted the spring semester by canceling in-person commencement and classes. As class president, Leah would have given a speech at the ceremony. She was also going to have her father participate in the official hooding ceremony of dental school graduation.
Looking for a way to show gratitude toward the staff and faculty of the IU School of Dentistry, she spearheaded a crowdsourced video from nearly 60 classmates. With no video-editing experience, she used iMovie and spent over 20 hours working on the three-and-a-half-minute production. The uplifting video has received over 11,000 views on the school's Facebook page.
"It was a really small thing to do," Leah said. "Just thinking about everything that we gave up and all of the changes people had to make – it was part of the motivation to do something special."
The latest Stetzel dentist has experienced a lifetime of dental education and is looking forward to continuing the family business, just in her own unique way.
"I had a great foundational education at IU, and I'm excited to continue my education and learn more so that I can give back to the community, my patients and the profession," she said.