While most of the Indiana University community has stayed at home for months because of the coronavirus pandemic, some faculty and staff have been reporting to campus every day to perform essential work. Among them are those taking care of buildings and beloved landmarks at IU Bloomington, and others who are helping guide the response to COVID-19.
Maj. Brad Seifers, university director for Emergency Management and Continuity, is one of six people who works out of an Emergency Operations Center set up in Franklin Hall. He helps coordinate information and logistics for IU's response to the pandemic, and he works closely with representatives from Human Resources, Emergency Management, Environmental Health and Safety, and Residential Programs and Services.
They're all continually participating in Zoom meetings where they get input from roughly 20 working groups across the university. Each group has a different specialty related to the pandemic or IU's restart plans. Once they wrap up a meeting, Seifers said, he and the others working in the EOC discuss what they've learned and what it means for IU moving forward. But those conversations take place from a distance; they're each stationed 20 feet apart to ensure their safety.
"It's quite surreal," Seifers said. "We are the only six people in this building, and aside from the occasional people who walk through the Sample Gates, the campus is pretty vacant."
Seifers talks regularly with facilities staff, who have played a key role in making sure buildings on campus were shut down in a safe manner when IU shifted to remote learning in the spring.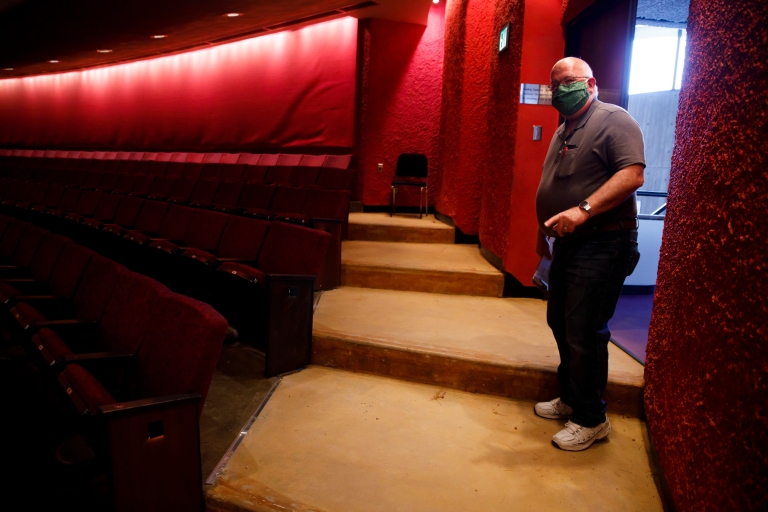 Denver Wrightsman is director of facilities for the Jacobs School of Music, where he takes care of eight buildings. He arrives on campus by 4:30 or 5 a.m. every weekday to start his work. He's used to having a constant soundtrack as he goes about his day.
"This is a music school, and you're used to walking down the halls, just doing your normal course of activities, and you can hear the music playing wherever you go; there's always something, whether it's a voice, or string or horn," Wrightsman said. "It just does not seem right without that music, without that activity."
Students, staff and faculty often serve as Wrightsman's eyes and ears, alerting him to potential problems in facilities as they encounter them. Without many people on campus, he's spending a lot of time walking from building to building to find any issues. He has found unexpected flooding and leaks, as well as performed routine maintenance and renovations.
"With all of the projects going on, I'm getting my exercise," he said.
Wrightsman is overseeing more than a dozen projects that were approved long before the pandemic, including reflooring the ballet studio and reroofing the Simon Music Center. His work is crucial to ensuring that Jacobs facilities are ready for use again when students and faculty can return to campus.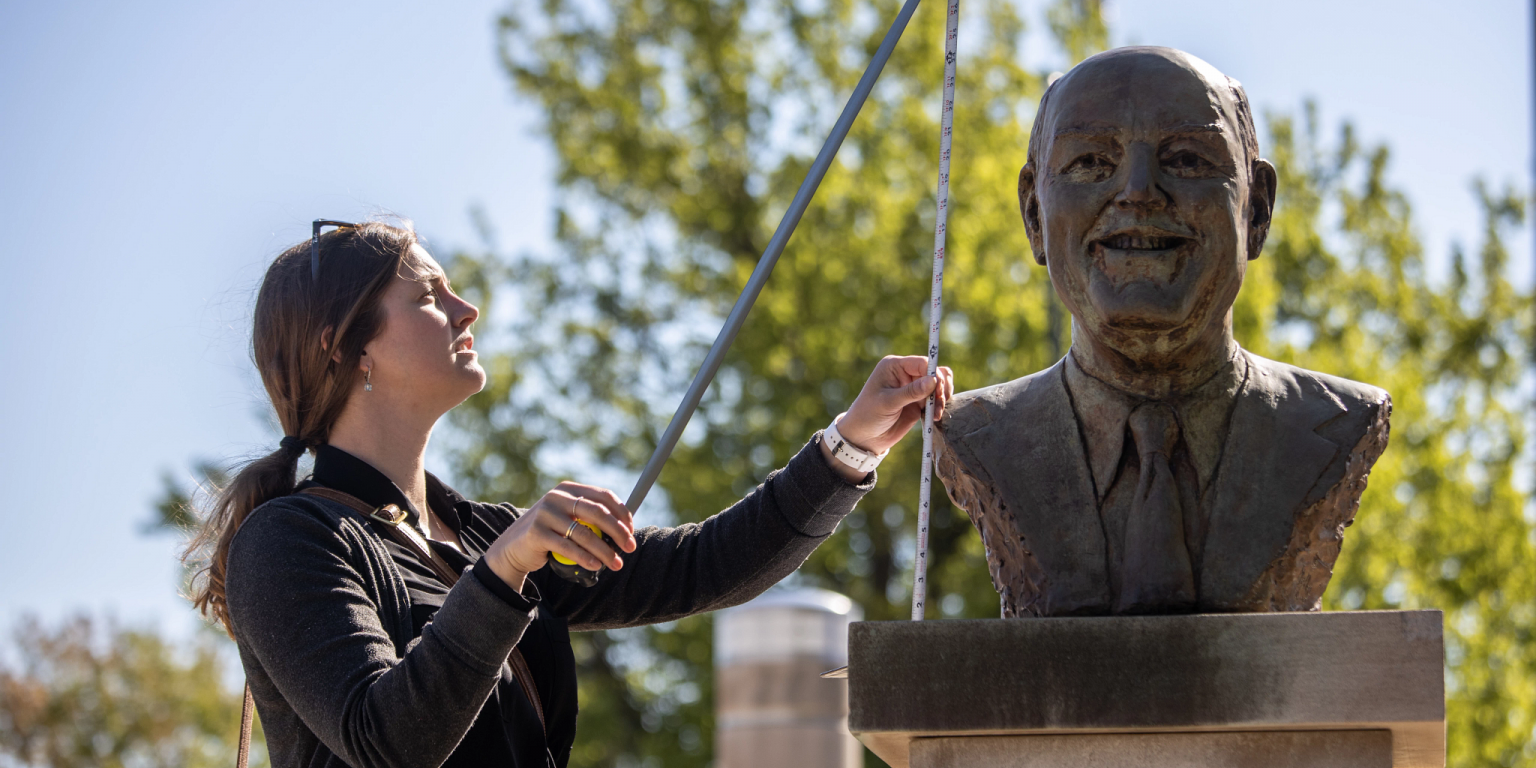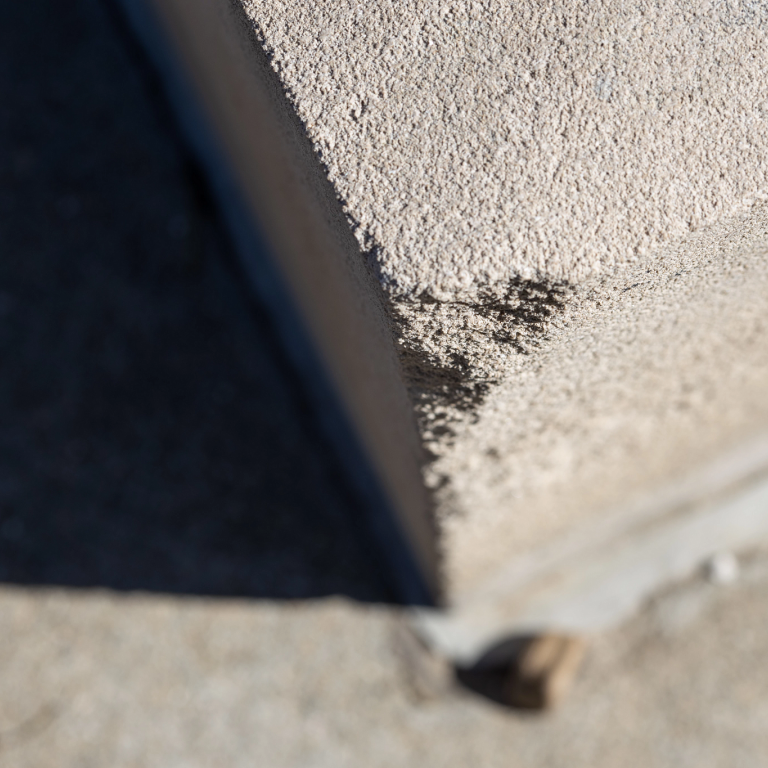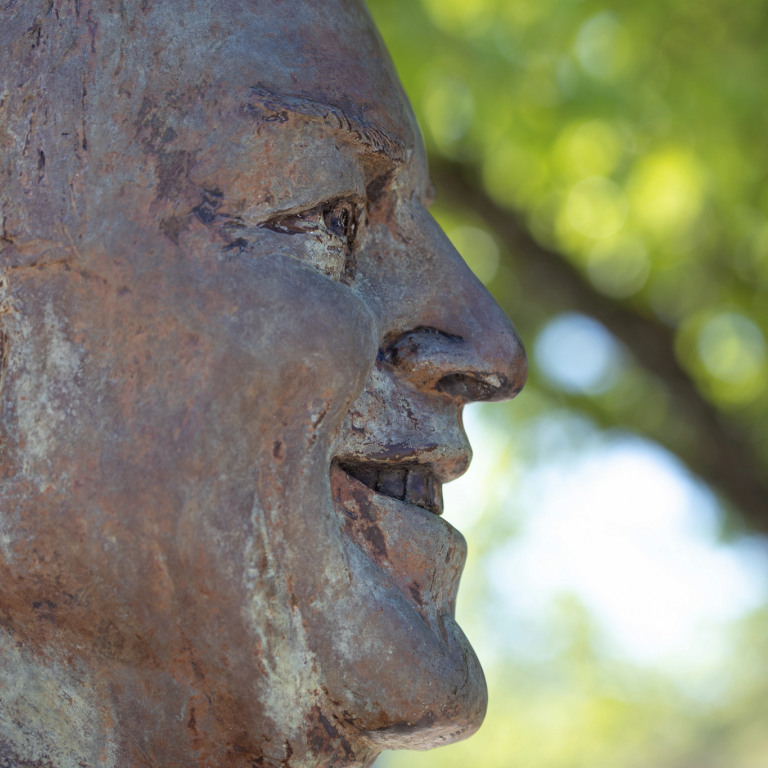 Photos by Chris Meyer, Indiana University
Art preparator and collections assistant Sonja Rogers is playing a similar role with maintaining public art on campus. Her job typically involves a lot of in-house work, like preparing artwork that will be loaned out to other institutions. But exhibitions are on hold indefinitely because of the pandemic.
Rogers has been spending much of her time on campus conducting condition assessments on some of its 34 outdoor sculptures. The assessments help the university determine when repairs are needed to some of IU's most recognized landmarks, like Showalter Fountain and the Herman B Wells statue.
On a recent morning, Rogers assessed the Bill Armstrong bust that sits outside the stadium that bears his name. She took pictures and measurements, and made note of some discoloration in the limestone. While the statue was in good shape, she said natural elements like pollen can create problems this time of year.
"Outdoor pieces are pretty challenging in the aspect of they're exposed to the elements totally and completely," Rogers said. "And, in some more popular instances, like in an area like this where they get handled more often, you can see the areas where the patination that's been put on kind of gets rubbed off over time."
Rogers said crews typically go around and do a deep clean of every statue at least once a year. They also make any necessary repairs. While it's routine work, it feels odd this year without the regular flow of people walking through campus.
"Part of what makes IU special is the art and the relationship people have with the artwork," she said. "You still see people periodically walking their dogs and enjoying it, so that's nice."
She's looking forward to the time when students, faculty and staff can return to campus and enjoy the artwork once again. Much of Seifers' current work is focused on how to safely make that happen. He's helping set up distribution sites for masks and working to get equipment back out to research areas.
"The safety and well-being of all IU students, faculty and staff is our highest priority," he said. "Indiana University is developing our plans for the new academic year by relying on the best health and safety guidance available. The university is looking at all aspects of residential campus life and developing safeguards to improve the safety and health of the campus."