Those who have been eager to play Indiana University Bloomington's new golf course are finally getting their wish.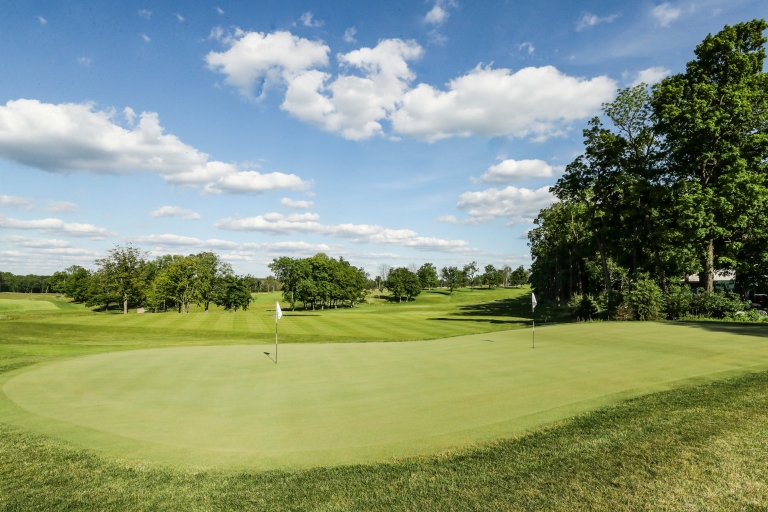 The Pfau Course at Indiana University will open for play on June 15, and tee times can be scheduled starting June 11. The course will be used by IU's men's and women's golf teams, but it is open to staff, faculty, students and the public to play.
Located east of the Indiana 45/46 bypass, the new course was built on the same 265 acres that housed the previous IU Championship Golf Course that opened in 1957, a par-3 course and the IU cross country course. The $12 million project, which required about 2 1/2 years of work, was an effort to create something better suited for modern needs and capable of hosting top-level tournaments.
"The old course was a bit antiquated, and the conditions had dropped," said Jim St. John, head golf professional and manager of business development at The Pfau Course. "It was time to make a world-class facility. That was the major goal: to put another incredible Indiana University facility out there for our golf teams."
Renowned golf course architect Steve Smyers and professional golfer Fuzzy Zoeller, a Hoosier native and two-time major winner, designed The Pfau Course. Each hole is completely different from the previous layout, and the par-71 course can play at a maximum of 7,908 yards or a minimum of 4,586, depending on which tees are used.
"I think a really great golf course tests all facets of a person's game, the mental ability and using all your clubs," IU women's golf coach Clint Wallman said. "I think all around this course is a really fair and thorough test of someone's game."
The Pfau Course includes 147 bunkers of varying widths and depths, some of which have a rugged look with overgrown edges – or "eyebrows." The fairways feature Zoysia, a slow-growing dense grass that prevents weeds from growing. Also, part of the previous course was returned to native landscape.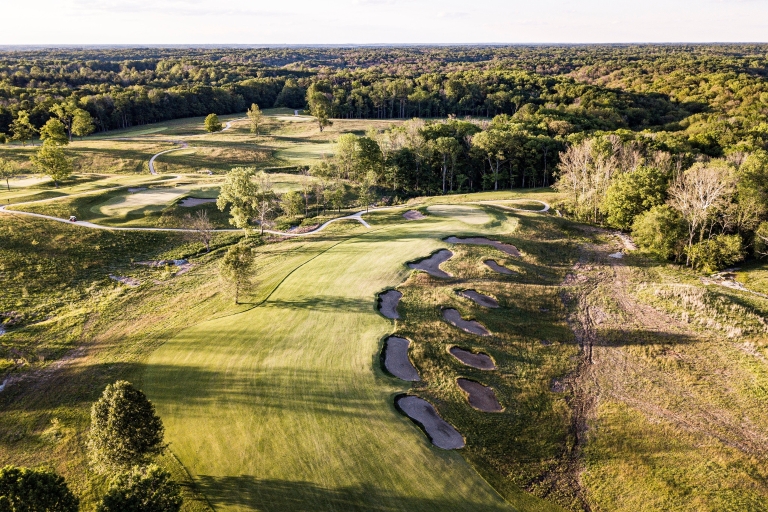 "It has a woodland feel on the front nine holes and an open links feel on the back nine, with elements of Scottish links," IU men's golf coach Mike Mayer said.
The course also has two practice areas/driving ranges. The new George Thomas Clubhouse features an outdoor covered pavilion, a golf shop, dining options and an Alumni Hall inside.
The course is named after the Ned Pfau family and the clubhouse after the George L. Thomas family – both providers of major gifts to the project.
"It's not only a prize for Indiana University, but for Indiana and golfers in the Midwest; it's a special place," St. John said of the new facility.
Mayer and Wallman said The Pfau Course is a huge benefit for the men's and women's programs. He said it already has played a key role in recruiting top high school players and will allow for hosting a variety of tournaments.
When the course opens for play, safety measures will be in place to help prevent the spread of COVID-19. Some of the measures for players and guests include:
Remaining 6 feet apart from others.
Wearing face coverings when physical distancing is difficult to maintain.
Reserving tee times in advance online and paying the greens fees with credit or debit cards.
A maximum of four golfers per group.
One person per cart, unless two people live in the same household.
Arriving no more than 25 minutes before tee time and departing immediately after the round's conclusion.
St. John also said that tee times will be staggered in 15-minute intervals, and play will be divided into two waves, the first starting at 9 a.m. and the second at 2 p.m. Time is needed in between to clean and sterilize all golf carts.
"IU is concerned with everyone's safety," St. John said. "We'll be one of the first IU properties to reopen, and we will take it seriously."