A lot of preparation is going on behind the scenes to get Indiana University campuses ready for the start of the fall semester on Aug. 24.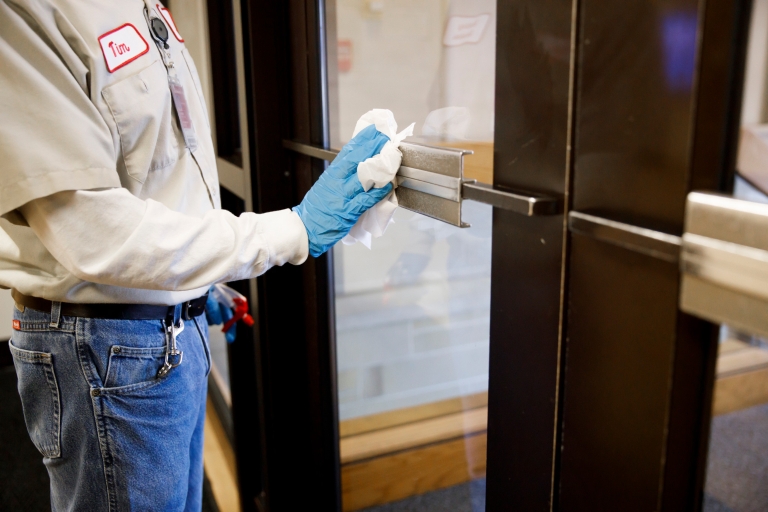 During a recent town hall meeting, Vice President for Capital Planning and Facilities Thomas A. Morrison spelled out the processes his teams are taking to ensure all campuses are clean, that common spaces and classrooms are fully physically distanced, and that signage is posted to remind students, staff and faculty of their responsibilities in keeping everyone as healthy as possible.
"We're taking a 'crowdsourcing' approach to facilities operations, and we're going to need your help to do it," Morrison said. "Basic and intensive cleaning will be provided daily – or multiple times a day – to common spaces by custodial staff. But our entire IU community must be involved in the frequent cleaning of their individual spaces, including offices and work stations."
Starting at 'baseline clean'
Morrison said his teams are cleaning and disinfecting all areas on all campuses to establish a "baseline clean," including replacing all HVAC filters. His teams are also prepared to clean specific areas more deeply, such as after receiving notice of a positive COVID-19 test in a building or space.
(In case of need, more than 600 quarantine/isolation spaces have also been identified so far in residence halls on the IU Bloomington, IUPUI, IU Southeast and IU South Bend campuses, according to Emergency Management and Continuity.)
Plenty of cleaning materials will be available to staff, faculty and students. Facility Operations has a contract with Cintas to provide hand sanitizer stations – either free-standing or wall-mounted – in about 4,000 areas across all of IU's campuses, according to Emergency Management coordinator Cherie Anderson. The hand sanitizer stations will be in high-traffic areas such as near building entrances and elevators, and in lobbies.
Disinfectant spray, sanitizing wipes and antibacterial soap will also be available to building occupants.
Plexiglass barriers will be installed at all high-volume point-of-contact spaces, such as cash registers in dining areas or reception areas in high-traffic buildings. Portable protection is available upon request for faculty who will teach face-to-face, and additional barriers can be ordered via the IU Purchasing catalog for unique needs.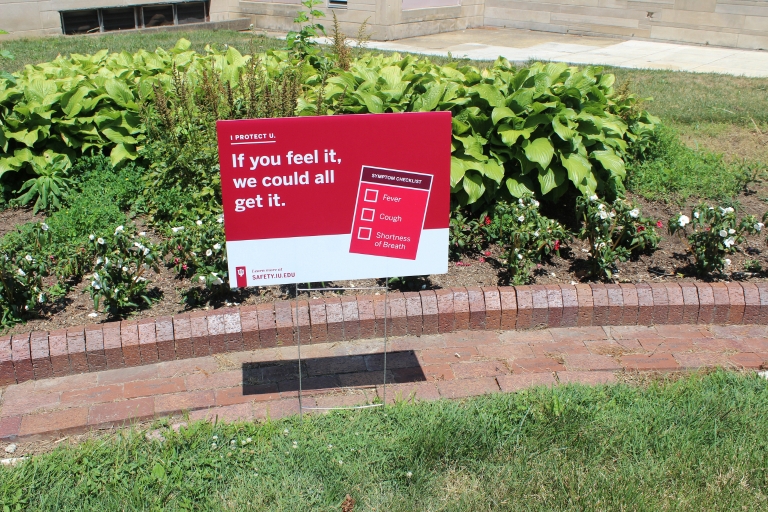 Purchasing PPE, cleaning supplies
As of July 1, Indiana University has a new process to bulk purchase personal protective equipment, or PPE, and cleaning supplies.
Departments should no longer purchase items like disinfectant wipes, face shields, disposable isolation gowns, hand sanitizer or N95 masks individually using traditional procurement methods such as Buy.IU or P-Card. Instead, IU Purchasing will now order from suppliers, and items will be stored in two warehouses, in Indianapolis and Bloomington.
Departments will order items using a FireForm based upon biweekly usage. Orders should be for enough supplies to cover a two-week time period. Orders will be reviewed and approved by Responsibility Center Fiscal Officers, then distributed to departments within 24 to 48 hours.
Reconfiguring classroom, office space
Classroom and office space will be reconfigured to accommodate physical distancing. Smaller classrooms with mobile seating can expect reductions to about one-third of pre-restriction seating, while larger classrooms with fixed seating can expect reductions to about one-sixth of pre-restriction seating, Morrison said.
He said classrooms will not be cleaned in between classes, but cleaning products will be provided so students or faculty can wipe down desks, chairs and other high-touch items upon entering or leaving a class.
Extra seats in classrooms will either be roped off, removed or stacked in the back of the room to discourage them from being used.
No major changes are needed for closed offices or most cubicles, although he did clarify that any open-design office space may need adjustments.
Cleaning supplies will be made available for office spaces with small kitchenette areas. In addition, water bottle fill stations will be open, but employees and students are should not use traditional water fountains as they can help spread germs.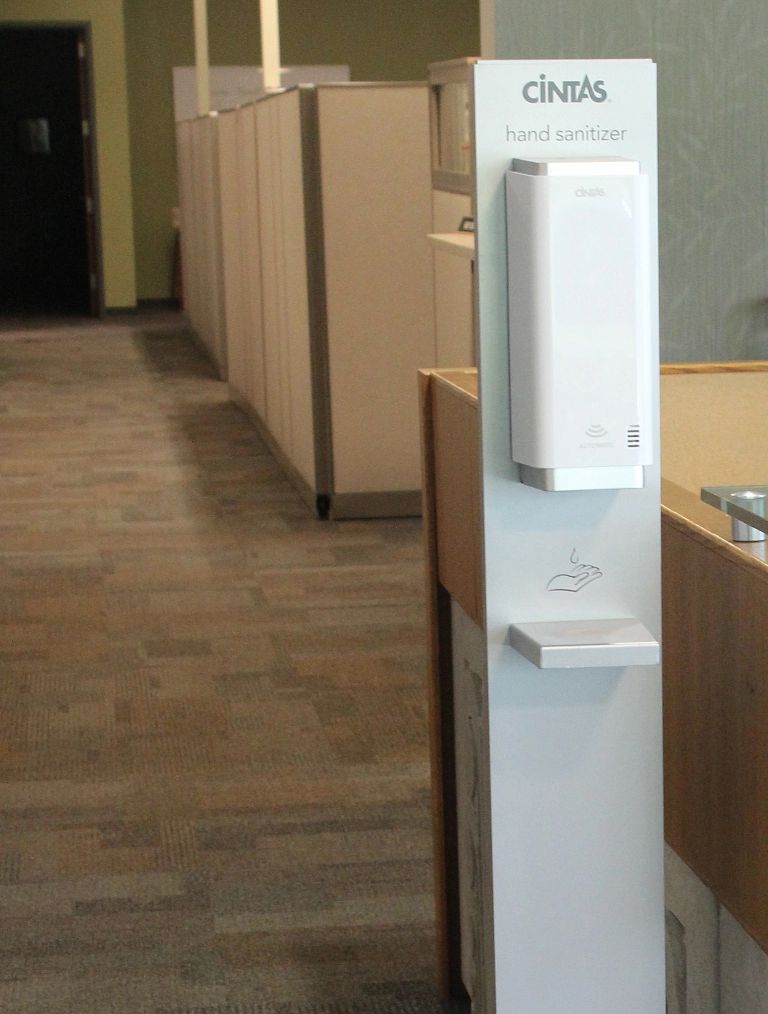 Mask up for others
And just as a reminder: All staff, faculty and students, as well as contractors, vendors, suppliers and other visitors on campus must wear a mask when entering all IU buildings as well as in hallways, elevators, public spaces and common areas. Masks must also be worn in office spaces and outdoor spaces where physical distancing is difficult to maintain.
IU will provide each staff, faculty and student with two IU-branded masks. Morrison said that all campuses will also have masks available in buildings, so employees or students shouldn't need to go far if they've accidentally forgotten or misplaced their mask.
What's the timeline?
Facility Operations personnel have spent most of June attending to normal summer maintenance and repair projects.
In July, they'll begin installing safety signage that includes details consistent with those in the university's Restart Report, including reminders about handwashing and wearing face masks, social distancing and wiping down areas after use.
They'll also begin moving furniture and installing plexiglass barriers, and providing additional cleaning supplies to staff and faculty as some return to campus.
"Once classes begin in August, we will remain flexible to ensure our ability to pivot our plans," Morrison said. "All of us need to do our part to help our colleagues and our campuses, and work together to take care of our spaces and each other."
Fall 2020
Indiana University is looking forward to welcoming students, faculty and staff to the fall semester. The university has provided safety guidelines, an academic calendar, FAQs, and campus-specific guidance for move-in, testing, teaching and learning at fall2020.iu.edu.