Interpersonal skills are important in Jeanne Collins' job as a recruiting and training specialist in Indiana University Southeast's Human Resources department. When the opportunity arose to take courses on empathy and listening skills, she was appreciative and jumped at the chance.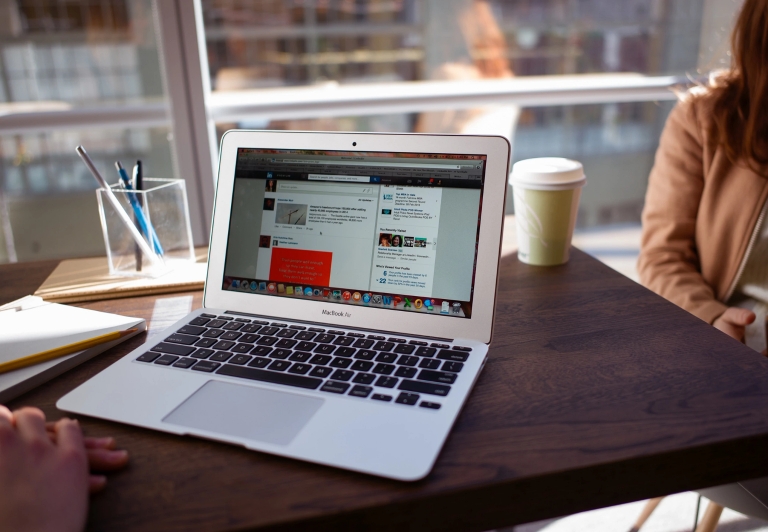 Indiana University Human Resources began offering free access to LinkedIn Learning courses on May 1 to aid the professional and personal development of full-time staff members across all of its campuses.
More than 15,000 expert-led courses are available through a series of short videos that can be watched during periods of free time or spread out as needed. Some have interactive components, such as a quiz.
So far, more than a third of eligible staff members have activated their LinkedIn Learning accounts.
"They're fun," Collins said. "I'm just doing it to see what I can learn."
Collins said she has taken about 30 courses, including the fear of public speaking, working from home, employee engagement and resilience.
"I like the listening skills because I have a tendency to want to interrupt," she said.
Kanti Crain, assistant director of the Human Subjects Office at IUPUI, said she's taken courses related to management and leadership because she's a first-time manager. Topics have included humble leadership and how to have difficult conversations.
"I've focused on what kind of leader I want to be," she said.
Crain said she prefers classroom learning because of the personal engagement, and she wondered how the online courses would work because her attention span is short when watching videos. But she said the courses have worked out well because a lot are short videos, and she can quickly access specific segments.
David Underwood, an information technology professional for the Document Services Center on the Bloomington campus, said he was thrilled to learn that the LinkedIn Learning courses would be offered for free to staff.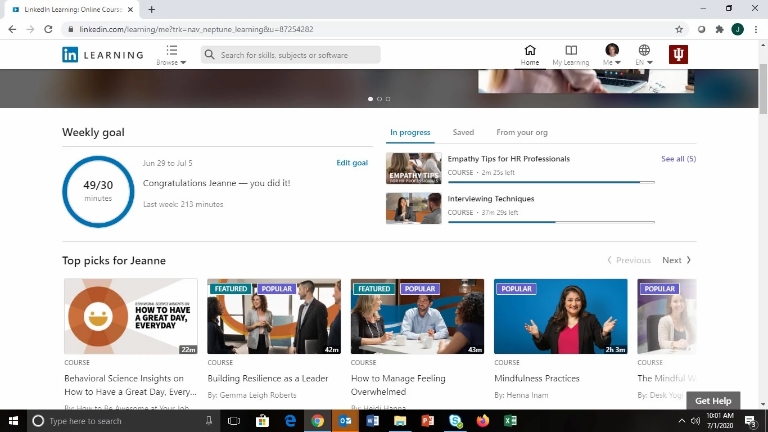 "I immediately wanted to check it out because I always think training opportunities should be taken seriously for someone in the IT field," he said.
One of the courses Underwood has taken was on Windows Server 2019. He said the course was timely because his department was going to use that software for a project, and he had no prior hands-on experience with it.
"It helped with the project at work," Underwood said.
Underwood said he plans to take courses related to IT security, and added that he hopes the courses will be available for an extended period of time.
IU Human Resources had been looking into an on-demand training resource for some time. When staff members began working from home, or working in new ways, because of the novel coronavirus pandemic, the time seemed right to offer LinkedIn Learning, said Amy Batule, training manager for talent and organization development.
"It's a great resource that allows employees to guide their own development," she said. "Each employee can develop skills and learn what they want, when they want."
An added benefit is that some courses can be used for Continuing Education credits, Batule said. A few of the organizations for which courses align with Continuing Education requirements are:
International Institute of Business Analysis.
National Association of State Boards of Accountancy.
Computing Technology Industry Association.
As of July 1, more than 4,100 employees have taken more than 14,100 courses, and more than 107,000 videos have been viewed, Batule said. The five most popular courses for May and June were (log in may be required to view):
Some courses are specific to IU, such as Employee Engagement: My Voice at IU. Others are timely, such as Avoiding Burnout.
Eligible staff members can activate a LinkedIn Learning account through a link on the IU Human Resources website.
Staff members who have activated LinkedIn Learning accounts received an email survey earlier this week seeking feedback.