This fall, all IU staff, faculty, students and community members are welcome to learn about creative practices that contribute to self-care with Healthy IU's latest universitywide online challenge, "Creative Self-Care: Art, Music, and Writing for Well-Being."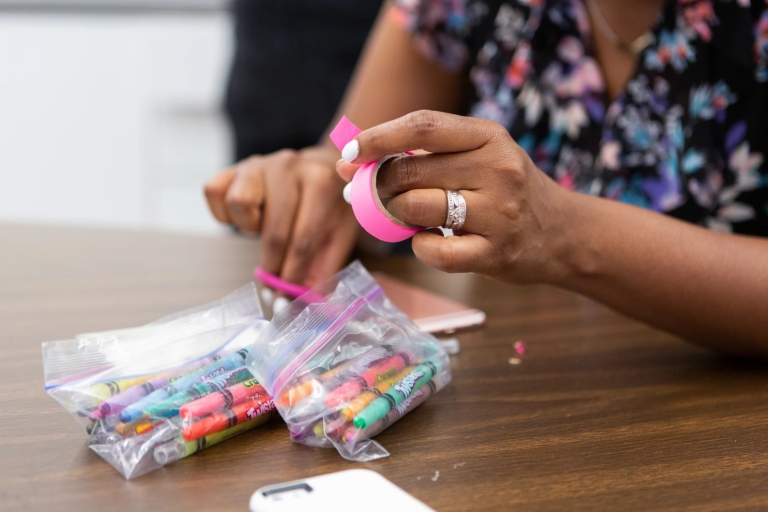 Registration for the free, three-week program is available from Aug. 1 through Dec. 7; the challenge will automatically start the day after a participant signs up. As an incentive, full-time IU employees and their spouses who register are eligible to receive a set of mini colored pencils to help them in their creative pursuits (first come, first served, while supplies last).
The intention of the challenge is to help the IU community strengthen its knowledge and skills regarding their mental and emotional well-being in a fun and approachable way.
Self-care is essential to our health and wellness – mind, body and spirit. A major pillar of self-care involves mental well-being, self-awareness and agency. Research shows that creative activities can be effective in helping people express emotions, reaffirm what's important and enhance well-being.
Each week of the Creative Self-Care challenge, participants will choose one or more of the 14 creative experiences offered, including exercises in art viewing and making, music, and writing. These experiences have been recommended or created by IU experts to benefit individual self-care and well-being. They can help participants become more mindful and can also help counteract feelings of stress, burnout, anxiety and other mental-health-related concerns.
More peace of mind
"In our current daily lives, many of us are experiencing chronic stress to some degree," Healthy IU manager Samantha Schaefer said. "Healthy IU wanted to offer fun and effective ways to practice mental/emotional self-care. In this challenge, we think there's something for everyone."
The creative activities included in the challenge were developed with the beginner in mind, but those who are already familiar with their creative side will benefit as well. During the challenge, participants have access to a listing of all activities sorted by type (art, music or writing), estimated time required (from 15 minutes to more than an hour) and main theme (mindfulness and relaxation, connection to self and others, or kindness).
IU experts who contributed activities to the challenge include:
Daugherty's advice for those who might be feeling overwhelmed with their current daily stress, or who might not be confident in their creative abilities, is to "take the leap." She said the arts are a wonderful way to relieve stress.
"You don't need to be a master musician or artist to participate," Daugherty said. "Everyone has creativity inside them, even if the last time you made art was in high school. You can do it!"
Note: This online challenge and the exercises included do not take the place of therapy or traditional psychotherapy sessions. They are to be used for wellness or self-care purposes only. Learn more about free, confidential counseling options through SupportLinc Employee Assistance Program. Services are provided at no cost to all employees, IU residents, graduate appointees, fellowship recipients and their household members.
Healthy IU is Indiana University's workplace wellness program. For more information, visit healthy.iu.edu.