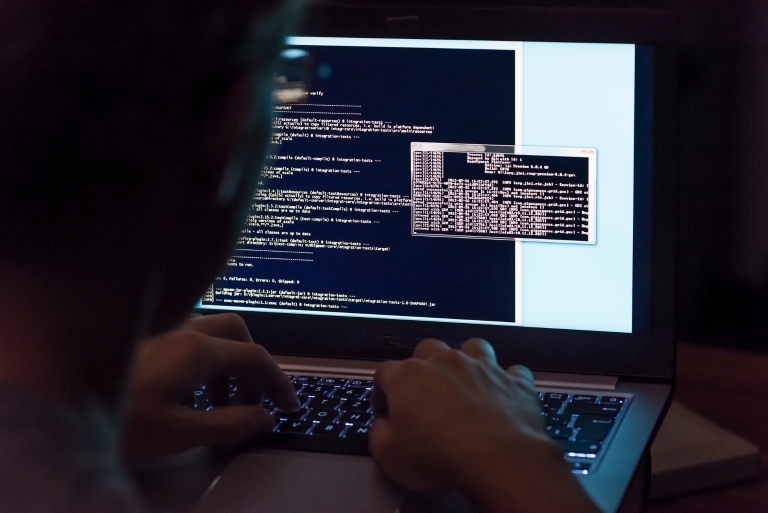 Thirty high school and college students from five countries around the world took part in the Antisemitism Datathon and Hackathon, a virtual workshop and competition designed to teach students how to recognize antisemitism online and how to use programming to analyze large amounts of data.
The workshop was created and organized by two Indiana University professors, Damir Cavar and Günther Jikeli, who conducted the workshop sessions online through video chat over three Sunday sessions in May.
Cavar, an associate professor in the linguistics department in the IU Bloomington College of Arts and Sciences, works in the Natural Language Processing Lab, which combines the fields of linguistics and computer science by using computers to analyze and make sense of large amounts of language data.
Jikeli, the Erna B. Rosenfeld Professor in IU's Institute for the Study of Contemporary Antisemitism/Borns Jewish Studies Program and an associate professor of Jewish studies and Germanic studies, said the workshop was organized to give participants the opportunity to work on ongoing research and get them some hands-on experience.
Jikeli said the subject of the workshop is especially relevant today.
"We've seen an uptick of targeting of Jews both offline and online, and sometimes there's a direct connection," he said. "There's also been a huge debate of what to do with hateful content like homophobia, sexism, racism or antisemitism."
Through the workshop, Jikeli said, he and Cavar wanted students to observe what is happening with antisemitism online, learn how to work with large amounts of technical data and practice their programming skills. Students weren't required to have an extensive background in programming to be part of the workshop.
During each session, students learned from the professors about various subjects, such as how to use tools to annotate large amounts of data and use natural language processing and artificial intelligence algorithms to detect and label the content of tweets, before they worked on the project.
"We saw it as more of coaching rather than teaching," Jikeli said. "We were coaching and helping them through the competition."
The students worked in teams, meeting online using Zoom and other online platforms, to work through a collection of thousands of real tweets about Jewish people collected on a website made for the event and annotating them based on content – for example, whether the tweet was negative or positive.
The goal was then for students to use that annotated list to train algorithms to detect antisemitic content. The algorithms were made to go through a collection of tweets that were not on the website and finally scored for accurately detecting the antisemitic tweets in that collection.
"We got really good results; they had great ideas," Jikeli said.
The results of the competition and the three winning teams were announced online on July 5 with key speakers Lee Feinstein, dean of the Hamilton Lugar School of Global and International Studies, and Elaine Monaghan, an IU journalism professor. The video of their keynotes on "Social Media, Hate Speech, and Free Speech in Our Increasingly Globalized World" can be watched on the website of the Institute for the Study of Contemporary Antisemitism.
The first prize of $500 went to Jan Fiedler, Sydney Grad, Sophie Mariassy and Victor Tschiskale, students from Canada and Germany.
The second prize of $300 went to Jason O'Connor, Oren Edrich, Noah Galper, Ari Gutmann and Ethan Katz, all from Florida.
The third prize of $200 went to a team of high school students from Bloomington High School South: Katrina Brown, Jacob Hogan, Sam Hall and David Roeder.
Brown, a junior from Bloomington South, said she joined the Antisemitism Datathon and Hackathon team because she wanted to explore how to use machine learning to enact positive societal good.
"Using concepts I had explored in the past in a setting with real-world applications was really exciting, and I had a blast experimenting during the event," Brown said. "My favorite part was learning about natural language processing and implementing LSTM neural networks – that is, long short-term memory neural networks that have the ability to process speech and video and other large sequences of data – to classify the tweets."
She said that taking part in the workshop helped her learn more about the systemic issues facing Jews in modern society and how unexpectedly difficult it is to tackle hate speech online.
"I think we hear a lot in the news about how social media platforms need to crack down on hate speech, but we don't stop to think about how difficult of a task that truly is," Brown said.
Indiana University is a leader in the study of contemporary antisemitism, and the Institute for the Study of Contemporary Antisemitism, with the support of the Robert A. and Sandra S. Borns Jewish Studies Program, boasts an active program of courses, lectures, conferences and publications on the topic.