In response to the killing of George Floyd and the surge of Black Lives Matter protests regarding policy brutality and racism in the United States, the Indiana University Arts and Humanities Council has joined forces with the IU Center for Research on Race and Ethnicity in Society and the College Arts and Humanities Institute to offer "Confronting Racism: Conversations on Systemic Racism and Protest." The weekly panel discussion tackling racism and its many related issues features experts from IU and other institutions.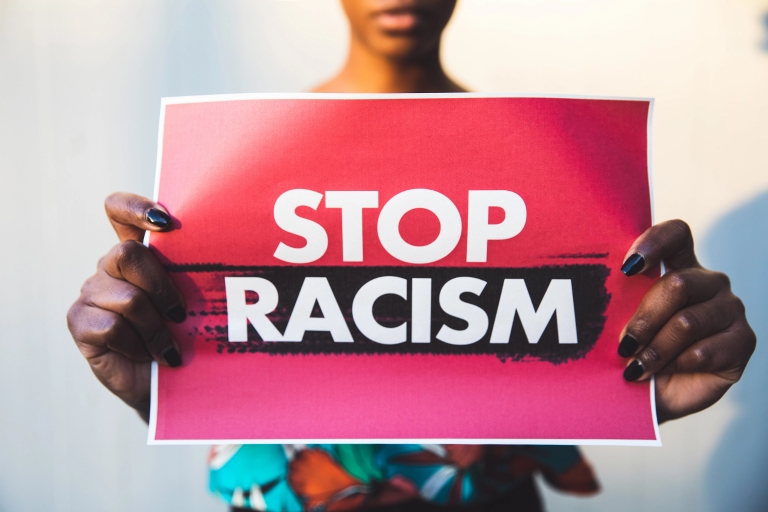 Given the Center for Research on Race and Ethnicity in Society's focus, it was particularly well-positioned to help launch the series, said center director Dina Okamoto, a professor of sociology in the IU Bloomington College of Arts and Sciences.
"CRRES' mission is to advance the study of race and ethnicity in the social sciences and humanities, and the center has worked to build community and support scholars conducting cutting-edge research at IU," Okamoto said. "Many of the speakers in the series are CRRES faculty affiliates who are experts in race, racism and protest."
Michelle Moyd, the Ruth N. Halls Associate Professor of History at IU Bloomington and associate director of the center, was a moderator for the series' first episode.
"The series enables CRRES to continue performing its mission under the extraordinary circumstances of COVID-19, and in the context of growing consciousness that understanding systemic racism in its many guises should be a form of basic social and political literacy," Moyd said.
"Confronting Racism" runs through Aug. 11, streaming live at 8 p.m. every Tuesday, through the Arts and Humanities Council's Facebook page.
The first two weeks of the program focused on urban geographies of violence and protest and on policing. The topic for July 14 is protest and change. The full schedule for the program is available on the council's website.
Each panel discussion includes a mix of people with different disciplinary backgrounds.
"This series gives viewers a chance to learn about urgent, difficult issues from experts who have spent their careers studying race and ethnicity, and who are able to interpret this moment in light of their expertise," Moyd said. "And beyond their achievements as accomplished scholars, they are outstanding educators. The series brings together the presentation of complex research with the university's educational mission in a way that is reaching new audiences."
In May, the Arts and Humanities Council and partners produced "Quarantine(d) Conversations," a weekly series about COVID-19 and related phenomena, that drew hundreds of viewers. Joe Hiland, associate director for the council, predicts the "Confronting Racism" discussions will be popular well beyond their initial airings as well.
"'Quarantine(d) Conversations' had good, responsive crowds during the livestream, but almost all of the conversations also did really well after the week they were published, reaching hundreds of people who watched them later," Hiland said. "For 'Confronting Racism,' I suspect people are going to continue to be very much interested in hearing complex and nuanced conversations about all the issues we have lined up."
The series topics were chosen to spark conversations and "help a broad audience think critically about the role of race and racism in American society," Okamoto said. "We had more topics than we could cover in seven weeks."
Overall, 2020's COVID-19 pandemic and the widespread racial justice protests have changed the way the Arts and Humanities Council thinks about its programming, even its mission, Hiland said.
"We'd been very focused on live events, such as First Thursdays and the Global Arts and Humanities Festivals, and, frankly, we'd neglected livestreaming," he said. "Now we've become more flexible and creative; we're rethinking what public arts and humanities mean, and how many platforms there are to share."