With more free time than ever this spring and summer, Indiana University staff and faculty members have taken on new hobbies and found new ways of exploring old ones.
One Hoosier spent over 17 hours a week digging a rain garden with his family; another photographed her neighbor's mannequins. And one professor spent her quarantine cooking new recipes for her family while in physical rehabilitation after many years of CrossFit.
Rain, rain, go away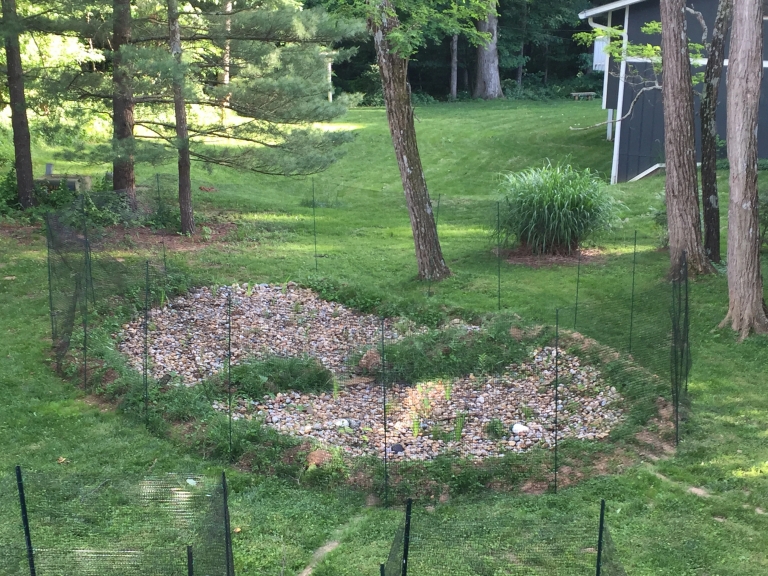 John Summerlot, director of the IU Center for Veteran and Military Students, bought a house three years ago and soon learned the yard had drainage issues. A portion of his backyard would turn into a swamp that would overflow into the neighbors' yards.
Last year he started planning a rain garden to prevent further flooding, he said. And with the extra time at home this spring, he was able to make it a reality.
"'Rain garden' is a fancy way of saying 'a temporary retention pond,'" Summerlot said. "It slows down the water from coming out of your yard and into the storm system or into somewhere that you don't want it."
Summerlot and his wife found a pre-COVID in-person session at the County Extension Office about rain gardens and discovered that Bloomington has a grant system for rain gardens. They received a $450 grant to buy supplies and start building.
Summerlot had drawn his blueprints on graph paper in the fall, and he started digging in the spring.
"We did all the labor ourselves," he said. "We dug the hole, we put in the rocks, we put in the plants."
Summerlot's 10-year-old son helped move rocks, while Summerlot and his wife, Adrienne, dug over 100 small holes for the plants.
They used three cubic yards of river rock and 100 native plants representing 10 species to create a 20-by-18-foot rain garden.
"We were the first homeowners to do a backyard sort of project where we didn't own a bunch of land," Summerlot said.
Every day that it wasn't raining, they worked on the garden for about two hours. On the weekends, they would sometimes work for seven hours, Summerlot said. Overall, the project took five and a half weeks.
To pass the time while the worked, the husband and wife pair would either chit chat or listen to history podcasts or music. If they encountered issues, Summerlot would watch YouTube videos to help him fix the problems.
"It was a challenge, but I look at it now and am like yeah, I did that," Summerlot said.
An eye for artistry
Darrell Stone is director of the Student Advocate's Office in the Division of Student Affairs and an associate faculty member in the IU School of Social Work.
But when she has free time during quarantine, she turns to her photographic and artistic side.
"When the pandemic hit and I was homebound, I would walk the neighborhood just looking for anything to shoot pictures of," Stone said.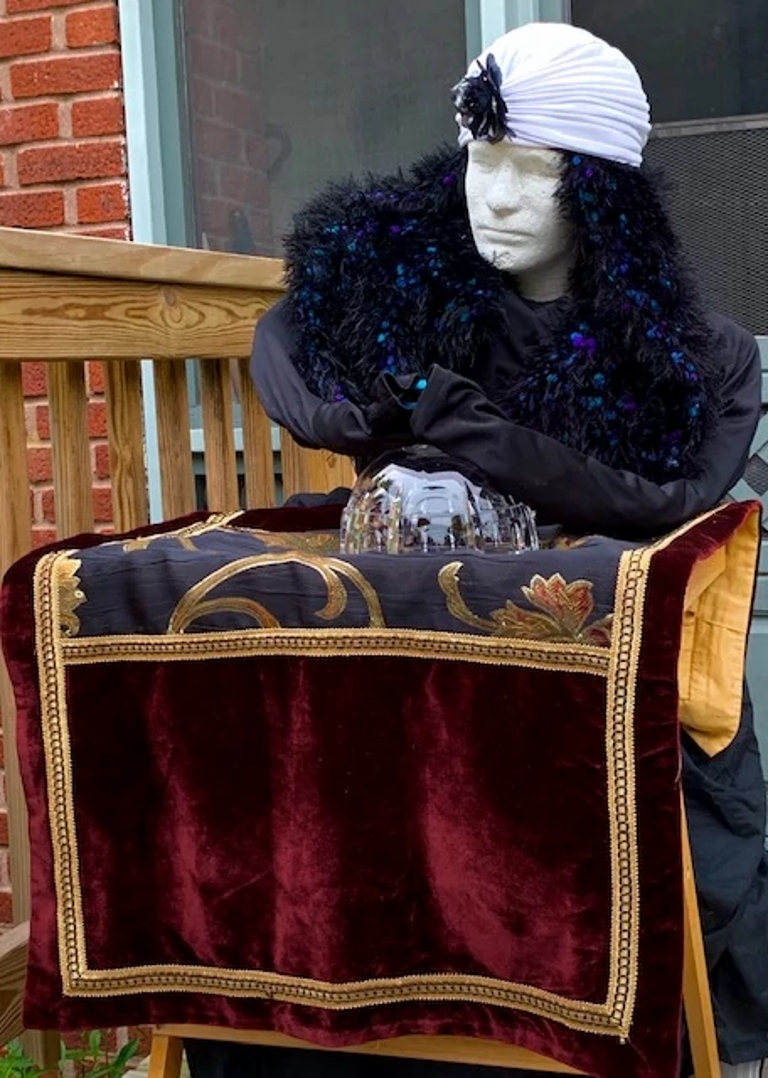 On one walk, Stone noticed dressed-up mannequins on a neighbor's porch one street over. Stone said the mannequins' outfits changed every day, and they weren't typical mannequins you would see in a department store.
"Everything you see, she has put together with her own pieces of clothing or something to look like an arm or a leg," Stone said. "It's brilliant."
Some of the mannequin setups were political, and others were artistic. Stone went to her neighbor to introduce herself and met Judy Owens, the artist behind the mannequin designs. Stone then took four or five pictures of the mannequins each week and posted them for her Facebook friends and Instagram followers every Friday.
"The common ground that I believe we shared as artists was seeing the world in a way where we captured something a little uniquely," Stone said.
In addition to the mannequin project that her neighbor has now finished, Stone took her photography to campus and the community to photograph the quiet streets or maybe a single jogger running through an empty town.
Stone edited these photos with creative filters and titled them "Pandemic Postcards: Wish You Were Here" as part of a postcard set that she plans to sell in a fundraiser for a food bank. She also has plans to use the mannequin photos for a writing project she is considering.
"It's just me being creative and trying to think outside the box," Stone said.
For a glimpse into Stone's photography, visit www.gamachestonegallery.com.
Creative in the kitchen
Andrea Murray, retired adjunct professor in The Media School, has been weightlifting for five years after being introduced to it by her daughter, who was a CrossFit instructor.
From there, Murray went on to compete in USA Weightlifting competitions in the masters level, which includes several age groups for athletes over 35. She won every competition she entered. But after years of wear and tear from the strenuous sport, Murray hurt her shoulder and had surgery in December.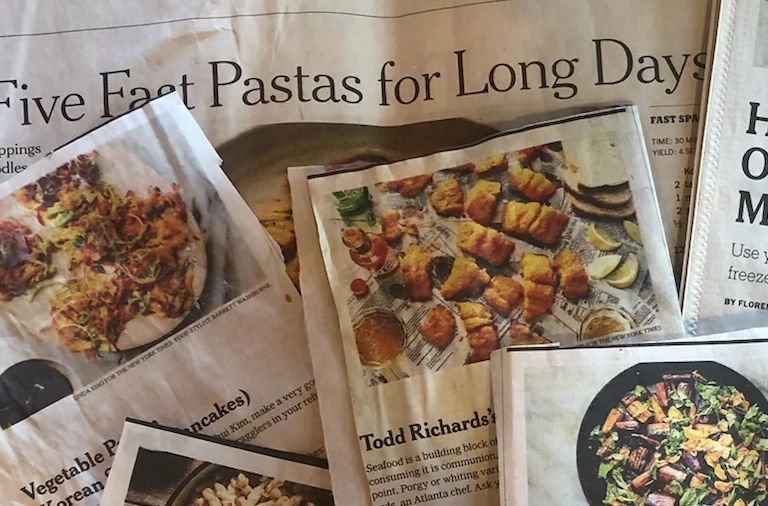 Although it was a painful recovery, Murray said was easing her way back into weightlifting while babying her shoulder.
"I went back to the gym, but then the shutdown came," she said.
While allowing her body to heal, Murray took a liking to cooking new recipes after seeing a few that sparked her interest in The New York Times.
Murray said it was fun picking out new ingredients from the grocery store and then putting them all together to create delicious new dinners for her and her husband. But she had to be creative.
"I don't have my oven; it has been broken since March," Murray said. "I've been using my toaster oven, and I call it my Easy Bake Oven.
Although Murray's toaster oven doesn't get its heat source from a lightbulb, she does have to divide her recipes in half to fit the food into the small opening.
Murray has experimented with sweet and sour eggplant with garlic chips, Korean scallion pancakes, pasta with ricotta and lemon, roasted cauliflower, and much more.
She said she plans to keep up with cooking even beyond COVID-19 stay-at-home recommendations.
"It's a reminder you can keep sane even though every day is Groundhog Day," Murray said.