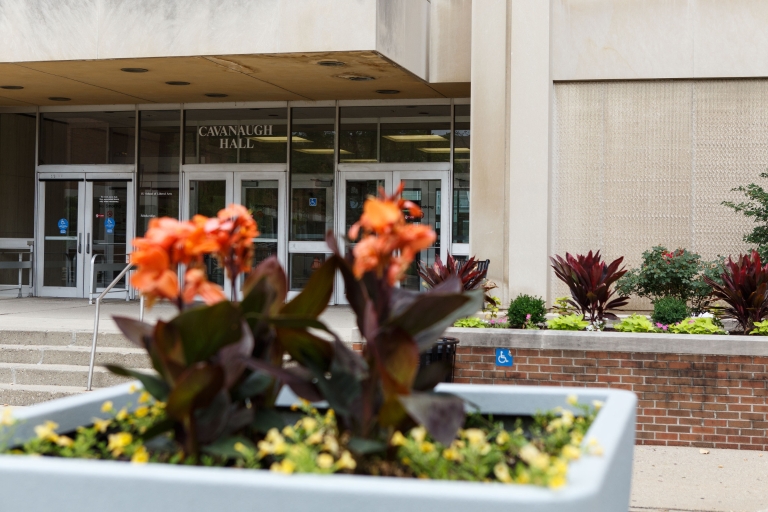 Physical-distancing measures, also known as social distancing, in the wake of COVID-19 outbreaks were well underway before states began stay-at-home mandates, and consequently a substantial decline in mobility was a strong private-sector response to new information about the risk of infections.
Those were among the key points made last month by Sumedha Gupta, an associate professor of economics in the School of Liberal Arts at IUPUI, speaking at a special-edition Brookings Institution webinar.
Gupta, along with Kosali Simon and Coady Wing of the Paul H. O'Neill School of Public and Environmental Affairs at Indiana University Bloomington, authored "Mandated and Voluntary Social Distancing During the COVID-19 Epidemic," which will be published at the end of the summer in the prestigious Brookings Papers on Economic Analysis series.
The study builds on their earlier research – with collaborators Thuy Nguyen and Felipe Lozano Rojas, also from the O'Neill School in Bloomington, and Ana Bento from the School of Public Health at IU Bloomington – that was released by the National Bureau of Economic Research on the effects of physical distancing on labor market outcomes and the impacts of state reopening policy on human mobility.
The research examines changes in human mobility and interaction as states shut down to induce physical distancing and mitigate the spread of the novel coronavirus, and also when restrictions like stay-at-home orders were lifted and state economies began to reopen. Gupta and her fellow researchers analyzed the effectiveness of two different types of physical-distancing policies:
"Informational events" included news of local incidence of COVID-19, captured using the first documented cases and deaths, and emergency declarations.
"Mandates that directly restrict social interactions" included school and restaurant/business closures, gathering restrictions, and stay-at-home orders.
To track how much physical distancing occurred, they used data from cellphone signal aggregators across several different geographic areas that tracked individual mobility and social interaction, proxied by the density of devices pinging in each geographic location in the same window of time.
As Gupta noted in the webinar, and indeed the world has learned, individual behavior can play an important role in the dynamics of the disease's evolution. People voluntarily spent more time at home and physically distanced to avoid contracting COVID-19, even before state and local governments mandated stay-at-home orders.
Physical distancing increased early and more in response to information like news of the first local COVID-19 cases and deaths and emergency declarations that signaled the direness of the situation without directly restricting mobility than they did to mandates like stay-at-home orders. Mobility declined substantially in all states, even in states without stay-at-home orders.
Human mobility has increased as states have lifted restrictions and reopened economies, but again study results suggest that a large increase in mobility is also due to factors such as improved weather and news of declining COVID-19 cases and deaths. The findings suggest that providing people with timely and accurate information and more targeted policies, such as protections for the immune-compromised and elderly, might be as effective in mitigating the pandemic as blunt policies such as stay-at-home orders that come at very high economic cost. These findings are particularly relevant now as cases are again rising after reopenings and more states are weighing another round of shutdowns.
Gupta's presentation was one of just two during the 75-minute webinar.
"We're fortunate to have retained the services of a very promising young faculty member – a woman in a field where women have been underrepresented – who's doing high-quality research on an extremely timely topic, COVID-19," said Steven Russell, professor and chair of economics in the School of Liberal Arts. "This research may have a genuine impact on people's lives, and it's been recognized by the National Bureau of Economic Research and the Brookings Institution, which are among the world's most prominent economic research organizations."