Researchers creating models to predict coronavirus spread in state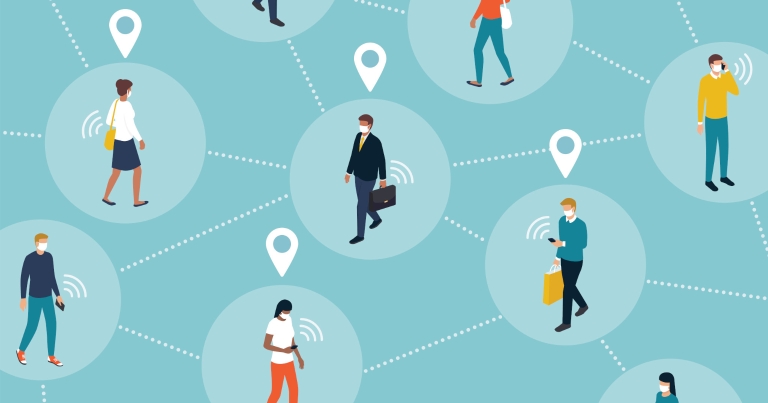 IU researchers are working to predict the future of the COVID-19 pandemic, and Indiana state officials are taking advantage of their expertise.
"You have a certain emerging trend, and the idea is to look and find out 'is the trend going down? What is the probability that new cases will overwhelm our hospital system? Should we reopen the economy?'" said Constantin Yiannoutsos, a professor in the Fairbanks School of Public Health and an adjunct professor in the IU School of Medicine's Department of Biostatistics.
Read more about Yiannoutsos and his colleagues' work on the IU School of Medicine blog.
Ask the Experts: Parenting During the Return to School
For parents considering sending children back to school or continuing e-learning, Healthy IU has a series of discussions from experts throughout IUPUI.
Each 20- to 30-minute recorded interview covers the expert perspective of a pediatrician, a psychologist, an educator, and an epidemiologist – all IU faculty members and parents.
Get the answers to your burning questions and learn strategies for a smooth, low-stress transition for your family on Healthy IU's Parenting During a Public Health Crisis page.
Polis Center to join School of Informatics and Computing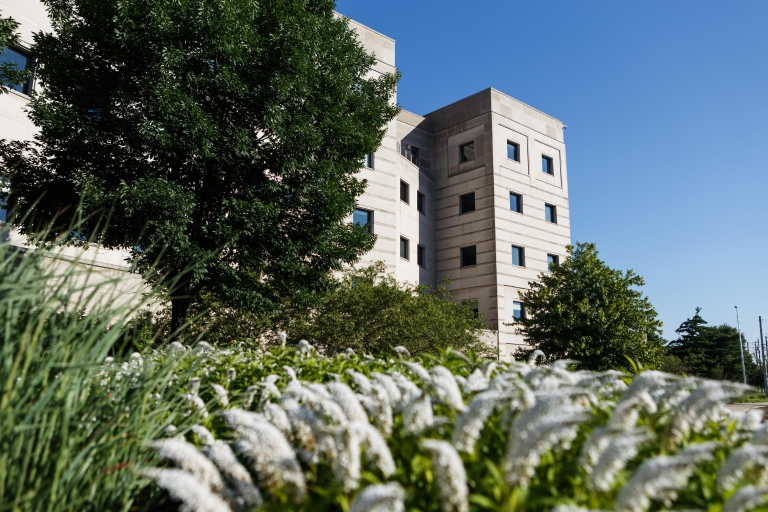 The Polis Center is joining the School of Informatics and Computing, positioning IUPUI to serve constituencies more effectively with community-based information and analysis. This union will enhance IUPUI's leadership and application of technology in collaborative and creative solutions for healthier and more resilient communities and extend the university's long tradition of service to Indianapolis and Central Indiana.
Research projects to explore impact of COVID-19
As COVID-19 has spread and the need to understand its impacts has increased, IUPUI researchers are tackling a variety of issues related to the novel coronavirus.
To support these efforts, the Office of the Vice Chancellor for Research launched the OVCR COVID-19 Rapid Response Grant Program, providing 17 projects with internal grants to address the diverse challenges posed by the pandemic.
IUPUI economics professor speaks at prestigious Brookings Institution webinar
Sumedha Gupta, an associate professor of economics in the School of Liberal Arts, addressed a special-edition Brookings Institution webinar about social-distancing measures in the wake of COVID-19 outbreaks.
Learn more about Gupta's findings and presentation to the esteemed Brookings Institution online.
New podcast provides IU research news
Now there's a new way to find out the latest Indiana University research news: Just ask your smart speaker device, such as Amazon Alexa or Google Home. Audio news briefings are posted every Monday, Wednesday and Friday.
Ask your smart device to:
"Open Indiana University news."
"Start Indiana University news."
"Launch Indiana University news."
You can also subscribe or listen via iTunes, Apple Podcasts, Spotify and iHeart Radio, or by visiting IU's Research Impact podcast webpage.
New cohort named for ACUE course
A cohort of 34 faculty has been named to the Association of College and University Educators' course in effective teaching practices. Offered through the Office of Academic Affairs and implemented by the Center for Teaching and Learning, the course is in alignment with Priority 1: The Success of our Students and Goal 1: Promote Undergraduate Student Learning and Success of the IUPUI Strategic Plan.
Read more about the course and the list of participants online.
Webinar to assist startup companies
A free webinar at 10 a.m. July 22 will help IU faculty, staff and students who have started or are considering starting a company to prepare for venture capital investment.
Fred Cate, IU vice president for research, will introduce a panel moderated by Dr. Michael Mirro, chairman of the IU Board of Trustees and medical director of Parkview Research Center. Guidance will be shared on what to expect and what questions to ask in order to take innovations from lab to market.
This is the first in a series of IU Quarry webinars that will be hosted by the IU Office of the Vice President for Research and Office of the Vice President for Government Relations and Economic Engagement.
Register for the Zoom webinar online.
Complete the Community Responsibility Acknowledgement
All Indiana University staff, faculty, temporary and student employees must complete the Community Responsibility Acknowledgement before physically returning to work on campus, as part of the effort to keep the IU community safe.
The acknowledgement allows employees to confidentially request accommodations as needed to return to work on campus.
Complete the acknowledgement or find more information on the IU Human Resources Web page.
JagStart 2020 names winners
Abinhav Sikharam and Joshua Kelly have been named the winners of JagStart 2020. The innovative students received cash prizes sponsored by the Office of the Vice Chancellor for Research and an invitation to take part in the Elevate Ventures Origin Program, an initiative developed to help aspiring entrepreneurs create an investor-ready business model for their startup.
The annual JagStart competition invites IUPUI students to showcase product ideas, business ventures or answers to social problems in an elevator pitch-style competition. If students win, their ideas can become a reality.
Sikharam, who is pursuing a master's degree in human computer interaction, won for his work on Project Ma, a smart desk gadget that nudges the user to sit less and stay hydrated and helps track activities with the help of a mobile app.
Kelly, a sports management major and an avid basketball fan, created a subscription-based service called Full Court Analytics that offers professional-level statistical insights into high school and Amateur Athletic Union (AAU) basketball.
IUPUI official sponsor for Indy Pride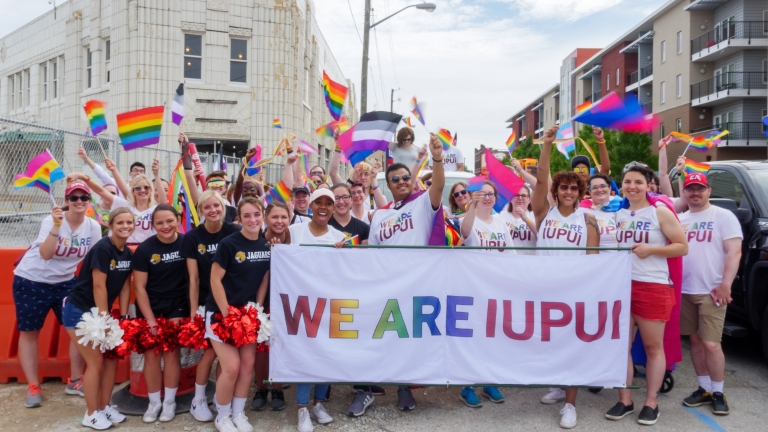 IUPUI was an official sponsor of the Indy Pride Festival, which took place virtually June 21. This was the first year that IUPUI was an official sponsor after supporting and sponsoring the event in smaller ways, including providing free campus parking for volunteers/staff and people with disabilities since the festival moved to Military Park.
The LGBTQ+ Center provided a video message for the virtual ceremonies.
IUPUI employee wins Outstanding New Professional Award from ACUHOI
The Association of College and University Housing Officers - International recently named IUPUI's Emily Braught as the Outstanding New Professional. The third-year residence coordinator for residence life academic initiatives at IUPUI was nominated by colleagues for the difference she makes in students' experiences on campus.
Read more about Braught's impact at IUPUI that helped earn the award.
Hoopingarner earns prestigious Horizon League award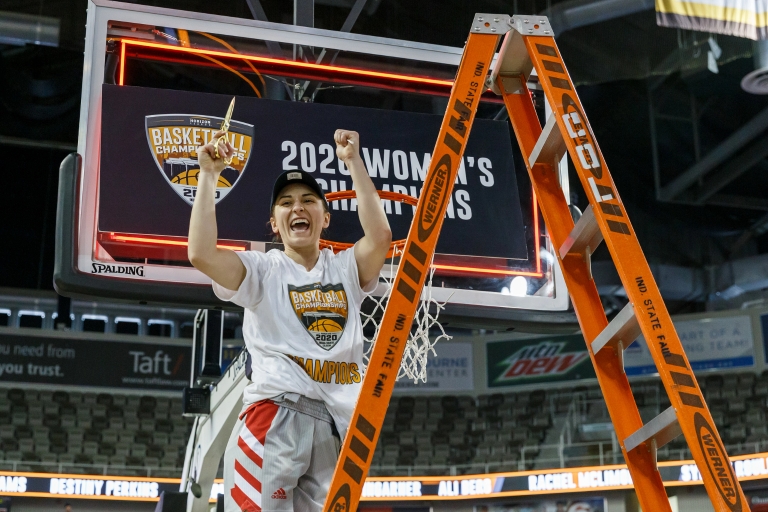 Former IUPUI women's basketball player Holly Hoopingarner was selected as the 2019-20 Horizon League Cecil N. Coleman Medal of Honor winner. The Medal of Honor is given to the top male and female student-athletes in the Horizon League who best exemplify the dignity and high purpose of the league and its membership.
Read IUPUI Athletics' full release on the Horizon League Tournament MVP and Jaguar grad.
2 'virtual salon' webinars focus on women's health
The McKinney School of Law and IU School of Medicine, in support of the IU National Center of Excellence in Women's Health outreach program, jointly held two "virtual salon" webinars in June hosted by the center's executive director and professor of clinical internal medicine and pediatrics, Theresa Rohr-Kirchgraber.
The hourlong webinars, which were recorded and are available for viewing, are "Sexual Harassment: COVID-19, Politics and a New Book" with Samuel R. Rosen Professor of Law Jennifer A. Drobac and "PPE, Sex and Gender" with Saralyn Mark, the president and founder of impact on Gender/Sex on Innovative Technologies, or iGIANT.
IU is title sponsor of Indiana Black Expo's education conference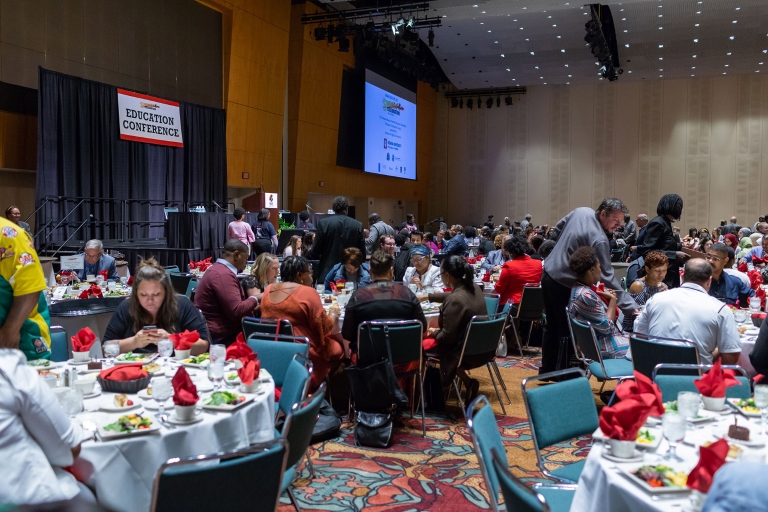 As part of Indiana Black Expo's 50th-anniversary scheduled programming, the Indiana University Education Conference focused on topics and resources to help educators and administrators respond to the COVID-19 crisis and the contemporary impact of racism on school experiences. The virtual conference took place July 14 through 16.
'Look/See' exhibits available online
The Herron School of Art and Design's annual "Look/See" event highlights students completing their master's degrees in art therapy, visual art and visual communication design and showcases undergraduate capstone student work.
Explore this year's virtual exhibitions, meet the graduates, and dig deeper through year-end Herron stories and IUPUI Newsroom highlights online.
IUPUI Staff Council executive committee election results
The 60 elected representatives, who represent the interests of over 4,400 staff constituents from across the IUPUI, IUSM Indianapolis, Evansville, Fort Wayne and South Bend locations, concluded executive elections in early June.
Filling the IUPUI Staff Council Executive Committee seats are:
Lindsey Mosier (president-elect).
Heather Staggs (first vice president).
Jeff Creasser, Kylee Sutton, and Javier Barrera (members-at-large).
A record-high voter turnout resulted in the positions of president-elect and first vice president each being decided by one vote. This year's election had 84 percent participation compared to the 68 percent of 2019.
"It was very encouraging this year to see an increase in participation for the Executive Committee elections," IUPUI Staff Council President Kristy Beach said. "This was the closest in our election process in the 11 years I have been on the IUPUI Staff Council."
The election outcomes resulted in additional changes for one-year term completion, with Alicia Gahimer filling the seat of second vice president as Mosier moves to president-elect and Kaitlin Bell serving as Member-at-Large, Gahimer moves to second Vice-President.
Visit the IUPUI Staff Council website for more information, including a full list of members and meeting dates.
July photo caption contest
Have you wondered about life at IUPUI in days of yore? Check out the IUPUI Special Collections and Archives Photo Caption Contest and enter a caption for the opportunity to win a Fabulous Prize!
Congratulations to Cindy Booth for winning the June Caption Contest with her entry: "Wow! Look at that! I didn't know you could use a trash compactor and call it 'art'!" She wins our Fabulous Prize!