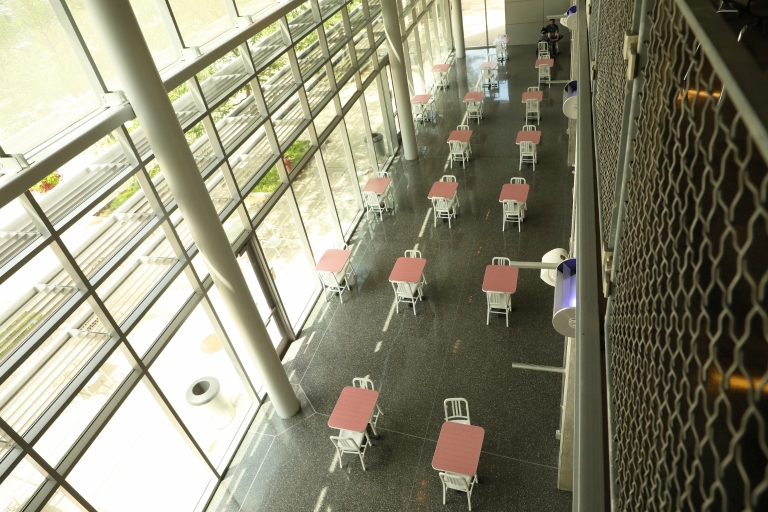 As IUPUI prepares to start the 2020-21 school year, dining on campus will continue to provide quality service but with increased safety precautions due to the COVID-19 pandemic.
The Chartwells team has remained on campus since March, providing service in the Campus Center for essential workers and working toward a safe fall 2020 plan jointly with IUPUI Auxiliary Services. IUPUI Dining Services will reopen restaurants at the Campus Center Food Court and select outlying retail markets on Aug. 10. Tower Dining inside University Tower will open Aug. 12. Hours and offerings are being finalized and will soon be published on the Dine on Campus website.
All dining options will be associate-served stations; no buffet or self-serve choices will be available. Seating will be reduced in all dining locations, including the Campus Center and Tower Dining, to account for physical distancing while queuing, and dining tables will be separated by 6 feet.
Given the reduced capacity, all food areas will have carry-out options. Menu offerings may be modified due to the physical distancing requirements of staff in the kitchens. Bottled beverages will be available for purchase, as all fountain machines will be turned off.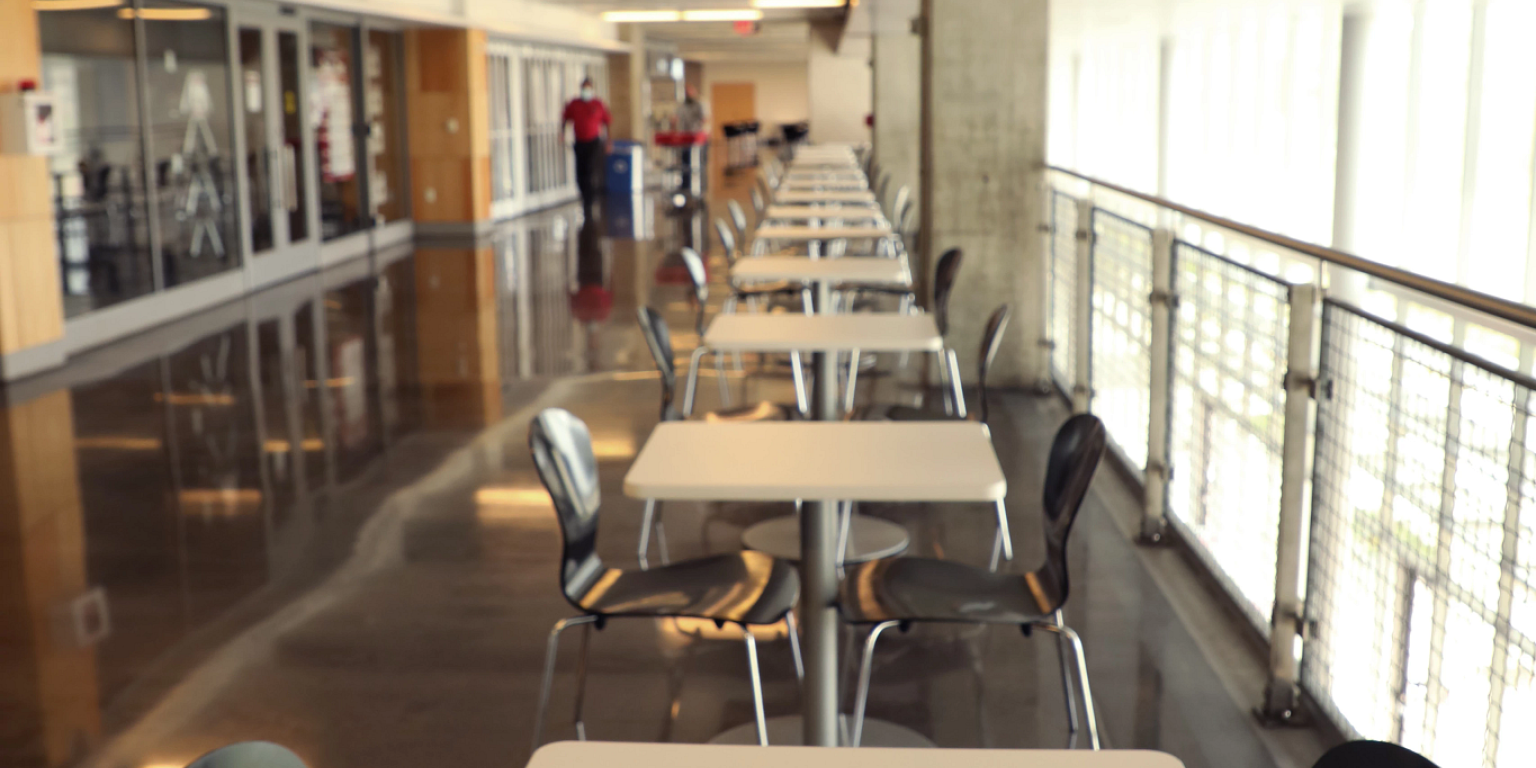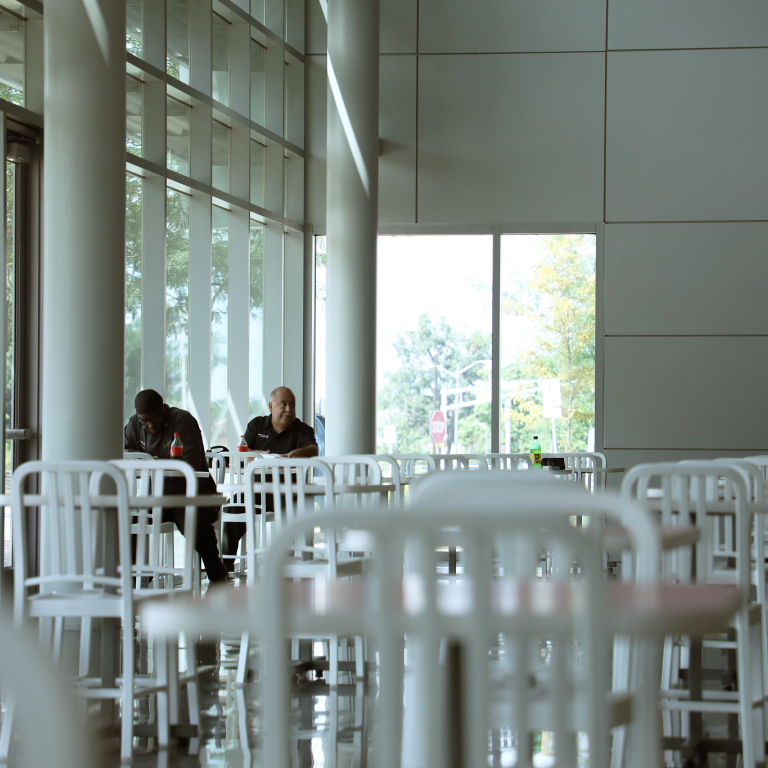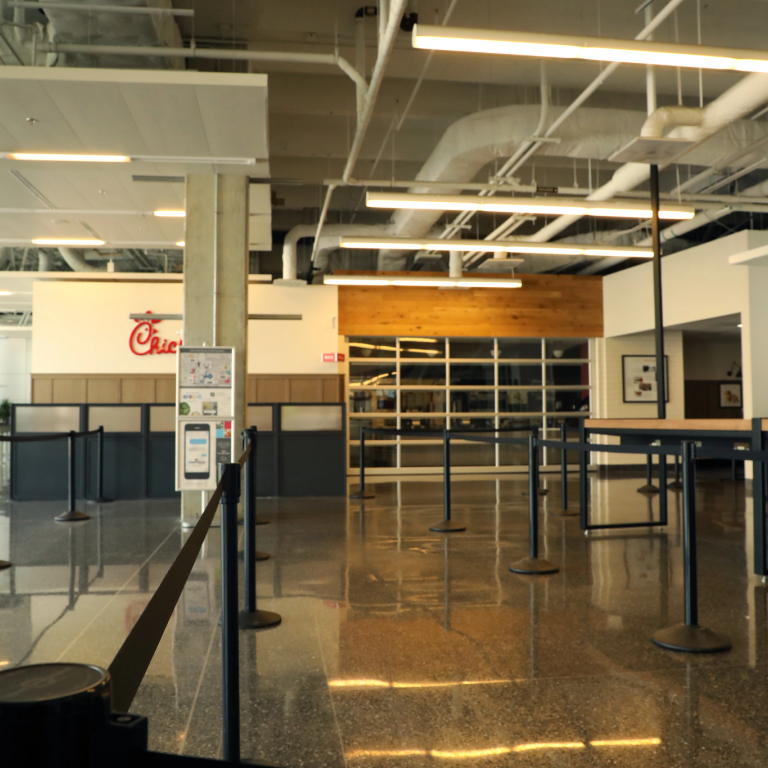 Photos by Tyler Lake, Indiana University
Customers will swipe their own credit, debit or CrimsonCard using the card terminals or can pay with Apple Pay or Android Pay to limit contact between associates and customers. All dining locations outside the Campus Center will be cashless, including Tower Dining and other satellite retail locations. Customers can still use cash as a payment method inside the Campus Center.
Point-of-purchase locations will have plexiglass dividers, more space for queuing and floor markers. Dining and purchases queuing spaces will have signage and floor markers to encourage physical distancing.
Tracked cleaning practices will take place every 30 minutes, and disinfection practices will be enacted twice a day. This includes associates washing hands or changing gloves every 30 minutes or less, and associates continuously cleaning tables, chairs and all high-touch services with disinfectant.
Chartwells has added two new positions, a cleaning concierge and a safety ambassador, to support the enhanced protocols. The cleaning concierge will be responsible for ensuring that all of the proper cleaning practices and disinfecting procedures are taking place both in dining areas and in kitchen areas. The safety ambassador will help guests navigate the new practices and expectations; bring awareness to the handwashing and hand sanitizer stations at the entrances and exits; emphasize the need to be physically distant; and ensure that masks are worn at all times, except while eating.
"We have worked hard to continue to provide the service and food options the IUPUI campus community is used to," said Stacy Blanton, residential district manager for Chartwells. "We ask that everyone is patient as the campus at large learns how to use our facilities under these new circumstances and as our associates put new processes into place to keep everyone safe."
In the Campus Center, Erbert & Gerbert's and Tu Taco will be closed so that staff can properly physically distance in food preparation areas and that queues for Caribou Coffee and Chick-Fil-A can be routed through those areas.
At Tower Dining in University Tower, all options will be available. Associates will be working each station and will plate the customers' selections for dine-in. An additional line will be available for guests who want to get a meal to go and bypass entering the dining hall. The dining hall will be closed from 2 to 3 p.m. each day to thoroughly disinfect the facility, but the to-go option will still be available during this time.
"Safety and the well-being of students, employees and visitors have been the foundation which IUPUI Dining Services has used when implementing new service standards for the fall," said Mark Volpatti, associate vice chancellor for auxiliary services. "Decisions on what, how and where food is served are all factors in providing the safest experience when dining on campus. We will appreciate our customers' support and flexibility as we implement our new food service approaches, and we look forward to serving everyone soon."
Fall 2020
Indiana University is looking forward to welcoming students, faculty and staff to the fall semester. The university has provided safety guidelines, an academic calendar, FAQs, and campus-specific guidance for move-in, testing, teaching and learning at fall2020.iu.edu.