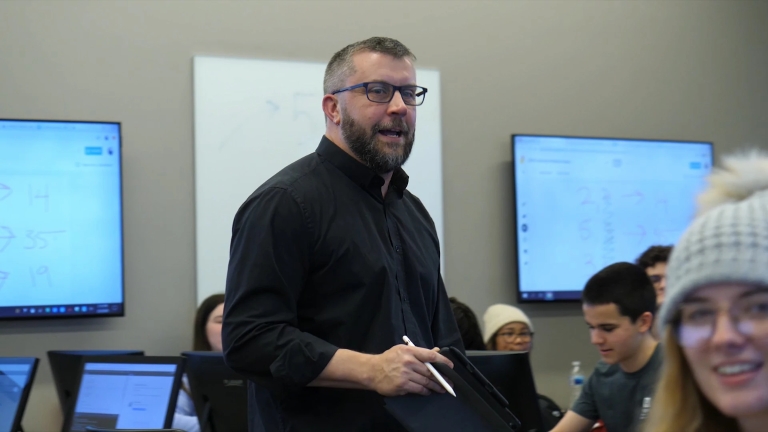 Since the COVID-19 pandemic disrupted life in March, students, staff and faculty have experienced countless challenges and adjustments. But IUPUI senior lecturer Rob Elliott has worked to turn the disruption into a learning opportunity for his students, his peers and himself.
The self-described "IT guy and nerd" started teaching at IUPUI 17 years ago and for the last 11 years has been on faculty with the School of Engineering and Technology. Elliott teaches everything from introductory courses to capstone projects, either online or in-person, in the Computer and Information Technology program.
But no amount of IT experience or familiarity with technology could have properly prepared him – or the education world – for the pandemic's disruption to the spring 2020 semester. Professors had two weeks to scramble and abruptly shift their courses online midsemester. Students then had to adjust to this unexpected alteration to their learning experience.
"The spring semester was not online teaching; it was emergency remote learning," Elliott said. "There's a big difference."
Like his peers, Elliott is now better prepared, having spent the summer tailoring his courses to better fit the structure of the 2020-21 school year's learning environment. The 2020 Indiana University President's Award for Distinguished Teaching winner will be teaching half of his classes in person and the others synchronously. Synchronous classes are held on a set schedule in which students virtually attend an instructor-led session on a regular basis at specific times and days.
Elliott's more introductory courses will be held in-person, and he is thankful for the university's vision to provide more of these opportunities to freshmen as they begin college.
"We really need to help students get used to the college vibe – how campus works, how to talk with professors and peers, how to find assignments," he said. "We are doing everything we can to provide a good experience for our students."
The spring semester saw some courses that were not designed to be engaging in a digital environment, and Elliott noted that online courses in general have gotten a bad rap because of those instances. Like many of his peers, he has relentlessly been working to provide a valuable experience for his students in whatever method he's teaching.
"With the fall, because we know there will be more courses online, we can be intentional with how they are designed and make sure that we invest the time to make them fit the format properly," Elliott said.
Elliott recognizes the potential for issues with the format and prepares his classes for the different modes of instruction. His online courses can be difficult because that method requires more intrinsic motivation and accountability from the student.
Never one to use his 75 minutes of class lecturing, Elliott has been recording his lecture material so that students can watch on their own and the time together can be spent with more applied, hands-on learning.
As Elliott typically does with his online courses, he plans on scheduling more touch-base meetings, being more intentional about posting announcements, asking for feedback and sharing resources if the class is having trouble with a specific assignment.
Elliott has also purchased a green screen with the intention of being more engaging and increasing students' interest in the digital format. He is creating an introductory video to each module in his classes and aims to use the green screen to show things he typically would do with a whiteboard inside the classroom. Students will be encouraged to write out notes and draw pictures, graphs and flowcharts, and Elliott hopes this presentation method will be impactful for the class. He also said his classes should not be surprised to see the green screen used for funny animated GIFs, backgrounds and memes.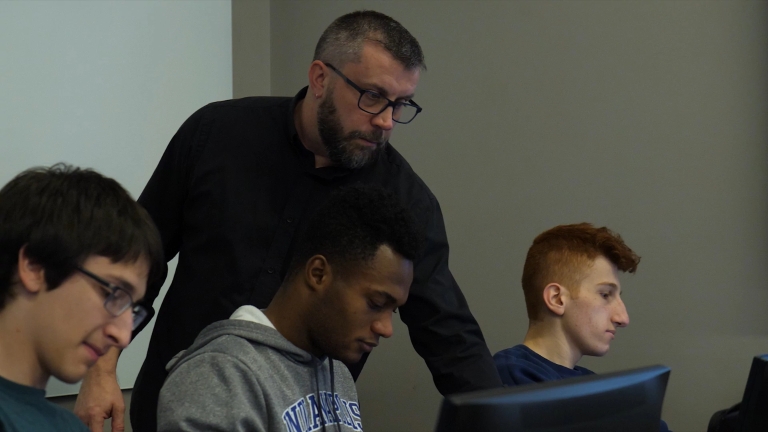 "I want my students to understand that I'm not a robot teacher who will just pump out assignments," he said. "I'm actively thinking about how I can better connect with my students each week."
A concern of Elliott's in the spring semester was the situation facing his seniors, who were about to graduate into an unexpectedly changing workforce. If it had been a couple months later, many of the graduates would be attempting to navigate these new tribulations in a professional context on their own. Elliott tried to prepare his students for the suddenly new environment by introducing new habits for remote working and sharing collaborative tools that would be beneficial without relying on in-person communication.
An additional point of emphasis for Elliott was to check on his students' health and well-being in navigating the pandemic. He recognized the situation was disruptive not only to students' schooling, but to their whole personal lives.
"This did not stop his joyful and caring personality. He would always start our Zoom meetings by asking how everybody was feeling," said sophomore Danielle Vann, who was in the Programming Constructs Laboratory in the spring. "Although the in-person interaction was gone for the semester, he still made himself available to students by way of Zoom and email to make sure we got the help we needed to end the course successfully."
It became commonplace to see Elliott's dogs walking in the background of Zoom meetings and to hear from students who were overwhelmed by working in grocery stores and delivery services. The situation helped break down those barriers between teachers and students as it showcased the collective humanity of everyone trying to pilot this uncharted time.
"I'm not trying to be their life coach," Elliott said, laughing. "But I want them to know I'm thinking about them in the context of what's going on."
Elliott's classes are designed around safely – and metaphorically – throwing his students in the deep end by giving them opportunities to work on problems, make mistakes and find new ways to resolve tasks.
"Although sometimes the material was difficult, his teaching style is supportive of anyone, no matter which part of the coding journey you were in at the time," said sophomore Carson Miller, who took a class from Elliott in the spring and plans on taking another this fall. "His kind demeanor with a high level of patience really helped the students who struggled more than others."
Though face-to-face interaction was not possible because of the pandemic, Elliott still offered personalized instruction online and encouraged his classes to be connected. He was available for one-on-one sessions to answer students' questions and dive deeper into the material. His courses had breakout sessions where students were encouraged to interact and work together in the virtual meeting rooms. And students still had group projects to collaborate on.
"His teaching style is a perfect presentation of what a modern instructor should be," Vann said. "He seamlessly adapts his style for each lesson he is teaching to ensure his students understand the material and feel confident enough to try to display what they have learned."
Students appreciate the balance that Elliott finds between their well-being and their growth in the course.
"You can tell he cares about the education the students receive," said sophomore Donald Long, who also took Programming Constructs Laboratory in the spring. "His teaching style is to get you to be involved. The more you are involved in the lesson, the more you get out of it."
The conclusion of the spring semester was about getting through a tough situation as best as possible. While the difficulty of the pandemic remains, the expectations for a quality and meaningful semester stand firm.
"I want students to take it seriously, and even if the format of the course has changed, I want them to see value at the end of it," he said. "I want to see that my students can do more than when they came into the class and that they are adequately prepared for what comes next."
Fall 2020
Indiana University is looking forward to welcoming students, faculty and staff to the fall semester. The university has provided safety guidelines, an academic calendar, FAQs, and campus-specific guidance for move-in, testing, teaching and learning at fall2020.iu.edu.