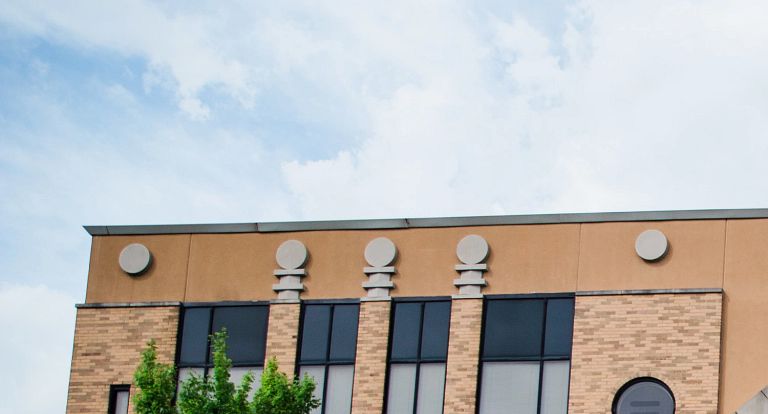 Like all college students, IUPUI's Kennady Livers saw her academic year end in strange fashion as COVID-19 sent campus home early. This summer, Livers has emerged on the front lines of the pandemic, interning at the Indianapolis Urban League and helping the city's residents get back on their feet after the shutdown.
Livers is a junior in the Kelley School of Business, majoring in marketing and minoring in philanthropy. At the Urban League, which has served Indianapolis since 1965 and sits right next to the IUPUI campus, she serves as the public relations and communications intern.
The Urban League is a social service/civil rights organization that aims to help citizens and communities help themselves. It's been an especially important summer for the Urban League, and Livers has been right in the thick of it.
"During COVID-19, I have been helping every Tuesday with the food drives at the Urban League," she said. "I have been doing research and keeping the public informed through our social media accounts about social advocacy and issues such as the census, the election and COVID-19 updates."
The food drives have been especially important for Indy residents as COVID has taken away jobs and left many searching for answers. Livers has assisted in a variety of ways throughout the summer, posting photos of the drives to spread awareness or bringing out boxes of food to cars during the socially distanced pick-up times.
The internship has taught Livers about her career, but also about the city she now calls home. "This internship has reinforced my view that so many people in our city need help," she said. "Most of the residents need something, whether it be food, shelter, an education or a job. Organizations like the Urban League are very important, and I am honored to have the opportunity to work there."
When the internship ends, Livers will also have real-world experience that will serve her well in the future. She's learned how to create marketing campaigns and see them through to completion, all while working with a team.
As Indianapolis rallies to come back from the pandemic, Livers is preparing herself for a bright future beyond IUPUI.