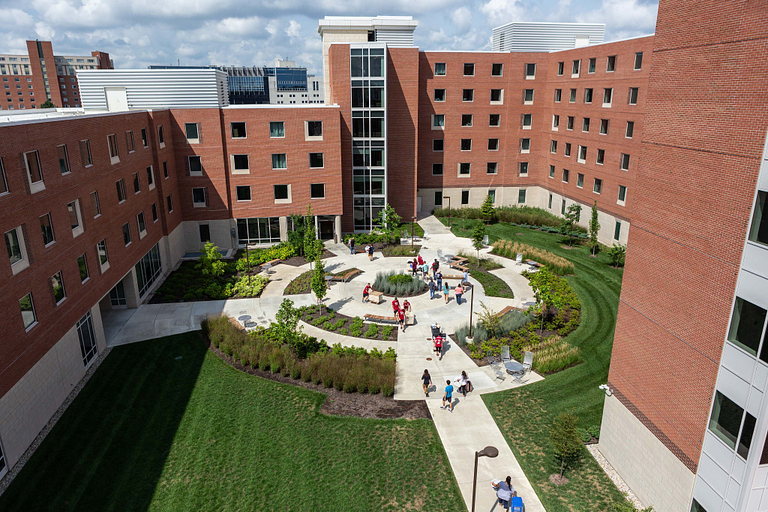 Early move-in is approaching at IUPUI, but like everything else during the coronavirus pandemic, students can expect changes to housing operations this fall. To keep students safe, the university has made several adjustments to its housing facilities, policies and practices.
All residential communities will be open this fall, and IUPUI will offer the majority of services that are typically offered to students, but with physical distancing and enhanced cleaning procedures being implemented. Students and staff will be expected to abide by all precautionary measures put in place by the university.
To limit the possible spread of the virus, Housing and Residence Life has announced that all rooms in IUPUI's residence halls will be single occupancy, with a rigorous exemption process available for students who may wish to choose their own roommate. Students are allowed to have two guests help them move in to their room, but once the move-in process is complete, no guests will be allowed in the residence halls for the remainder of the academic year or until it is deemed safe for outside guests to visit housing.
In coordination with the university's mask mandate, everyone must wear a mask while occupying shared spaces in the residence halls. Students will not be required to wear masks in their room if they live alone or if roommates agree not to do so.
IUPUI has also restructured its housekeeping and maintenance team schedules to increase the frequency of cleanings with disinfectants in the residence halls' bathrooms and public areas. Housing and Residence Life team will also enlist the help of students and other housing staff to clean up after themselves in bathrooms and common areas, including wiping down surfaces after use to keep them clean for the next person.
A quality residential experience includes residential events, and programming is key to student success. While large events won't be allowed this year, the staff will focus on topics related to personal responsibility, communication, community and identity development. Housing and Residence Life is planning events for 15 or fewer people that allow for adequate physical distancing, as well as activities that students can drop by on their way through common areas.
Larger events will be hosted virtually so residents can still meet and connect with others in their community. Like any year, students will still have the opportunity to sign up for and participate in leadership positions through Hall Councils, which will continue planning similar types of events for students.
Students should use the move-in scheduling tool they received via email from Housing and Residence Life and sign up for a move-in time. All students should also check their IUPUI email for other housing updates. If they haven't already, students need to sign their addendum as soon as possible so they do not lose their housing space. Students on the wait-list should continue to check their IUPUI email for information about housing offers.
Housing and Residence Life can be reached at reslife@iupui.edu, and staff are responding to questions within two business days. The housing team will also be available to assist students during their Virtual Orientation's Student Success Session.
Fall 2020
Indiana University is looking forward to welcoming students, faculty and staff to the fall semester. The university has provided safety guidelines, an academic calendar, FAQs, and campus-specific guidance for move-in, testing, teaching and learning at fall2020.iu.edu.