Just six months ago, contact tracing was mainly a concern of health officials using the strategy to stop disease outbreaks such as tuberculosis and HIV. Now, like so many other pandemic-related activities, contact tracing seems to also be top-of-mind for every journalist, government official and community leader working to stop the spread of COVID-19.
So, what exactly is contact tracing?
Contact tracing helps isolate cases and identifies close contacts of individuals who have tested positive for a disease in order to stop the chain of transmission. For COVID-19, close contacts are defined as someone who has been within 6 feet of an infected person for more than 15 minutes.
The health experts who lead Indiana University's Medical Response Team, which manages testing, mitigation and tracking of the COVID-19 pandemic for all IU campuses, believe that a robust system of contact tracing is key to the safe return of students and employees to IU campuses across the state this fall.
"Contact tracing layered upon efforts to prevent and aggressively test for COVID-19 creates the best strategy for keeping all of IU's campuses as safe as possible," said Dr. Adrian Gardner, director of contact tracing and disease management for the IU Medical Response Team and director of the IU Center for Global Health.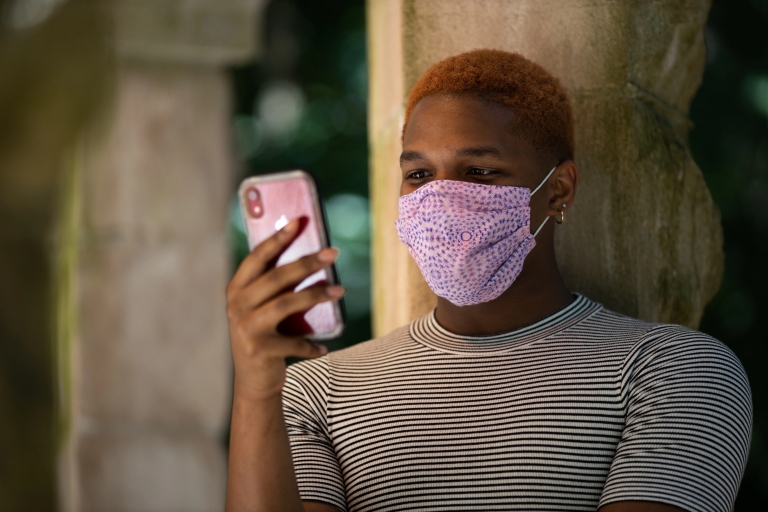 The contact tracing process starts with a call to someone who tests positive for SARS-CoV-2, the virus that causes COVID-19. Contact tracers hired by the university will ask about the person's activities over the past several days. Contact tracers may ask those who have tested positive to look through their calendar, texts and emails to recall anyone with whom they may have had close contact during their infectious period.
Current research shows that people are able to transmit the coronavirus beginning two days before they have symptoms and are likely to be the most infectious on the first day that they show symptoms. People who have tested positive for COVID-19 are believed to be able to transmit the virus for up to 10 days from onset of symptoms, as long as their symptoms are improving. Asymptomatic individuals are also believed to be contagious for 10 days, so they should consider themselves infectious for at least 10 days after their positive test.
Contact tracers will also provide education, guidance and isolation parameters based on U.S. Centers for Disease Control and Prevention guidance, and assist with resources necessary to make isolation and quarantine possible.
What's the difference between isolation and quarantine?
Isolation is for people who test positive for the coronavirus. It is used to separate infected people from people who are not infected. People who are in isolation should stay home and separate themselves from non-infected household members.
Quarantine is for people who might have been exposed to COVID-19. It is used to prevent the spread of COVID-19, which can occur before a person knows they are infected with the virus – whether they are pre-symptomatic or asymptomatic. People in quarantine should stay home and separate themselves from others (both infected and non-infected people).
If a person is identified as a close contact of someone who has tested positive for COVID-19, they will receive a phone call to inform them. Due to privacy laws, the name of the person who has tested positive for COVID-19 will not be shared with contacts. Contacts will be directed to quarantine for 14 days from the time of their exposure and closely monitor their own health for signs or symptoms of possible illness.
If these individuals start exhibiting symptoms of COVID-19 and test positive for infection, they will be contacted again by a contact tracer and asked to self-isolate or – if they live on campus – moved to designated isolation spaces. Students who live in on-campus housing also have the option of returning to their permanent home to isolate.
How you can help
Gardner said one of the most important ways to ensure that contact tracing succeeds is for members of the IU community to answer the call from the contact tracer and provide the most accurate information possible.
"We all know that it is uncomfortable to share detailed information about your life," he said. "Be assured that your personal information is always protected and your participation could literally be life-saving for another member of the IU community."
Calls from IU's team of contact tracers will come from an Indiana University phone number.
Members of the IU community are required to cooperate with the contact tracing process and failure to do so will result in disciplinary measures.
Students and employees can also help IU's contact tracing efforts by sharing information about their positive COVID-19 test results or if they are a close contact through the COVID-19 Self-Reporting Form accessible via one.iu.edu.
Gardner encouraged all students, faculty and staff to approach their daily activities from the perspective of a contact tracer.
"If you go about your day with an effort to limit the number of people who would be defined as your close contacts, not only will you be less likely to be on the receiving end of a call about being someone else's close contact, you will significantly limit your own risk of infection," Gardner said.
Large social gatherings and events present a nightmare scenario for contact tracers and present the highest risk of infection, Gardner said.
The Medical Response Team is working with the university's customer relationship management technology to streamline the reporting and monitoring of all cases and close contacts related to COVID-19.
IU is also hiring a cadre of contact tracers who will serve each campus, which will supplement contact tracing teams from the state and county health departments. It is possible that an individual might receive contact tracing calls from more than one set of contact tracers, so they are encouraged to cooperate with each, Gardner said.
"Universities operate within communities that also have an interest in stopping transmission," he said. "We are trying to streamline our systems as much as possible but ask for patience as these efforts continue."
Visit IU's fall 2020 website to learn more about plans to keep the university community safe.
Other resources:
Debbie Ungar is the communications manager for the IU Center for Global Health.