The Indiana University Board of Trustees has approved IU's 2021-23 legislative capital request. The request presented by Thomas A. Morrison, vice president for capital planning and facilities, includes five primary projects for the 2021-23 biennium as well as submission of the university's formula repair and rehabilitation plan.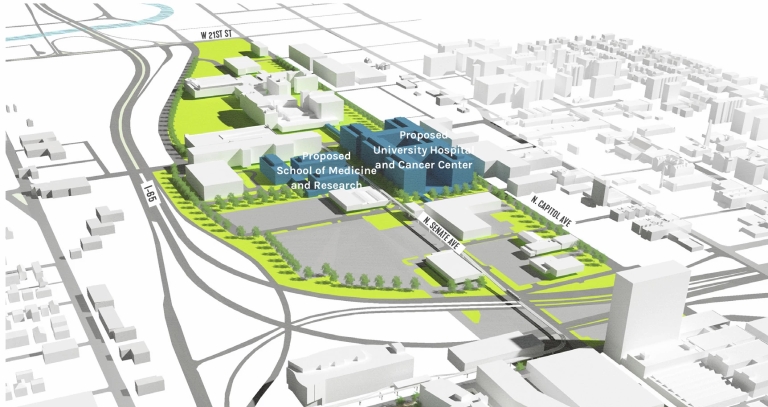 Indiana University's top priority project will create a new primary site for the IU School of Medicine in conjunction with planned expansion by IU Health at the Methodist Hospital campus in Indianapolis. This approximately 350,000-gross-square-foot facility will be near the expanded IU Health Methodist Hospital campus and new Academic Health Center just south of 16th Street and near the IU Neurosciences Research building.
This combination medical education and research facility will include interprofessional education spaces outfitted with state-of-the-art technology, classrooms, teaching and research labs, offices, and related support space. State funding of $75 million will be requested, with the remainder of the $245 million total project cost funded by the IU School of Medicine and private grants.
"At IU School of Medicine, our mission is to improve the health of Hoosiers," said Dr. Jay L. Hess, dean of IU School of Medicine and IU's executive vice president for university clinical affairs. "The new Academic Health Center will help us recruit top talent and serve as a catalyst between education, research and clinical care. With our partners at IU Health, I am excited by the possibilities that this new facility will provide our students and physician-scientists."
The remaining biennial projects include:
Renovation of the School of Public Health-Bloomington, including the attached Bill Garrett Fieldhouse, at $65 million.
Phase V of Regional Campus Deferred Maintenance, totaling $25 million, to include critically needed repairs and renovations of facilities and infrastructure for IU's campuses in Richmond, Kokomo, Gary, South Bend and New Albany.
Renovation of the School of Dentistry building in Indianapolis at $20 million.
Construction of the Multidisciplinary Research/Informatics Science Building IV in Bloomington, to be located north of Luddy Hall. This $50 million, approximately 85,000-gross-square-foot facility is part of a proposed "mind, brain and machine quadrangle" and will be used for multidisciplinary research and instruction.
The university's formula repair and rehabilitation submission, which contains asset totals for infrastructure and academic and administrative buildings, also was presented. State-funded repair and rehabilitation remains a crucial piece of the university's continued commitment to maintaining and updating facilities, technology and infrastructure to best support cutting-edge teaching and research.
"The capital projects in this legislative capital request will greatly assist Indiana University in maintaining and growing our current facilities and infrastructure for long-term needs required by the ever-evolving instructional and research methods of higher education," Morrison said. "These projects will help us continue to provide the facilities and infrastructure necessary to support cutting-edge education and research in a safe, effective and efficient environment for our students, faculty and staff for generations to come."
In addition to the legislative capital request, Morrison also shared guidelines used by facilities staff in restarting operations on all campuses. These facilities guidelines reference information contained in the Indiana University Restart Committee Recommendation Report, while also providing facility-operations-specific best practices.
Steps taken consist of starting at a baseline clean (including the replacement of all mechanical system filters); increasing cleaning frequency in public areas; crowdsourcing the cleaning of individual spaces; providing sanitizing stations and cleaning supplies to building occupants; and acknowledging the need to remain flexible and be ready to adjust as necessary. Additionally, guidelines for ventilation, building controls and use of plexiglass were described, and examples of furniture spacing and signage were shown.
Beth Feickert is a capital planning project specialist for the IU Office of the Vice President for Capital Planning and Facilities.