Global education initiatives like international research exchanges, overseas learning experiences for students and lectures by guest speakers from abroad often require a great deal of logistical planning and capital. Coupled with the mobility restrictions in place due to the COVID-19 pandemic, these factors make providing students with a global education seem trickier than ever.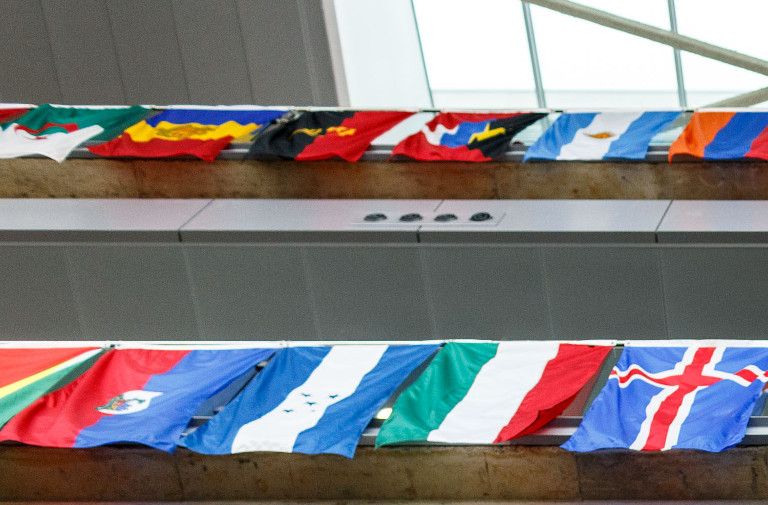 Luckily, Indiana University has a vast network of international partner institutions, global alumni and gateway offices that can keep faculty and staff connected to the rest of the world, and the IU Office of the Vice President of International Affairs has launched a new initiative that makes harnessing the power of this network easier than ever.
Global Connections pairs faculty and staff with members of the office to carry out initiatives such as finding an expert from a foreign university, nonprofit or government to give a guest lecture or participate in a panel discussion; connecting IU classes to peer classes overseas; developing a flexible research-based exchange; and convening reading groups that bringing IU students in a particular discipline together with their counterparts across the world.
To start the collaboration, faculty and staff can fill out a simple, six-question form detailing what type of international programming they are interested in. Then, they will be connected with the appropriate representative of the IU Global team for a consultation. Whether the interested party has a fully fleshed out idea or is looking for inspiration, the team can be of assistance.
"IU has an amazing network of connections through its Global Gateways, university partnerships and international alumni chapters, and we realize penetrating that network can be a little overwhelming for faculty and staff," said Ally Batten, director of the IU Global Gateway Network. "OVPIA is here to help navigate and take advantage of our global networks."
For example, IU Mexico Gateway director Molly Fisher recently worked with clinical assistant professor Barbara deRose to set up a virtual exchange between IU School of Nursing students and students at the University of Navarra in Spain and the National Autonomous University of Mexico, known as UNAM, this spring. Students spent an hour discussing common global health issues, social determinants of health and common themes in the schools' courses.
In addition to enlisting international university faculty members to participate in the exchange, IU Mexico Gateway staff also supported the planning and logistics of the event and with translations. It was such a successful exercise that deRose is already planning another like it for the fall.
"In all likelihood, our fall 2020 exchange will focus on the global and local effects of the coronavirus on students and on their country's populations and health care systems," deRose said. "We would absolutely love to invite all the Global Gateways to find nursing schools in their areas to participate in this exchange."
Fisher said that deRose made a great faculty partner because not only is she a globally minded educator, she is also flexible and adaptable. Fisher said that being creative and open to change are important skills needed for successful global work to overcome the challenges that come with varying languages, formalities and time zones. These are also some of the valuable skills students obtain from meaningful international educational exchanges.
Such exchanges don't have to be confined to the classroom or the research lab. For example, a recent virtual business forum organized by the ASEAN and India Global Gateway offices connected IU alumni from across India and Southeast Asia with Jason Whitney, executive director of the IU Angel Network and IU Ventures. IU Global has also been bringing faculty, international scholars, arts administrators and practitioners together to discuss the impact of COVID-19 on the creative arts around the world in a weekly webinar, "Art in the Time of Corona."
"I think sometimes people underestimate the effort it takes to get projects like these going or how helpful it is having someone who is on the ground or who has personal connections facilitating," said Shawn Reynolds, associate vice president for international partnerships and senior advisor for international advancement. "Steven Yin, our gateway director in Beijing, can get on WeChat and set something up in five minutes that may have taken two weeks if the faculty were on their own."
Staying connected to the university's global network has never been more important. In a time when international mobility is essentially nonexistent, it's become imperative to look for creative ways to provide IU faculty, staff and students with global experiences that spark innovation and shape careers.
"The most exciting part of our work is when we help a faculty member get involved in a particular area of the world that they haven't been exposed to, and they develop deeper connections that lead them to other projects or other research," Reynolds said. "And you never know when a student's first exposure to a place can light a fire within them and influence their studies or career or life."