IU bolsters cleaning regimens, resources for fall semester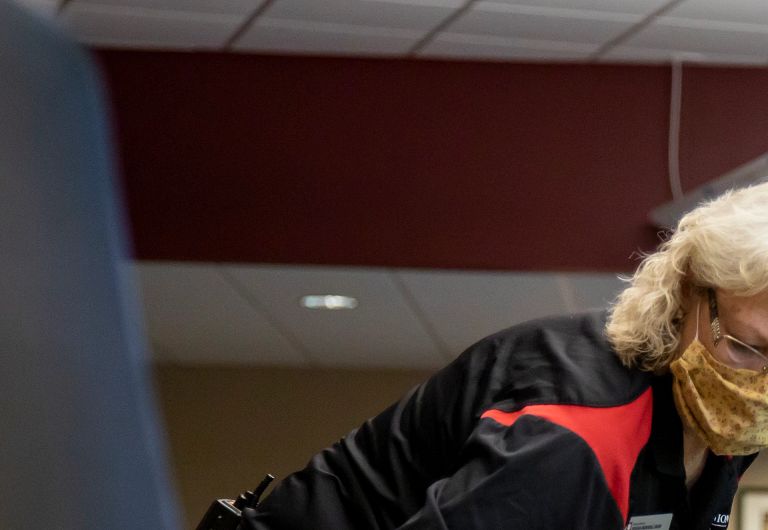 Indiana University Facility Operations and Campus Facility Services ramped up the cleaning regimen and resources needed to stop the spread of the novel coronavirus at all IU campuses and academic centers across the state.
For example, custodial staff is disinfecting high-touch surfaces three times per day, including door handles, toilets and water bottle filling stations. More than 2,000 hand sanitizer units were installed at the Bloomington campus, and more than 1,000 at IUPUI. Also, mask dispensers with a storage capacity of 50 masks apiece were installed at all major building entrances.
Survey of students, faculty provides insight about online learning
After the COVID-19 pandemic forced Indiana University to switch in-person instruction to online formats, IU's eLearning Research and Practice Lab conducted a survey of all undergraduates and instructors across all IU campuses. The purpose was to assess student and instructor experiences and to provide actionable insights that could improve future instruction.
Among the recommendations, for example, were for faculty planning online courses for the fall to assign classwork judiciously and in alignment with clear learning goals, and to create opportunities for student-instructor communication, especially for first- and second-year students.
Key information links, forms at One.IU
Indiana University staff, faculty and students can find helpful resources and information for the fall semester on the One.IU website, including a link to the form to report violations of IU's COVID-19 health and safety directives.
Additional links include the virtual health screening clinic, semester preparation information, frequently asked questions, the Student Commitment Form and the Community Responsibility Acknowledgement.
Time-off options available for COVID-19 absences
IU employees who need to be away from work due to COVID-19-related illness, isolation or child care and cannot work remotely have options available to them through the Families First Coronavirus Response Act.
For absences not related to COVID-19, or for staff who do not qualify for FFCRA, they may with supervisor approval use accrued vacation/PTO without it counting toward annual limits or be absent without pay. Staff may also use income protection/PTO sick leave consistent with the applicable policy.
Employees should discuss their plans with their supervisor. Visit the COVID-19-Related Leaves web page for more information.
Reader survey: What do you want to know?
As the fall semester kicks into high gear, Inside IU will help staff, faculty and students make sense of evolving information during the ongoing pandemic by sharing news through the newsletters it publishes. But we could use your help.
Take a moment to complete a quick survey to tell us what kind of news and information you want to read more about.
Physician's oath ceremonies conducted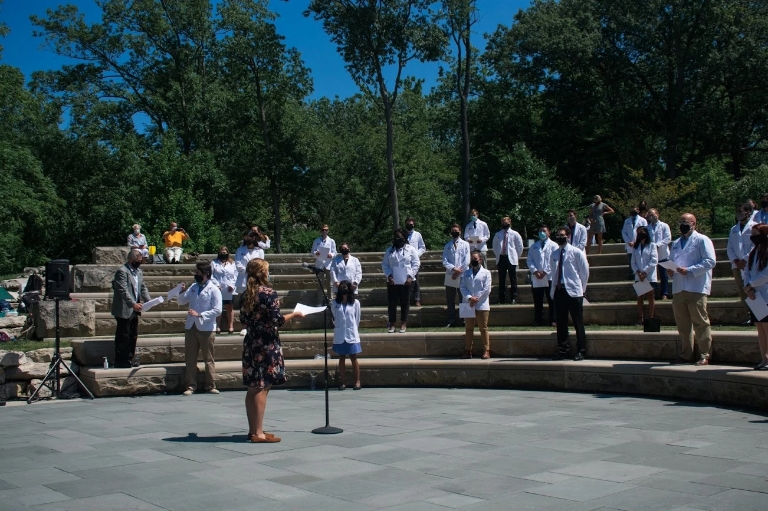 Orientation for incoming medical students typically takes place in Indianapolis with students from all nine medical school campuses, but that wasn't possible this year because of the COVID-19 pandemic. So, each campus did its own physician's oath ceremony instead.
For example, 35 first-year Indiana University Bloomington medical students participated in a Physician's Oath Convocation Aug. 7 at the Conrad Prebys Amphitheater.
Among the speakers at the Bloomington event were Dr. Katherine Hiller, associate dean and director of the IU School of Medicine-Bloomington, and professor of emergency medicine.
150 inventions disclosed
Indiana University faculty, staff and student researchers disclosed almost 150 inventions to the IU Innovation and Commercialization Office during the 2019-20 fiscal year. It is the first step in the IU ICO process to protect and commercialize IU intellectual property.
Learn about the researchers who disclosed inventions from IU Bloomington, IUPUI and the IU School of Medicine on the Crimson Catalyst blog.
Networking program aids history learning
A data visualization tool that a historian used to teach a class about the Black Death, and was created with the help of IU colleagues, became all the more useful when the COVID-19 pandemic struck.
Kalani Craig and several colleagues developed Net.Create to improve history learning. Net.Create is a networking program that helps students visualize important historical events, relationships and connections.
Women's Philanthropy Leadership Council awards grants
The Indiana University Women's Philanthropy Leadership Council awarded grants totaling nearly $100,000 to 14 programs affiliated with six IU campuses.
They support projects related to public health, women's leadership initiatives, STEM disciplines, diverse and underserved populations, and other initiatives.
The council, celebrating its 10th anniversary, reviewed 40 applications for funding this year.
University Graduate School honored for STEM efforts
Indiana University's commitment to diversity and inclusion was recognized as The University Graduate School received Insight Into Diversity's 2020 Inspiring Programs in STEM Award.
The award honors the work of The University Graduate School and its Getting You Into Indiana University recruitment program, which encourages students of color to pursue careers in the fields of science, technology, engineering and math.
IU honored for sustainability program
The National Association of College and University Business Officers honored Indiana University along with five business and finance leaders with 2020 National Association of College and University Business Officers Awards for their contributions to higher education.
Indiana University received the 2020 Excellence in Sustainability Award for its Indiana Sustainability Development Program, which prepares undergraduate and graduate students for sustainability jobs within the state. The program trains future sustainability workers with the hope that they ultimately find employment within Indiana's corporate, nonprofit, government and higher education sectors.
Shop offers opportunity to show IU Online pride
Students, faculty and staff who want to show their pride in being part of IU Online can do so by ordering branded items from the IU Online Gear Shop.
It offers about two dozen items, such as hats, T-shirts, sweatshirts, fleeces, mugs, tumblers and backpacks.
All profits from the sales go to the IU scholarship fund.