EDITOR'S NOTE: This story was last updated Aug. 24.
The Herman B Wells library has long been a proud home away from home for Hoosier students. When the semester starts Aug. 24, the library building will be open for limited access, and visitors can expect a few changes related to the COVID-19 pandemic. All hours and services are subject to change throughout the semester.
The East Tower will be closed except for the first-floor Scholars' Commons. The Digitization Lab, Grad Commons, Makerspace and Screening Room will be closed. Access to other spaces in the Wells Library will be limited, and many will require advance notice and reservation.
Physical distancing requirements will be posted and enforced throughout the library. Masks are required in all hallways, elevators, public spaces and common areas, as well as when entering all IU buildings. At the Wells Library, masks will be required when using assigned seating areas or participating in any appointment-based service.
Here's what you can do to prepare for your visit: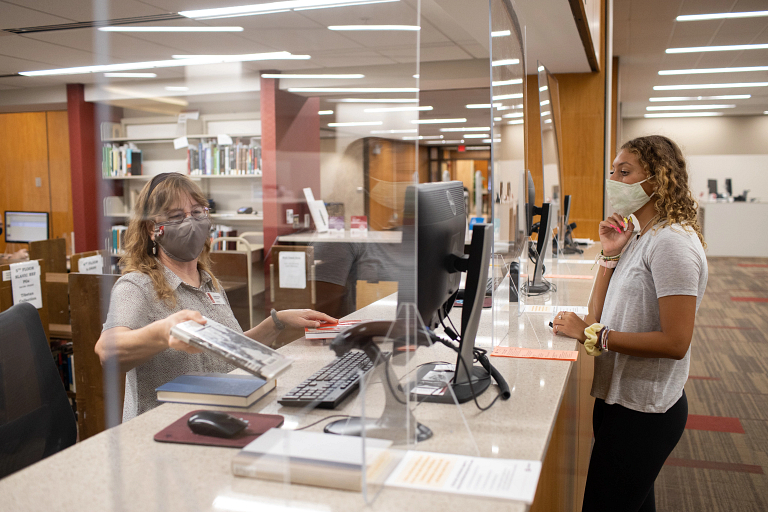 Start online
Many materials are digital, and students can get one-on-one help from librarians through Virtual Reference, including through the popular Ask a Librarian chat service. All Reference Services will be virtual for fall 2020. Hours of fall 2020 virtual reference are 8 a.m. to 9 p.m. Monday through Thursday, 8 a.m. to 6 p.m. Friday, 1 to 5 p.m. Saturday and noon to 9 p.m. Sunday.
For assistance with any step of the writing process, Writing Tutorial Services will be offered through Zoom. Research Assistance is also available virtually.
Make a reservation or request materials
Access to the East or West Towers will be limited to visitors who are using an assigned space, attending a scheduled appointment or a class, or picking up requested materials.
Reservations will be required for study spaces and computer workstations, and they can be made in advance on the IU Libraries' website. There are plans to offer as many as 500 seats, and each person will be able to select a numbered location. Some of the study rooms are enclosed in glass and limited to one person. A small number of walk-up spaces can be reserved upon arrival. Library staff will help people find their reserved spaces.
Access to circulating materials can be made via IUCAT. An appointment will not be required for picking materials up at the Scholars' Commons Circulation desk, but it may take a few days to collect the materials, so wait to receive notice before making the trip.
Most Wells Library departments – including Government Information, Maps and Microform Services; Media Services; and the Moving Image Archive – will offer access through individual consultation, starting with an email. Subject specialists can be contacted directly for information.
Check library hours
Beginning Aug. 24, the Wells Library building will be open for limited access: 8 a.m. to 10 p.m. Monday through Thursday, 8 a.m. to 6 p.m. Friday and 1 to 10 p.m. Sunday. The library building will be closed Saturdays. Check the library's website for possible changes to hours and services as the semester progresses.
Other library destinations, such as the Education Library, will have different hours. Check these places directly before visiting.
No dining in this fall
Bring a water bottle; drinking fountains are set up to allow reusable bottle filling only.
Dine-in eating is not being offered on campus this fall, but IU Dining will offer fee-free Grubhub grab-and-go pickup at the Bookmark[et] Cafe location on the ground floor of Wells Library. Food cannot be eaten in the building.
Allow more time, and use North Entry
It will likely take longer to get to your destination in the library because of physical distancing restrictions. Only two people will be allowed in each elevator, which will mean longer wait times or require the use of stairwells for those who are able.
There are fewer permitted parking spots at the Wells Library this year, as much of the lot adjacent to Jordan Avenue is under construction. Visitor spaces are still available and limited to 45 minutes per use.
The South Entry steps to the Wells Library will be under construction, so all access from this side of campus must be through the lower, ground-level entrance nearest the Bookmark[et] Cafe. Enter the Wells Library from the North entrance to avoid congestion.
Fall 2020
Indiana University is looking forward to welcoming students, faculty and staff to the fall semester. The university has provided safety guidelines, an academic calendar, FAQs, and campus-specific guidance for move-in, testing, teaching and learning at fall2020.iu.edu.