To help protect Indiana University Bloomington students from COVID-19, living on campus will include special policies and procedures for isolating and quarantining individuals infected or suspected to be infected with the novel coronavirus.
That might mean adding a few extra items to your back-to-school packing lists.
In addition to bringing supplies needed to fulfill their commitments to wear face masks and practice good hygiene, students living in on-campus housing should be prepared with a special "go bag" – packed and ready to go at all times – in case they need to move to isolation or quarantine spaces.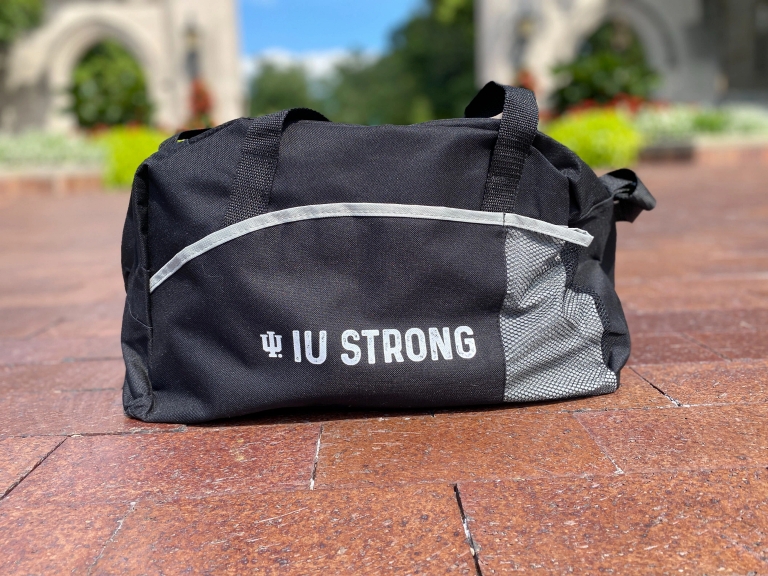 "We expect there will be cases on campus and times when some students will need to quarantine or isolate," said Dr. Aaron E. Carroll, IU's director of surveillance and mitigation for the COVID-19 pandemic and professor of pediatrics at the IU School of Medicine. "I strongly encourage everyone – students, faculty and staff – to think about their own personal plan should they test positive or be required to quarantine or isolate. For students, this means asking yourself questions such as 'Would I go home to my permanent residence or stay in the quarantine/isolation housing on campus?' Or, 'What if my best friend or roommate tests positive? What will I do?'"
Each of IU's residential campuses has identified dedicated spaces and developed standard operating procedures for quarantine and isolation, including how to provide support for students' health and well-being. At IU Bloomington, this space is Ashton Residence Center.
If possible, students living on campus who get sick and need to isolate are encouraged to do so from home at their permanent residences. Parents or guardians can pick their students up before they check in to IU isolation/quarantine spaces, or they can check students out of these spaces at any time. Students who test positive for COVID-19 will not be allowed to return to campus until it is safe for them to be around others again, as determined by CDC guidelines.
In addition to bringing items for daily use in on-campus housing, here's what students should bring with them, as recommended by IU medical and residential life experts, to be packed in a "go bag":
Toothbrush, toothpaste and dental floss.
Shampoo, conditioner and hairbrush.
Soap and deodorant.
Feminine hygiene products.
Laundry detergent.
Hand sanitizer.
Acetaminophen (Tylenol) or ibuprofen (Advil, Motrin).
Cough medicine and cough drops.
Pillow case.
Undergarments and pajamas.
Socks and flip flops or sandals.
Phone charger.
Reading material (books, magazines) and/or journal.
Refillable water bottle.
Tissues.
Plastic utensils. 
Printed contact list with phone numbers.
Extra face masks.
Non-perishable snacks and bottles of water.
Optional: Lotion, robe, personal blanket and pillow, personal clothing items (pack lightly).
Before leaving for isolation/quarantine spaces, be sure to add these to your go bag:
ID, insurance card and credit card.
Two-week supply of personal medications/prescriptions.
Thermometer.
All schoolwork, books and supplies.
Computer and power cord.
Students who move into Ashton for quarantine/isolation will be provided with a linen packet upon arrival, including bed sheets, a thermal blanket, a pillow and pillow cover, two bath towels, two hand towels and two washcloths. If students need replacements of these items while they are living in Ashton, they can call the residence center's 24-hour help desk, which can deliver items to their room upon request. Students will leave these items behind when they leave quarantine/isolation.
Students will be encouraged to launder their personal items upon arriving at Ashton and must wash and dry them before they leave quarantine/isolation. The laundry systems in Ashton will not charge students, but they will need to bring their own laundry detergent and dryer sheets, or order them through the Willkie C-Store Delivery, which will be available to Ashton residents.
For more information about campus safety, students should continue to monitor their IU email and the Fall 2020 website for major university updates.
Other resources:
Learn how IU Bloomington will support students in on-campus quarantine or isolation.
Read about IU Bloomington move-in plans for the fall semester.
View move-in directions for the centralized check-in process at IU Bloomington.
Watch upcoming and past webinars on how our experts are working to keep IU healthy.