Many spaces people are used to gathering in or going to for entertainment on the Indiana University Bloomington campus will be closed or have limited access this fall due to the novel coronavirus pandemic. But the venues still offer several options for connecting with others on campus, and taking advantage of the rich traditions in the arts at IU.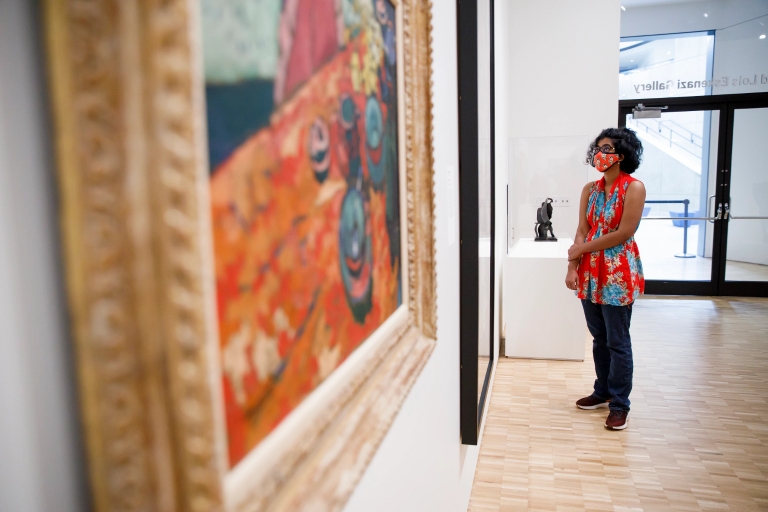 Arts and Humanities Council
In addition to offering virtual arts programming, the Arts and Humanities Council will host its inaugural First Thursday of the semester Sept. 3. Several changes will be put in place to ensure proper physical distancing, including expanding the programming beyond the Fine Arts Plaza.
Sidney and Lois Eskenazi Museum of Art
The Eskenazi Museum of Art will reopen to the public Aug. 27 after being closed for five months because of the pandemic. Galleries will be open from noon to 5 p.m. Thursdays and Fridays, noon to 7 p.m. Saturdays and noon to 5 p.m. Sundays. The Luzetta and Del Newkirk Café and Gift Shop will be open for carry-out dining only.
The museum will offer all previously scheduled events online, including a Weeks of Welcome self-care art- and music-making experience and an exploration in pairing food with art.
Grunwald Gallery
In addition to online art exhibitions, the Grunwald Gallery will offer visits to "State of Nature: Picturing Indiana Biodiversity" by appointment only. The exhibit runs Aug. 28 through Nov. 18. Those interested can email grunwald@indiana.edu for additional information.
IU Cinema
While the physical cinema won't be open for the fall semester, it will offer a variety of interactive, virtual screening options. There will be a virtual screening of "The Chase" with filmmaker Guy Maddin during the first week of classes. Keep checking the cinema's website for information about online events as the semester progresses.
IU Auditorium
The IU Auditorium is offering several virtual experiences, including a live Q&A with IU Jacobs School of Music lecturer and rock history instructor Andy Hollinden at 8 p.m. Aug. 20 on Facebook Live, Zoom and IUauditorium.com/LiveStreams.
IU Theatre and Dance
The Department of Theatre, Drama and Contemporary Dance will offer all of its productions online, except for " Street Scenes." IU Theatre and Dance students will give pop-up performances across campus while following physical distancing guidelines.
Asian Culture Center
The Asian Culture Center will be delivering its programming and services virtually. Learn more about the center's programming, events and volunteer opportunities, and connect with other students during its inaugural virtual welcome reception. You must register for the welcome reception ahead of time.
La Casa/Latino Cultural Center
La Casa will not be accessible to visitors, but the staff is available to individuals or groups via phone, email, teleconferencing and social media. Programs and events during the fall will be conducted virtually. For information on programs, visit La Casa's calendar of events.
LGBTQ+ Culture Center
The LGBTQ+ Center will be open virtually and hosting several events, including its 12-part "Intersections" series. The series features discussions on the intersections of LGBTQ+ community and race, gender, socio-economic status, religion and spirituality, ability, national origin, and sexual orientation. The full schedule is available on the LGBTQ+ Culture Center's events page.
Neal-Marshall Black Cultural Center
The Neal-Marshall Black Cultural Center will not be hosting in-person events, but it plans to offer virtual programming. Check the Neal-Marshall website for updates.
First Nations Educational and Cultural Center
While the building won't be open to the public, craft workshops, activities, panel discussions and professional development will be offered virtually through Zoom and Facebook. Check out the First Nations center's Facebook page for updates.
IU Libraries
The Herman B Wells Library will be open for limited access starting Aug. 24. Many materials are available online, and in-person visits to pick up materials or use study spaces and computer workstations will require a reservation.
The Wylie House Museum is closed, except for class and research visits. You can visit the museum through a virtual tour, and explore some of the Wylie House exhibits online.
Indiana Memorial Union
The Union Market, IU Bookstore and CrimsonCard Office are open now, while the other dining options in the IMU will open Aug. 24.
Notably, Sugar and Spice is reopening after renovations last semester, and Chocolate Moose is sharing space with it.
Restaurants in the IMU are relying heavily on Grubhub for carryout orders. For example, no in-person orders can be placed at Starbucks.
The Tudor Room is the only restaurant offering in-person dining, but seating is limited, and a reservation is required.
Recreational Sports
The Student Recreational Sports Center will reopen at 11 a.m. Aug. 28 with reduced hours initially, along with other changes. Indiana University Bloomington previously announced that faculty and staff memberships have been suspended for the 2020-21 academic year because of physical distancing requirements that limit capacity, and to ensure that students have first priority.
However, faculty and staff will have access to personal training and swim lessons that can be scheduled without displacing students. Also, the IU Tennis Center will be open to faculty and staff.
People are required to wear masks at all times in the center, except when they are in the swimming pool, and to observe physical distancing. Because of the mask requirement, people are advised to alter the intensity and duration of workouts, as recommended by the medical experts on the IU Restart Committee.
Strength and conditioning equipment will be spread out between three areas: the center court area that has five basketball courts, two upstairs strength and conditioning rooms, and the strength gym on the main level. Swim lessons and lap swimming will be available in the Counsilman/Billingsley Aquatic Center. Personal training will resume at the Student Recreational Sports Center on Aug. 28; memberships are not required. Intramural sports and club sports, however, will not be conducted.
The IU Tennis Center will reopen Aug. 24, but only for private lessons and then eventually singles play and clinics. The Bill Garrett Fieldhouse will reopen Sept. 7, because of the time needed to move and set up the strength and conditioning equipment on the basketball courts to observe social distancing guidelines. Both venues are being used for COVID-19 testing from Aug. 19 to 23.
IU Recreational Sports has virtual workout sessions available for staff, faculty and students to access online, and will make livestreams of group workout sessions available as well. It also plans to have e-sports available online later this month.
Fall 2020
Indiana University is looking forward to welcoming students, faculty and staff to the fall semester. The university has provided safety guidelines, an academic calendar, FAQs, and campus-specific guidance for move-in, testing, teaching and learning at fall2020.iu.edu.