EDITOR'S NOTE: IU Campus Bus will continue services in spring 2021 with the same safety measures put in place for fall 2020. For information about routes and schedules, visit the IU Campus Bus Service website.
With Indiana University Bloomington students returning for the fall semester, the IU Campus Bus has begun transporting passengers on buses with newly installed barriers to separate drivers from riders. All who ride the bus are also required to wear a mask.
These safety measures, along with increased cleaning and sanitizing, are all part of what IU Campus Bus director Brian Noojin said is "a new kind of environment on campus that we've never seen before."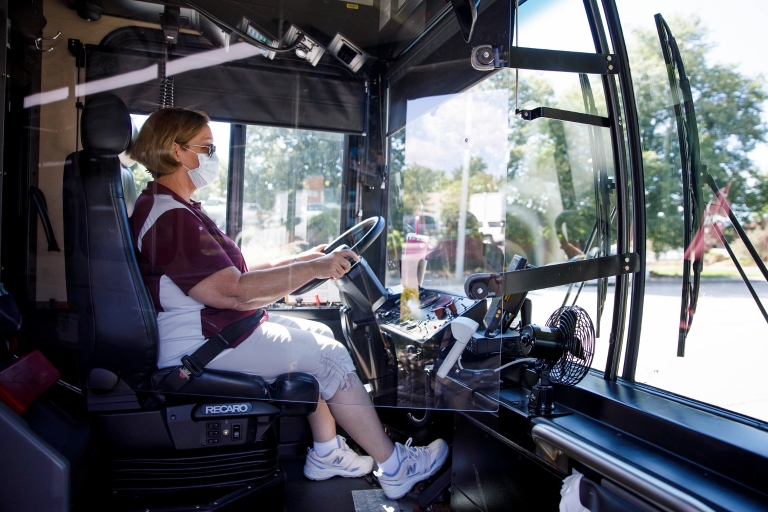 Drivers are expected to wipe buses down throughout the day, especially common areas that might be touched. The buses will also be sanitized in the evenings when they return to the garage.
Buses will be operating at half of their previous capacity to reduce the density of passengers and support physical distancing requirements. Campus Bus does not anticipate waits for riders at stops given the reduced numbers of in-person classes this fall.
Because of the way classes have been scheduled, Noojin also doesn't expect large waves of students crowding onto the buses, because students won't be starting and finishing classes all at the same time. 
Buses will also be running 30 minutes earlier, with services starting at 7 a.m. and going until at least 11:30 p.m. on weekdays. 
Most of the routes will remain the same. However, an F Route has been added for the fall semester; its first stop of the day will be at Briscoe, where students in those residence halls can board first.
The bus previously started at Memorial Stadium, and the bus would sometimes be filled before students in the residence halls could board.
"We now have a dedicated route for the residence halls on Fee Lane," Noojin said.
In addition to easing students' ability to get around campus, the bus service will also continue to offer routes with stops at the mall and the grocery store.
Campus Bus will continue to monitor and reevaluate bus routes to align with needs as they may change throughout the semester.
Use the IU Mobile App to find your bus route and learn on the IU Campus Bus Service website.
Fall 2020
Indiana University is looking forward to welcoming students, faculty and staff to the fall semester. The university has provided safety guidelines, an academic calendar, FAQs, and campus-specific guidance for move-in, testing, teaching and learning at fall2020.iu.edu.