New IU soccer center unveiled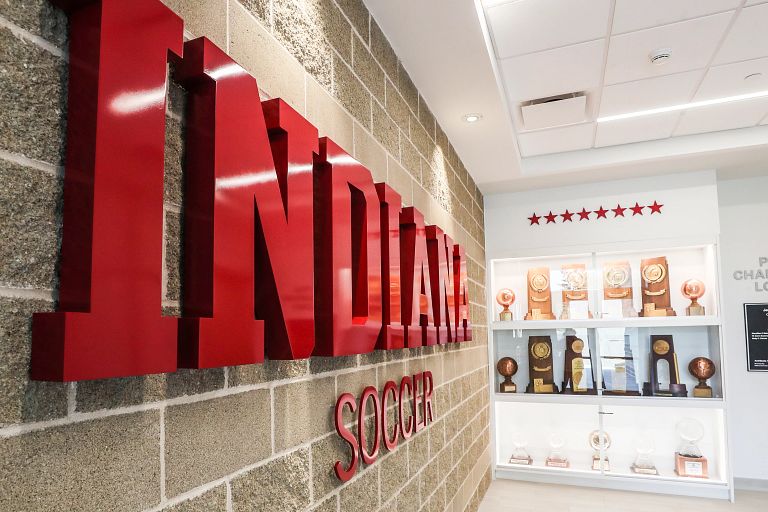 Indiana University Athletics unveiled the new Jerry F. Tardy Center at Armstrong Stadium to the IU men's and women's soccer teams Monday afternoon.
The center provides the soccer programs with elite training, meeting and team room spaces. The facility also includes a spacious second-floor VIP suite that overlooks Jerry Yeagley Field and a Little 500 bicycle support space that will be used in conjunction with the Little 500 races each spring.
Fulbright Scholar deadline approaching
The deadline to apply for the 2021-22 U.S. Fulbright Scholar Program is Sept. 15.
The U.S. Fulbright Scholar Program sends about 470 American scholars and professionals annually to more than 125 countries, where they lecture and/or conduct research in a variety of academic and professional fields.
Application details can be found on the Council for International Exchange of Scholars website.
Awards and honors
Three accounting professors at the IU Kelley School of Business will receive the 2020 Deloitte Foundation Wildman Medal Award from the American Accounting Association. It recognizes research that advances the practice of public accountancy.
"In the Water," a documentary written and produced by Indiana Environmental Reporter journalist Beth Edwards, has been chosen for the 2020 Indy Film Festival. It's about Indiana's utility industry and the environmental hazards of storing coal ash, a toxic byproduct of burning coal.
Enrique Saenz's story "Getting Results" earned First Honorable Mention in investigative reporting (small circulation) from the Society of Environmental Journalists. The story is about a steel mill's toxic spill into a river.
New, continuing leadership appointed for research centers, institutes
As the new academic year begins, the Office of the Vice Provost for Research at IU Bloomington has announced a number of important leadership changes and continuations for various Office of the Vice President for Research's research centers and institutes on campus:
O'Neill School joins service partnership
The O'Neill School of Public and Environmental Affairs has joined a new national initiative that seeks to expand public service learning experiences for undergraduates on the Bloomington campus.
It has been selected to join the NextGen Service Active Planning Cohort, a small group of schools of public service that are committed to implementing new undergraduate public service programs.
WTIU documentary examines state's round barns
"A Rural Revolution: Indiana's Round Barns," a new documentary from WTIU Public Television, will premiere at 8 p.m. Aug. 30 on WTIU and Facebook Live.
The documentary examines the importance of round barns to the state's agricultural history and the current efforts to preserve them as more fall victim to nature, fire, age and obsolescence.