It was lunch break. Custodian Marty Shipley was outside the Kelley School of Business on Indiana University's Bloomington campus. When he noticed a prospective student and her family on a self-guided tour, he paused his lunch to step in as tour guide.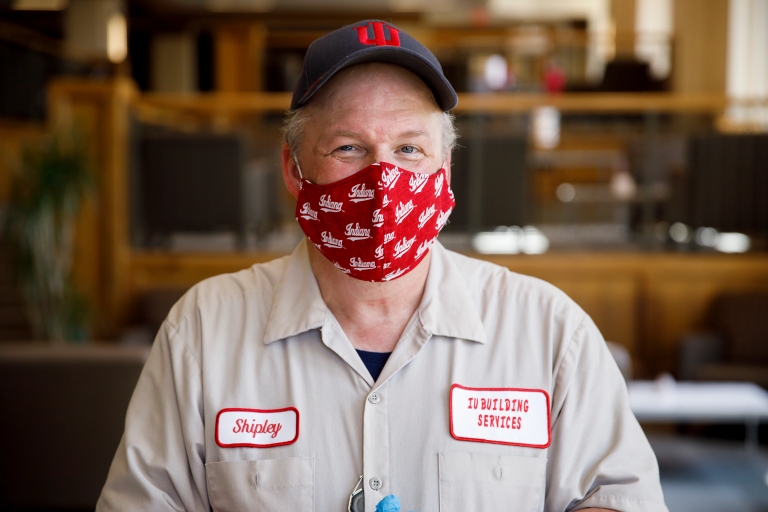 For a family who'd visited no less than 10 other Big Ten and Midwestern colleges within two weeks, Shipley's kindness in going out of his way to serve as an impromptu tour guide helped IU stand out in the "sea of same."
For Shipley, whose outreach that day earned him praise in the form of an email to his boss from Illinois resident Burton Floyd, it was all in a day's work.
A Bloomington native and second-generation IU employee, Shipley has been with the university for 33 years. His mother was a custodian before him, and his brother, Bo Shipley, manages IU's mail service.
"IU means family to me," Shipley said. "That's basically what we all are. We're one big family that treats each other with respect, that serves a common purpose: to get the job done and make the campus beautiful for our staff, our faculty and our students. And I'm proud to be part of that."
Floyd told Inside IU via email that he'd assumed IU would feel similar to other state schools, but rather he discovered that "Indiana had its own unique feel, in a beautiful setting with beautiful buildings, in a community that I would feel comfortable sending our daughter to."
He said he appreciated Shipley taking the time to speak with his family despite a busy schedule, all the more hectic due to the cleaning protocols implemented in response to the COVID-19 pandemic.
"More important to me, though, was the pride in IU that Marty exuded," Floyd wrote. "As Marty stood there in his IU hat and told us about the building and its history, about the campus, about his work and the work of his peers, about his son who is hoping to get into a special program at IU, you could just tell he thought the world of it all. And not in an arrogant, off-putting way that excludes people, but in a way that invites you to be a part of it, and makes you feel good about sending your daughter there … as if Marty and the rest of the team will be looking after her every day for the next four years."
Ainsley Floyd is a junior at a small, central Illinois high school, considering a major in business or education.
"I really enjoyed my visit to Indiana University and greatly appreciated Marty taking the time to show us around," she told Inside IU via email. "I could definitely see myself becoming a Hoosier because of the welcoming community, beautiful setting and inspiring atmosphere."