Kathleen Simunek has been on the Indiana University Bloomington campus for a week, classes have just begun, and the excitement she has for starting her freshman year is impossible to overlook. The combination of a nationally ranked school for her major, the beautiful scenery and familial ties to the university have Simunek dreaming of the possibilities.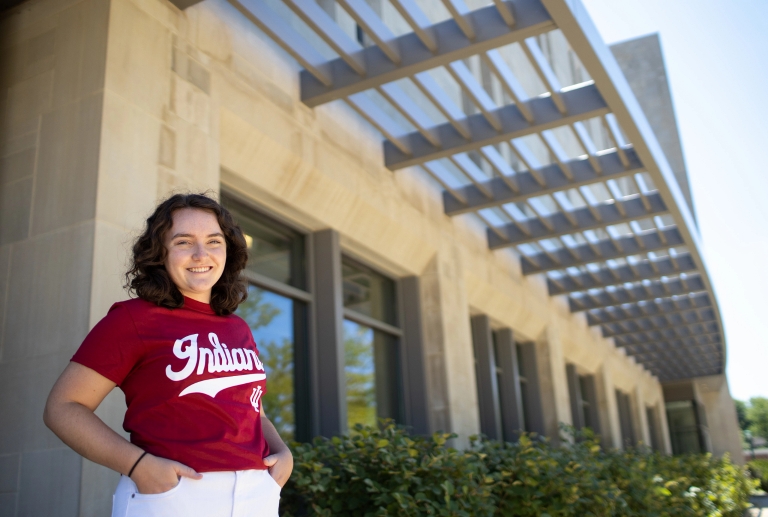 "I really wanted to go to IU because it's a Big Ten school and it's a beautiful campus, and the Jacobs School of Music is probably the No. 1 music school in the country," she said. "It was a no-brainer when I got in."
The Fort Wayne, Indiana, resident and Homestead High School graduate is a vocal performance major in the Jacobs School of Music, and she also is majoring in sociology.
Music is in Simunek's blood. Her grandmother was a classically trained professional singer who performed arias in French, Italian and German.
Simunek started music lessons when she was just 9 months old, participating in a class to learn rhythm. Later, she took piano lessons, performed in show choirs and school bands, and took private voice lessons. She also sang with the Fort Wayne Children's Choir, which provided her the opportunity to perform internationally.
"I'd like to be a professional singer; that's the goal," Simunek said. "Ideally, I'd like to be like Tony Award-winner Audra McDonald, performing on Broadway, with symphonies and in operas. I'd also like to do voice-overs for Disney and other animated movies."
Simunek said she also hopes to perform in Jacobs productions of musicals and operas, or join Singing Hoosiers or an a cappella group on campus.
She knows well the fun, excitement and opportunities that IU provides. An uncle and a cousin graduated from IU.
"It feels like home here," Simunek said.
However, she understands that her experience will at least start differently compared to her uncle's and cousin's because of the COVID-19 pandemic and the safety protocols the university has established, including facemask requirements and physical distancing. Simunek is excited, nonetheless.
"I'm really happy to be here," she said. "There are cool opportunities and amazing faculty. I'm excited about the potential opportunities with Jacobs."
However, she naturally has concern for her health.
"I don't want to catch the virus because I rely on my lungs for my career," Simunek said.
She hopes fellow students follow IU's COVID-19 safety protocols so they can remain on campus and enjoy the experience all year.
Simunek manages the @indianauniversity_2024 Instagram page, which has more than 2,700 followers. She uses it to connect students to each other and to the campus, and shares need-to-know information such as messages from IU regarding safety protocols for the school year.
"We're trying to have a positive influence on our little portion of the student body," Simunek said.
Fall 2020
Indiana University is looking forward to welcoming students, faculty and staff to the fall semester. The university has provided safety guidelines, an academic calendar, FAQs, and campus-specific guidance for move-in, testing, teaching and learning at fall2020.iu.edu.