IU Campus Bus updates safety precautions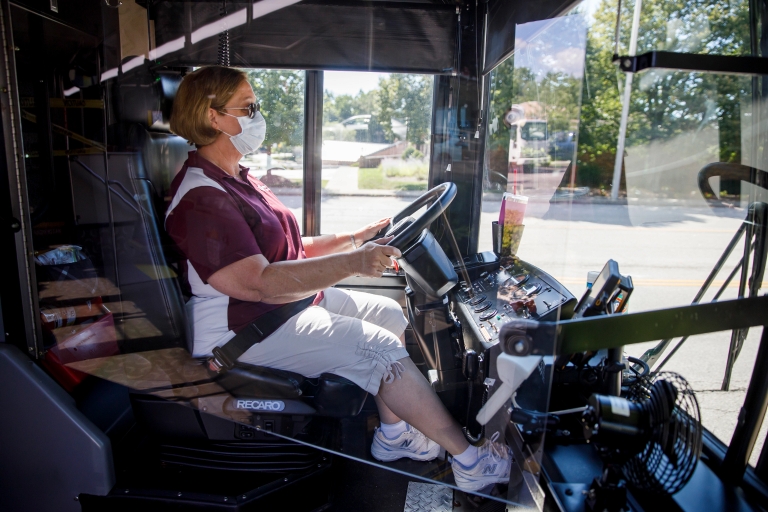 IU Campus Bus service has updated the steps it is taking ensure the safety of passengers and drivers during the COVID-19 pandemic.
Buses now will operate at half their previous capacity to reduce the density of passengers and support physical distancing requirements.
Campus Bus doesn't anticipate waits for riders at stops because of fewer in-person classes this fall. Bus routes will be monitored and re-evaluated to align with needs as they may change during the semester.
City of Bloomington limits gathering size to 15
An emergency executive order issued Aug. 21 by the city of Bloomington now limits the size of private gatherings to 15 people, a reduction from the previous limit of 50. Those attending such gatherings must observe facemask and physical distancing requirements.
The order is an effort to keep students and residents safe during the COVID-19 pandemic. Indiana University has been working for months on plans to start the fall 2020 semester safely and has instituted several protocols. But recent large gatherings of people who aren't observing the safety guidelines have put in-person instruction at risk.
IU Bloomington Provost and Executive Vice President Lauren Robel and Bloomington Mayor John Hamilton issued a joint statement about the executive order.
Cooperate with contact tracing efforts
Indiana University students, staff and faculty are expected to cooperate fully with contact tracing conducted by IU or public health officials. Contact tracing has been added to the university's sanctions policy, and failure to cooperate could result in disciplinary measures.
For students, that could involve losing access to university services, suspension or expulsion. For staff and faculty, that could include termination of employment.
IU also has issued a new form to report noncompliance of wearing facemasks.
Kelley grad makes protective respirator shields
Jeremy Filko, an alumnus of the Indiana University Kelley School of Business, has gone from feeling helpless during the pandemic to providing important help.
Filko and his wife, Amy, are using their 3D printer to make plastic respirator shields for doctors, nurses and other first responders, and they started the nonprofit Collective Shield and a network of like-minded people in the "maker" community. Their shield designs are being replicated worldwide.
Pfau Course driving range now open
The driving range at The Pfau Course is now open. Golfers should enter off the Indiana 45/46 Bypass by the new IU Health Center and follow signs behind the old golf clubhouse.
The Pfau Course, designed by renowned golf course architect Steve Smyers and professional golfer Fuzzy Zoeller, replaced the old IU Championship Golf Course. The $12 million project took 2 1/2 years of work was an effort to create a modern course that could host top-level tournaments. The new course opened for play June 15.
Bloomington Professional Council elections
The IU Bloomington Professional Council's election cycle for new council members is open until Sept. 4. The council currently has 13 vacancies.
All professional staff members hired by Aug. 17 are eligible to vote, and they should check their email inbox for a message from the IU Bloomington Professional Council with instructions.
Bird-banding stations bands 1,000th bird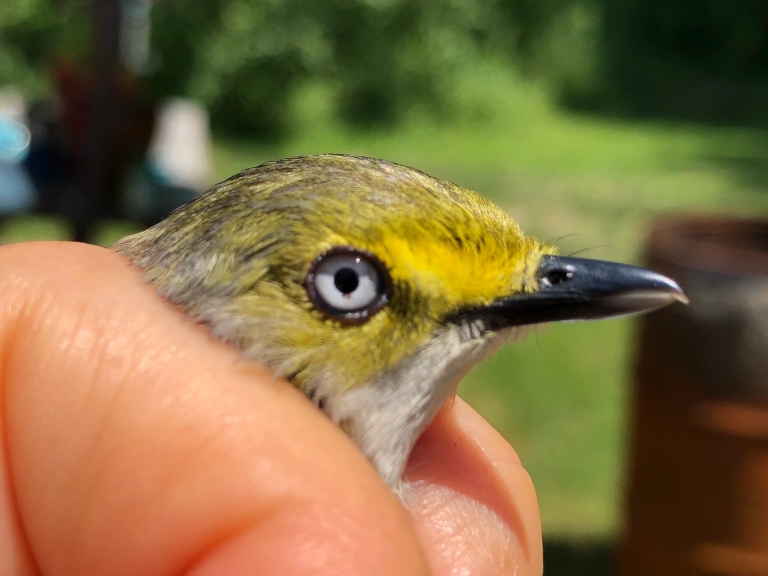 Environmental Resilience Institute researchers and citizen scientists at the Kent Farm Research Station east of Bloomington recently captured and banded their 1,000th avian specimen – a white-eyed vireo – in the name of science.
Environmental Resilience Institute affiliates have been capturing and banding birds at the station since 2017 as part of an international collaborative program called Monitoring Avian Productivity and Survivorship. The demographic information recorded by the team helps inform large-scale studies on how environmental change is affecting bird populations over time.
IU public health expert advising World Health Organization
Ana Bento, assistant professor of epidemiology and biostatistics at the IU School of Public Health-Bloomington, is one of 16 experts from throughout the world appointed to the World Health Organization's Technical Advisory Group of Experts on Educational Institutions and COVID-19.
As a member of the new advisory group, Bento is helping to steer national strategies and policies on schools' decisions to close and reopen due to COVID-19.
Grant expands undergraduate research opportunities
Indiana University's Office of Undergraduate Research recently received an award of $9,000 from the IU Women's Philanthropy Leadership Council to support the Federal Work Study Research Assistant Program for the 2020-21 academic year.
The grant expands undergraduate research opportunities to students eligible for the federal work-study program. At least 20 students will have financial support as a result of the grant.
WFIU anniversary event features former radio show host Siegel
Robert Siegel, the former host of the radio show "All Things Considered," will help WFIU celebrate its 70th anniversary and 50 years with National Public Radio by participating in a virtual event at 7:30 p.m. Oct. 1.
In a Q&A session moderated by WFIU's Bob Zaltsberg, Siegel will share stories from his journalism career and reflect on the role of public radio in today's polarized news landscape.
Fellows help with research into spread of misinformation
Indiana University's Observatory on Social Media has named two new Knight Fellows: Matthew DeVerna and Harry Yaojun Yan. They will help advance the observatory's ongoing investigations into how information and misinformation spread online.
The Observatory on Social Media is a collaboration between the Luddy School of Informatics, Computing and Engineering, The Media School, and the IU Network Science Institute.