The creative skills that staff and students typically use to make hundreds of period costumes for operas and ballets, and create new fashion designs and fabric patterns, temporarily turned to personal safety.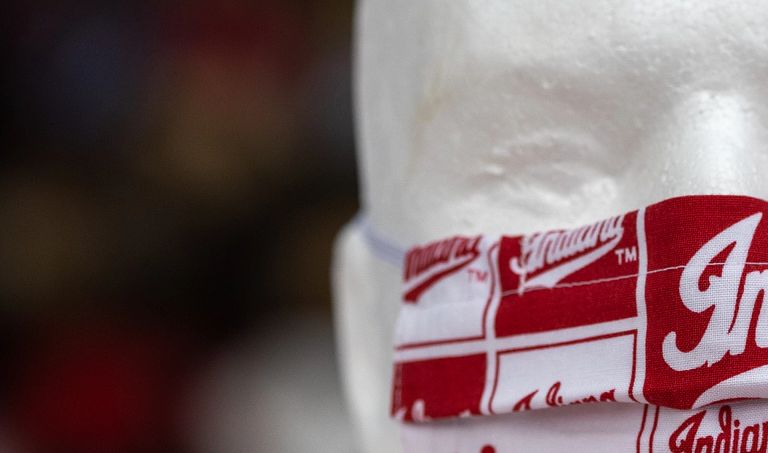 Staff members from the Indiana University Jacobs School of Music's Opera and Ballet Theater costume shop, and some students from the IU Eskenazi School of Art, Architecture + Design, teamed to make 5,000 masks to protect IU Bloomington students, staff and faculty from COVID-19.
Some of the masks feature IU-licensed fabric, some have red-and-white stripes similar to IU basketball's warmup pants, and others are in IU's famed cream and crimson. The masks are 100 percent cotton, with an inside pocket for a filter and adjustable elastic around the ears.
"It's been really wonderful to get to make these," costume shop manager Dana Tzvetkov said. "Everyone involved has been happy to be actively contributing to the safety of the IU community. It is definitely a project that none of us will ever forget."
In early summer, IU started the daunting task of sourcing and securing all of the personal protective equipment that would be needed for the start of the semester. Vendors committed to delivering masks within four to six weeks, but the Bloomington campus knew it would need additional masks to distribute to prospective students, faculty, staff and friends of IU, said Jill Piedmont, the Jacobs School of Music's director of finance and fiscal planning. So, it turned to sewers on campus to supplement the masks coming from the outside vendors, and to get a jump on the inventory needed.
Tim Stebbins, the Ted Jones Executive Director of Production at the IU Musical Arts Center, contacted Tzvetkov in late June to ask if she could put together a team to make as many masks as possible. He wanted them before the start of school, because the university was exploring options to meet the need for the large number of masks required.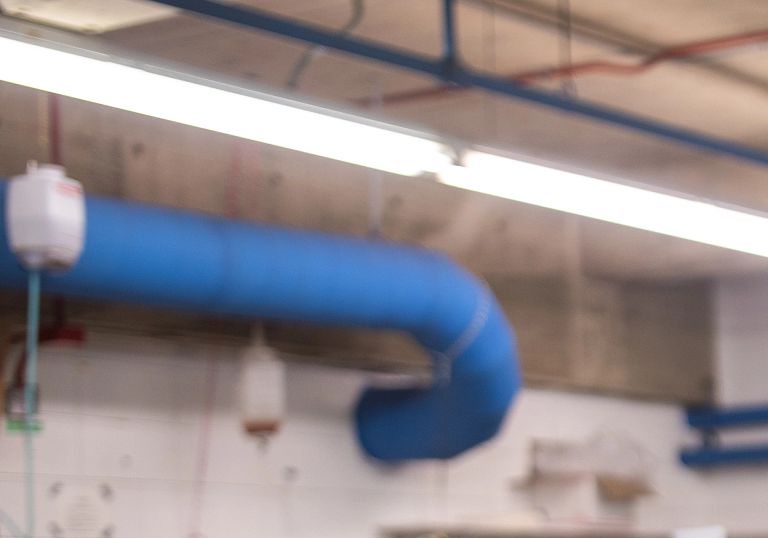 "I said, 'Absolutely, yes, I would love to contribute in some way,'" Tzvetkov said.
Two other full-time and three temporary costume shop employees agreed to participate, and Deb Christiansen with the Eskenazi School recommended a handful of students who were hired for the project.
"We put together a pretty fantastic team," Tzvetkov said.
Tzvetkov ordered elastic straps, aluminum nose pieces and thousands of yards of fabric. Team members got into the costume shop in the Musical Arts Center on July 1 to clean, organize and rearrange it to allow for physical distancing and set up a personal protective equipment station. Their "mask-making factory" began production July 6.
"I loved working on this project," said Nora McGinnis, a second-year Master of Fine Arts student in the fibers area in the Eskenazi School. "There was great camaraderie in the shop, and it felt good to be working toward such a necessary goal."
Tzvetkov created the mask pattern and an instruction sheet, so those who wanted to work from home had a guide to follow. Making the masks involved eight steps, which were divided among the team members. The final step involved applying a high-heat iron to both sides of the mask to kill any germs or viruses before it was put into a plastic bag.
Daisy May, a senior fashion design student, worked on the masks from her sewing studio at home. Her task was to complete the first six steps. After picking up supplies at the Musical Arts Center, she would spend a week making 200 to 300 masks.
"My studio felt like a factory at one point with the amount of masks I was making in a day," she said.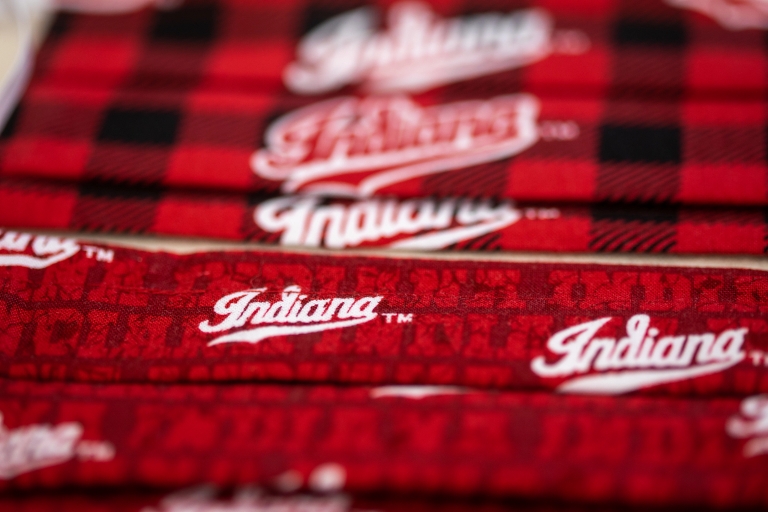 The team completed the 5,000 masks on Aug. 21 – a few days before fall semester classes started. The Bloomington campus administration is distributing the masks in a variety of outreach channels, with a goal of touching a wide population, Piedmont said.
Tzvetkov said she was pleased with the quality and number of masks produced. McGinnis, who made different types of COVID-19-protection masks earlier in the summer, agreed about the quality.
"The masks we sewed are a really comfortable and durable design, so I think students, staff and faculty will get a lot of use out of them," McGinnis said.
May said she was proud to be part of the project.
"Since the beginning of COVID-19, I have dedicated myself to keeping my community safe, and this project was an expansion of that same premise," she said.
"Mask making was my fuse for hope and prosperity. I am sad that the project is complete because of how much hope it gave me, but I am proud to have been a part of such an important project."