As dental offices across Indiana began reopening to nonemergency care following the lift of restrictions under the coronavirus pandemic, many turned to a trusted source for advice on topics such as keeping equipment clean, training staff in new safety procedures and reassuring cautious patients that, yes, you really can get your teeth cleaned without risking exposure to the coronavirus.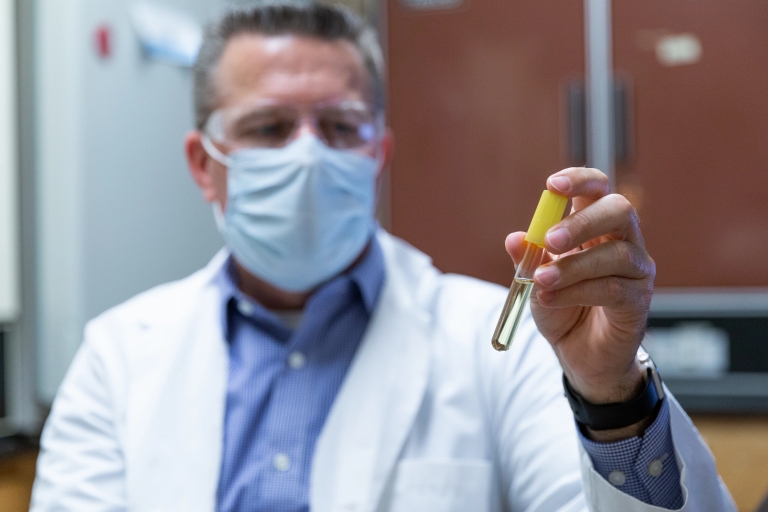 Specifically, Hoosier dentists reached out to the Indiana University School of Dentistry's Sterilization Monitoring Service and its director, Kenneth Burgess, who is also director of infection control and safety at the school. Established in 1987 on the IUPUI campus, the lab provides an essential service to about 900 dental offices across the state and beyond: confirmation that their sterilization equipment is functioning properly, which is required weekly under state law.
The dentists' questions about safety arise from an obvious but unavoidable fact about working inside another person's mouth: You're going to encounter some spit. That's a particular challenge as they deal with a new virus that travels through the droplets, or aerosols, that form as people exhale.
"In a sense, we're standing at the front lines," Burgess said. "When you open your mouth, that's basically where the virus is expelled into the air. We're already dealing with probably the most active area of the body when it comes to coronavirus transmission. Yet, at the same time, dentistry is unique in the sense that we've been dealing with this pathway for disease transmissions for a long time. We've already taken steps to protect against other infectious agents. We're already used to dealing with saliva."
At the School of Dentistry, students and faculty who deliver comprehensive, reduced-cost dental care to the community at the Fritts Clinical Care Center on the IUPUI campus are now required to use hair coverings, face shields and N95 masks, in addition to the usual gloves and gowns. In his role as infection control safety officer, Burgess also employs a protocol to reuse N95 masks using an ultraviolet germicidal infrared light, or UVGI. Using UVGI equipment at the school, Burgess found that masks could be safely reused up to five times, after which the high-intensity light degrades the masks' elastic bands.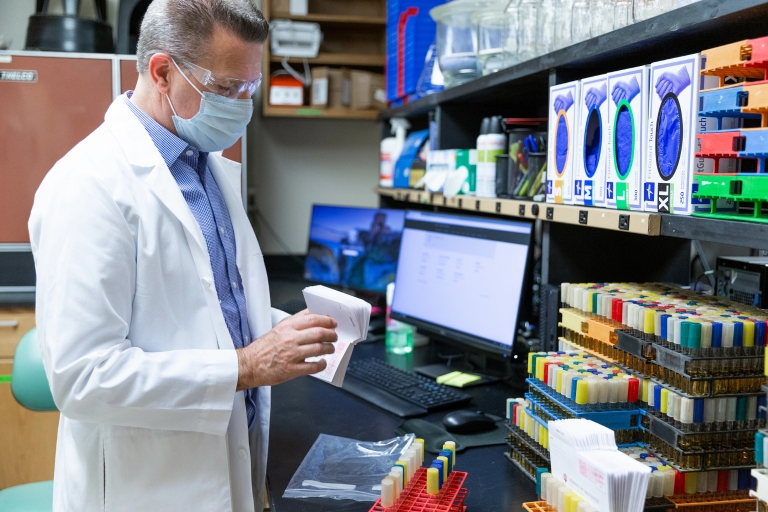 But beyond these steps, "we're not really changing our practices," he said. "What's different now is the additional level of protection against airborne viruses using N95 masks for our providers, the screening of patients for symptoms before admission into the clinics, the additional spacing of our dental chairs and the additional filtration in our ventilation systems."
"We're requiring everyone to follow protocol to a T," he added, "and reinforcing this throughout our clinics."
In addition to working with dental offices, the Sterilization Monitoring Service assists a small assortment of other businesses in Indianapolis and beyond whose safe operation requires sterile equipment, such as oral surgery centers – including the centers at IU Health University Hospital and Riley Hospital at IU Health – and, perhaps surprisingly, tattoo parlors.
"Tattoo parlors are the part of the business that's grown the most through word of mouth," said Burgess, who personally visits every shop to walk owners through safe sterilization procedures, such as use of the lab's tests strips, as well as to model safe behaviors, such as hand-washing and the use of personal protective equipment. "These businesses tend to have the least knowledge of sterilization and infection control. Unlike a dental office, you don't need to know how to sterilize equipment to open a tattoo shop."
The lab's work isn't easy. Each morning, Burgess, who arrives at 5:30 a.m., takes about four hours to analyze about 2,700 test trips from their clients, which arrive every day in envelopes through the U.S. Postal Service. The strips are placed inside clients' sterilization equipment prior to use and then sent to the lab to confirm the machines functioned correctly. The lab also sends out new test strips to clients daily and posts test results on an interactive web dashboard.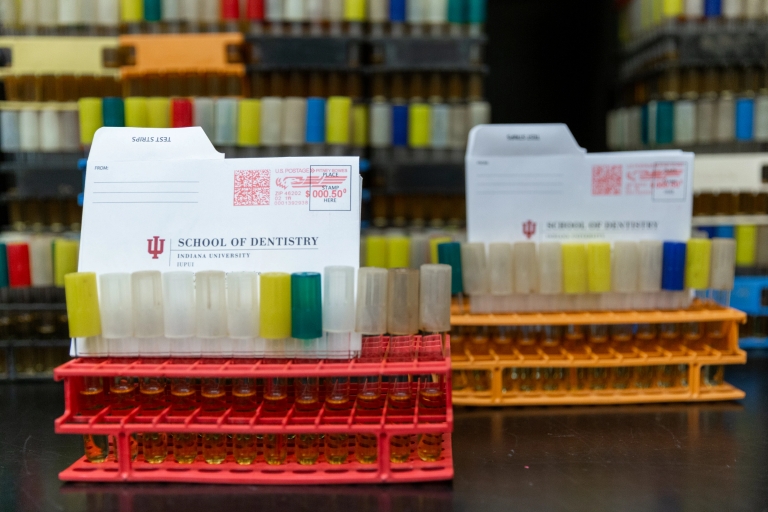 The service's staff consists of only two people: Burgess and Kimberly Tillman, who serves as office manager.
The small staff and personalized approach are a strong selling point. Burgess fields messages constantly – through email, phone or text – as well as acts as an unofficial consultant on all manner of concerns and inquiries from dental and medical practitioners, many of whom are also IU alumni.
"Right now, I'm getting a lot of calls about chemicals and barrier protection," he said, noting that the coronavirus's swift arrival in the U.S. left many companies scrambling to communicate their products' effectiveness to customers. CaviWipes, for example, provides official information on its website about its wipes' ability to destroy the coronavirus on surfaces but lacks any claims on its product packaging.
"I'll literally take people through the science of the virus and say, yes, this product works and here's where you can find the information to show your patients," he said. "Our service has really ended up as a catch-all for all sorts of questions because people know me and they know they can get a real person if they call."
Burgess also regularly provides tips on personal protective equipment. For example, some face shields don't work with the eyepieces that dentists use to perform detailed work inside the mouth, so he will warn against buying them, saving dental and medical practices' money. He also provides advice on staff training and patient communication.
"Whether it's the testing, the equipment, the science or the personal part of it, I'll take people through it all," he said. "How do you help your patients stay and feel safe? How do you help your staff stay and feel safe? As an infection control person, I want to ensure the safety of everyone."