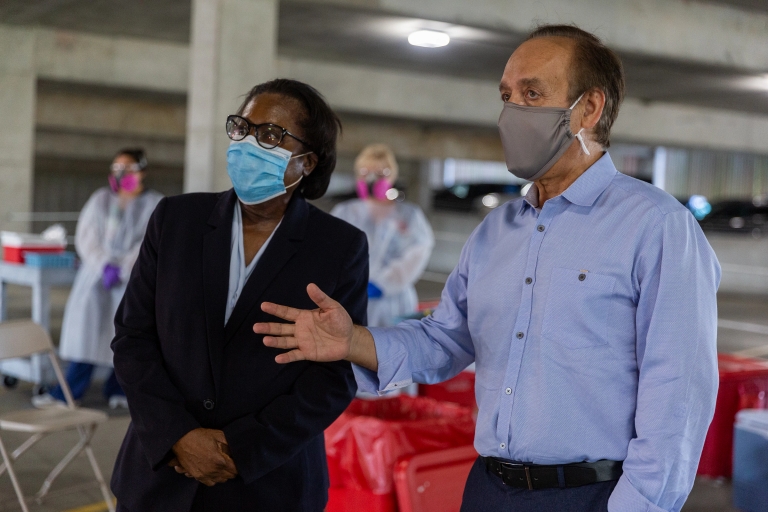 As the start of the semester nears, here are some frequently asked questions – and answers – from the August town hall meeting with Chancellor Nasser H. Paydar.
1. Where can I find recordings of past town halls?
Links are available for the town halls from August, July, June, March (for faculty) and March (for staff).
2. Will IU provide the opportunity for antibody testing for faculty, staff and students?
Indiana University is currently using the PCR (polymerase chain reaction) tests with nasopharyngeal swab as well as the Vault saliva tests. Antibody testing requires blood to be drawn, and there is currently no plan to draw blood for antibody testing.
3. Are spouses and/or dependents eligible for COVID-19 testing?
Testing offered on campus is for IUPUI students, faculty and staff only, but family members are encouraged to get tested at the Marion County Health Department, which offers daily testing at multiple sites throughout the county. The Marion County Health Department offers testing for everyone, regardless of the county in which they reside.
4. How will the mask mandate be enforced, and what are the consequences for noncompliance?
As outlined in both the Community Responsibility Acknowledgement (for faculty and staff) and the Student Commitment Form, masks are required in all campus buildings. Failure to comply with the health and safety directives adopted by the university will subject employees to corrective action, which may result in termination of employment, and subject students to suspension or expulsion from the university. See the following policies for more information: UA-21 and STU-02.
5. When and how can additional IUPUI masks be purchased?
Additional masks can be purchased at the Barnes & Noble bookstore in the Campus Center.
6. What is the reporting procedure should a student, staff member or faculty member become infected? Is it self-reported only?
If IUPUI employees are sick and displaying COVID-19 symptoms, they need to stay home and use IU Health's virtual screening tool or contact their health care provider. The interactive screening tool is available 24/7 for all students and employees. It will ask a series of questions, review symptoms and offer information regarding next steps in care, including how and where to be tested for COVID-19 if needed.
If they have already tested positive for COVID-19, or have been in close contact with an infected individual, students and employees must self-report their diagnosis via the COVID-19 Self-Reporting Form accessible via one.iu.edu. Within 24 hours, they will be contacted by a contact tracer.
7. Will all students, faculty and staff be required to be tested before returning to campus?
Only students living in on-campus housing are required to get tested prior to moving into their residence hall. All others are encouraged to get tested prior to returning to campus.
8. If someone tests positive, is a negative test required before that person can return to campus?
No, but you must self-quarantine for 14 days before returning to campus. The contact tracers can help identify the dates of your self-quarantine.
9. Will there be other opportunities for student, faculty and staff testing beyond Aug. 19?
Beginning the week of Aug. 24 and continuing throughout the fall semester, random samplings of students, faculty and staff will be selected for COVID-19 testing, which will allow IUPUI to track the positivity rate and mitigate any situation that develops. Approximately 4,000 students and employees will be tested at IUPUI weekly.
10. Under what circumstances may an employee opt out of the random COVID testing?
When you are contacted for mitigation testing, you can opt out of the testing process if you meet the established criteria, including – but not limited to – having no face-to-face contact with students or employees, not working on campus, etc. Directions will be provided in the email received.