IUPUI lecturer Geoff Sherman will be providing his students with a firsthand look inside the sports world's most exclusive venue: the NBA bubble.
Looking to restart the season that was disrupted by COVID-19, the NBA spent millions of dollars to construct a "bubble" that would safely allow the league to quarantine itself and crown a champion at Disney's expansive property in Orlando, Florida.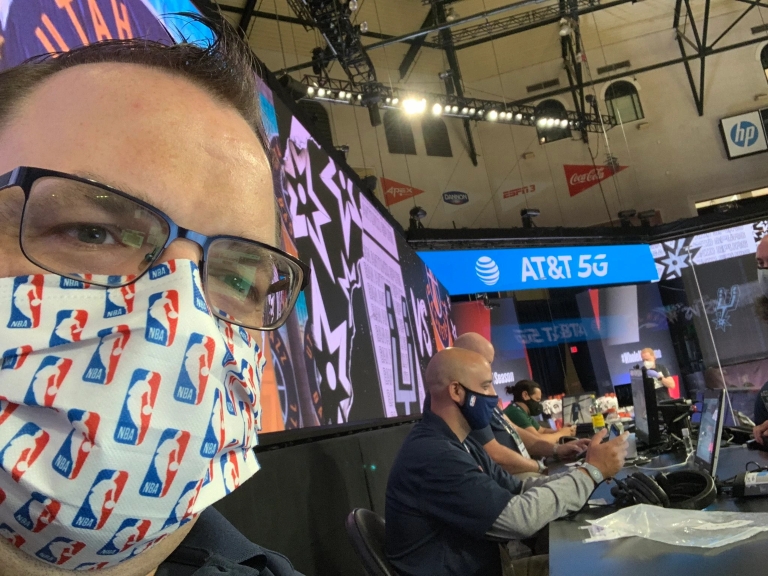 Spread across three Disney hotels, 22 teams, league staff and limited media are the only people allowed inside the NBA's bubble – which of course means no fans in the facility. Teams were limited to bringing 30 individuals to the bubble, including players, with daily COVID-19 testing and a multitude of safety precautions in place.
Sherman, a lecturer in the School of Health and Human Sciences and a project manager and communications specialist with the IUPUI Sports Innovation Institute, has committed to working as a statistician for the entirety of the NBA's bubble schedule, which began for him July 12 and ends after the NBA Finals, which could be mid-October. He's worked on the Indiana Pacers' stat crew for the past four years and traveled with the team for the league's inaugural games in India in October at the beginning of this season. When the NBA reached out to staff for help in the bubble, it was difficult to turn down the opportunity to start and end the season with history-making events.
"I didn't even know what we were going to get paid, and I committed to the entire three months," Sherman said with a laugh.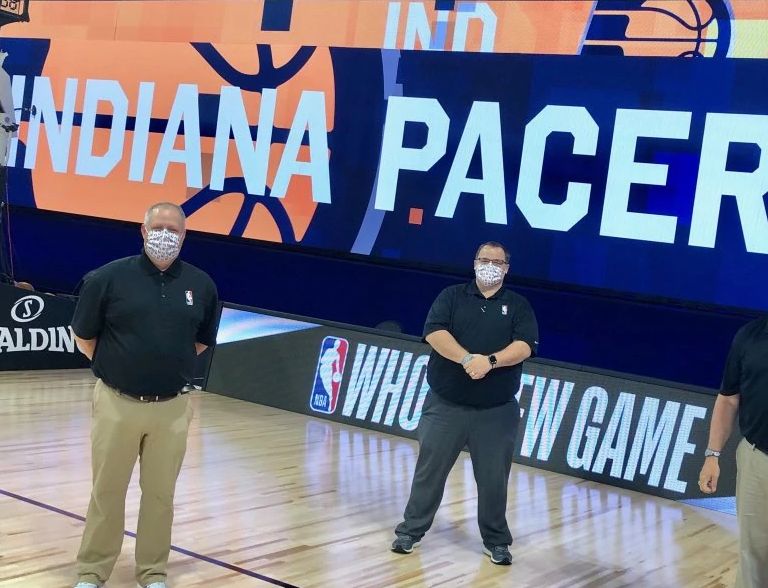 While nervous about the COVID-19 virus and leaving his wife, Tara, and two children, Ellie and Lucas, for the extended period of time, the chance to participate and work in the bubble was enticing for the sports-management lecturer.
"How often is it that a college professor is embedded with the NBA?" Sherman said. "I'm literally going to be on Zoom with my students, able to show them parts of the NBA bubble."
Working up to two games a day at the ESPN Wide World of Sports Complex, Sherman admitted to constantly thinking about ways to integrate his experience into his five classes this semester. He's teaching two TESM-S 211 Intro to Sports Management courses, TESM-S 332 Management Principles in Sport and two First-Year Experience classes.
Outside of his work for the Pacers, Sherman is well-known and busy in the local sports community, with experience working on stat crews for the Indianapolis Colts, Indianapolis Indians, IU men's and women's basketball, IUPUI men's and women's basketball, University of Indianapolis basketball and football, and other events at Bankers Life Fieldhouse and Lucas Oil Stadium including the Big Ten Championship and men's and women's basketball tournaments. While it is a part-time passion for him, Sherman values the relationships and exposure his work brings to the Sports Innovation Institute.
"We are not just teaching it – we are doing it," he said. "We are out in the industry and teaching it at the same time. We want to make connections in the business, and when industry partners see me out at an event or doing things like this, we hope it shows that IUPUI is a real force in the sports community. We want to help students get jobs and internships."
Sherman mentioned how the Sports Innovation Institute has become a resource for Indianapolis sports organizations that have asked for help in locating talented individuals. A message that he'll share with his students this semester and moving forward is being open-minded and driven.
"Students should take advantage of their opportunities and know that they don't always have to be full time to work in sports," Sherman said. "It might not be right away, but if you can find your way in, don't blow it."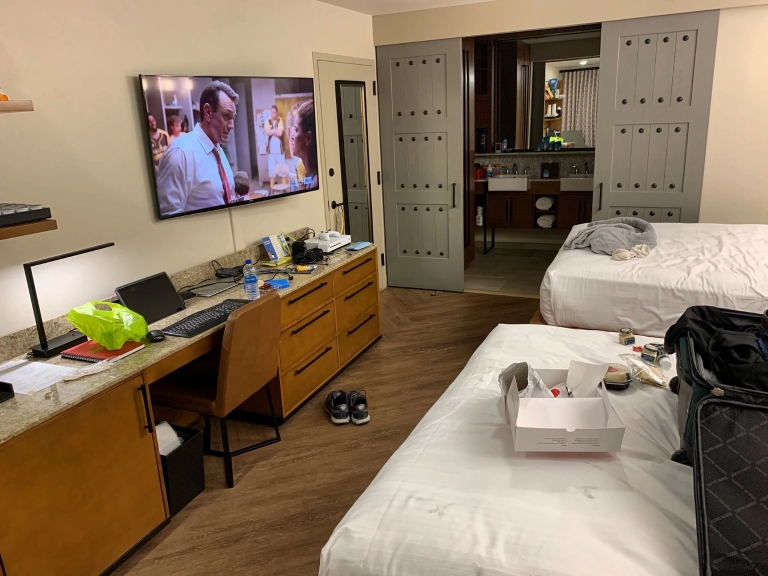 Aware of the special situation and opportunity, Sherman has been prudent and vigilant in taking every safety measure possible.
When he arrived in Orlando, he was required to quarantine inside his hotel room for seven days, only leaving his room at the Coronado Springs Resort for the daily COVID-19 test. With a lot of free time to kill, he prepared for the semester and played plenty of Rocket League, Minecraft and Fortnite on his Xbox One. Food and drinks were brought outside his door three times a day, and he talked with his family nightly on FaceTime.
Now out of quarantine, Sherman, like every other member of the bubble, is tested daily for COVID-19 and uses a pulse oximeter, a thermometer and an Oura ring and inputs their results each morning into a health app that the league monitors. Individuals in the bubble also wear a proximity sensor that beeps when people are not properly physically distanced and serves as a contact tracer. Masks are required to be worn during games and nearly everywhere else on the Disney campus.
"I feel like I'm in the safest place on the planet right now," Sherman said. "That's not an exaggeration."
The NBA has had success with its creation: As of Aug. 12, of the 342 players tested for COVID-19, zero returned a positive result.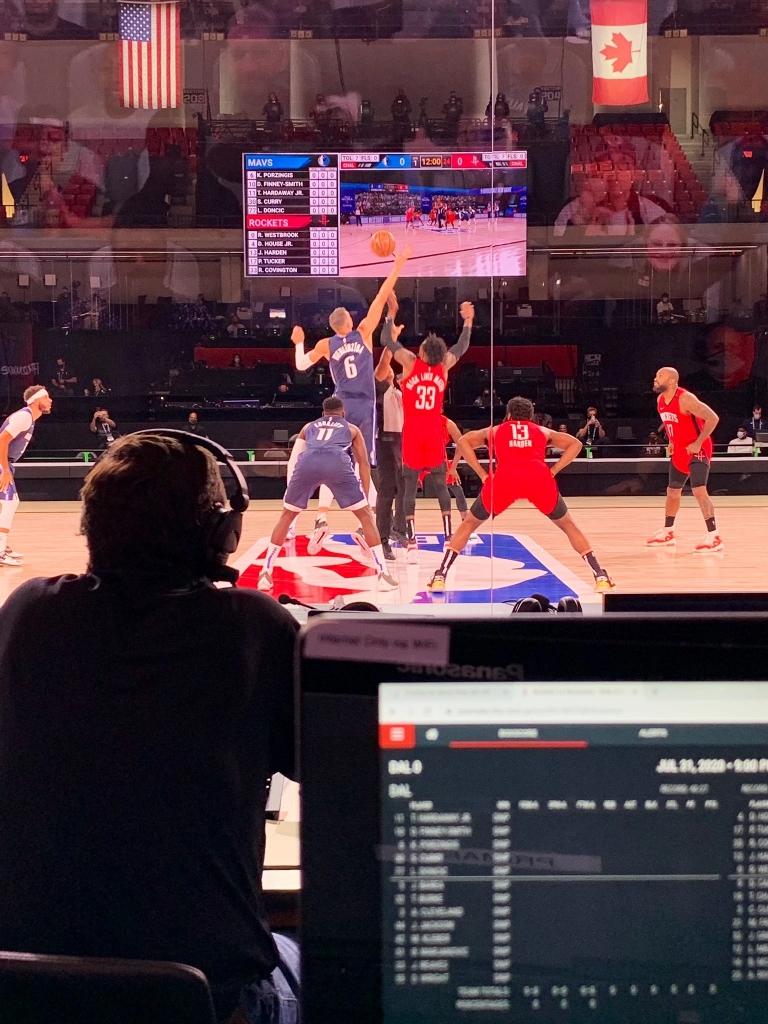 At the arena, Sherman is part of a collection of 14 people responsible for statistics and game operations who sit inside a plexiglass barrier separated from the court and the team benches. The four-person stat crew he participates on tracks every statistic that occurs on the floor.
The other individuals sitting behind the scorer's table at midcourt are responsible for operating the game clock, shot clock, scoreboard, official scorebook, game production and public address system.
"I refer to it as mental gymnastics," said Sherman, who admits he doesn't know the score most of the time because he is focused on the details of every play of the game. "It doesn't physically take its toll on you – it mentally drains you."
The experience has been humbling for Sherman. With the playoffs beginning this week and classes starting next week, he'll continue to have a full workload whether in the arena or in his hotel room. He's been sequestered from his family and the outside world for over a month but is relishing the chance to be a part of sports history.
"I'm one of handful of hundreds of people who were willing to sacrifice time with their families and put their lives on hold to create an event that is also an escape from the worries of every day," he said. "The country has had a lot of worries for a while, but now people can turn on the NBA and see some normalcy in their lives."