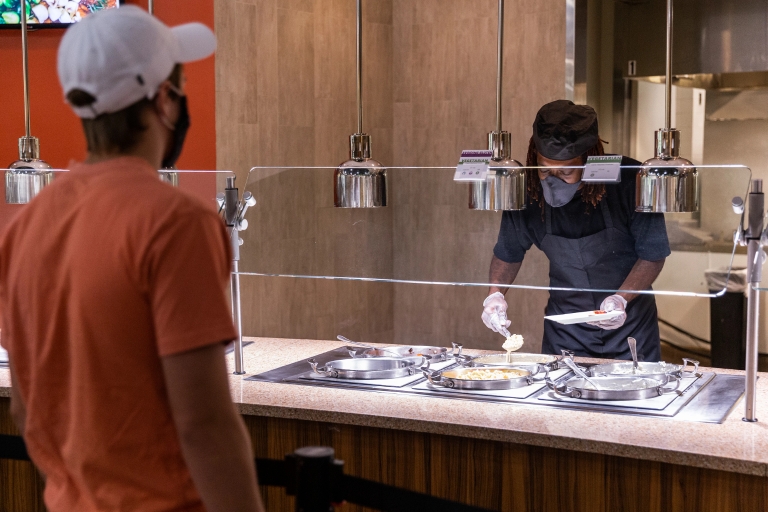 As the school year begins, the only knowledge our stomachs are seeking is "What is open, and where can I eat?"
IUPUI Dining Services has implemented various health and safety guidelines for food services on campus. New operating hours and availability are in place for many of the campus's dining options.
A new app from Chartwells called Boost allows students, staff and faculty to order and pay in advance from the Campus Center's Pizza Hut and Panda Express. University Tower's Tower Dining will introduce Boost in the coming week. Users are able to skip the lines and directly pick up their orders.
Much of the Campus Center's dining options are available, but Erbert & Gerbert's and Tu Taco at Student Choice will be closed so that staff can properly physically distance in food-preparation areas and that queues for Caribou Coffee and Chick-fil-A can be routed through those areas.
Inside University Tower, both Tower Dining and Chancellor's will be open. On weekends, Tower Dining and the Barnes and Noble Café are the only dining locations on campus that will be available. Tower Dining is open 9 a.m. to 8 p.m. both days, and the Barnes and Noble Café is open 8 a.m. to 5 p.m. Saturdays and 11 a.m. to 5 p.m. Sundays. Tower Den, Outtakes at Tower and University Club will be closed throughout the modified fall semester.
Availability of satellite dining locations away from the Campus Center and University Tower is varied. Outtakes in the Education/Social Work Building and the Market at the Medical Research and Library will be open and operating cashless.
Einstein Bros. in the Informatics and Communications Technology Complex, Outtakes at Inlow Hall, and Outtakes at University Library will be closed this semester. Farmer's Fridge vending machines might become available if the traffic is able to support it. If so, the machines will be filled or placed by the end of the first month of the semester.
Currently, Farmer's Fridge machines are located in the Herron School's vending area in Eskenazi Hall, the School of Science second-floor canteen area, and the breezeway connector between University Library and the Business/SPEA building.