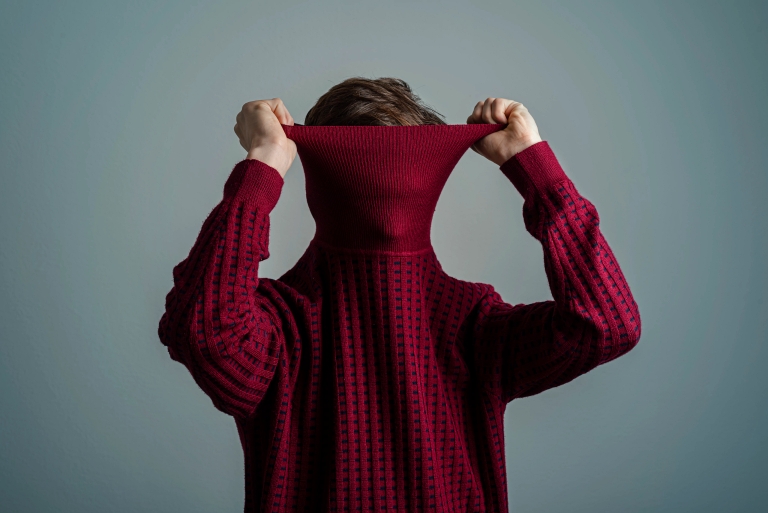 What's the difference between being nervous and feeling anxiety? What distinction is there between feeling down and being depressed?
In a time where many people are mentally exhausted from a taxing year filled with a global health pandemic, racial injustice, social unrest, a divisive political atmosphere and environmental concerns, it's important to be aware of one's mental health status. Possessing self-awareness of one's emotions and feelings is always critical, but especially in a time of additional stresses outside the typical ups and downs of life.
We talked with Dr. Samia Hasan, the director of mental health services at the IU School of Medicine, to help us recognize symptoms of anxiety and depression in ourselves and how to address them.
Hasan shared a self-checklist of feelings from the Substance Abuse and Mental Health Services Administration to help individuals recognize emotional distress.
Numbness, disbelief, increased worry, fear, or feelings of being overwhelmed.
Depressive symptoms that persist and/or intensify.
Inability to focus or concentrate accompanied by decreased academic or work performance or performance of other daily activities.
Sleep difficulties.
Excessive crying.
Isolating or withdrawing from others, fear of going into public situations.
Unhealthy coping, such as increased alcohol or drug use or engaging in risky or impulsive behaviors.
A feeling of hopelessness and/or a paralyzing fear about the future.
Sudden anger or irritability, or noticeable changes in personality.
Thoughts about giving up on life, preoccupation with thoughts of death, thoughts of self-harm. (If someone is experiencing this symptom, they should seek immediate professional help.)
For anyone experiencing any of these signs and symptoms, Hasan recommends first reaching out to friends and family for support and engaging in healthy coping strategies such as doing moderate exercise, eating well, getting adequate sleep, engaging in a hobby or fun activity, and attempting a mindfulness activity such as yoga or meditation.
If the distress continues or gets to the point that it is difficult for someone to manage their day-to-day activities, Hasan recommending seeking professional help.
Because the signs of depression and anxiety overlap, Hasan cited two screening tools called the PHQ-9 (for depression) and the GAD-7 (for anxiety), which are the industry standards for primary care settings and helpful for self-screening.
There are many tools to gauge one's feelings. Hasan cited the Mental Health Continuum Model as another self-study resource for people to use.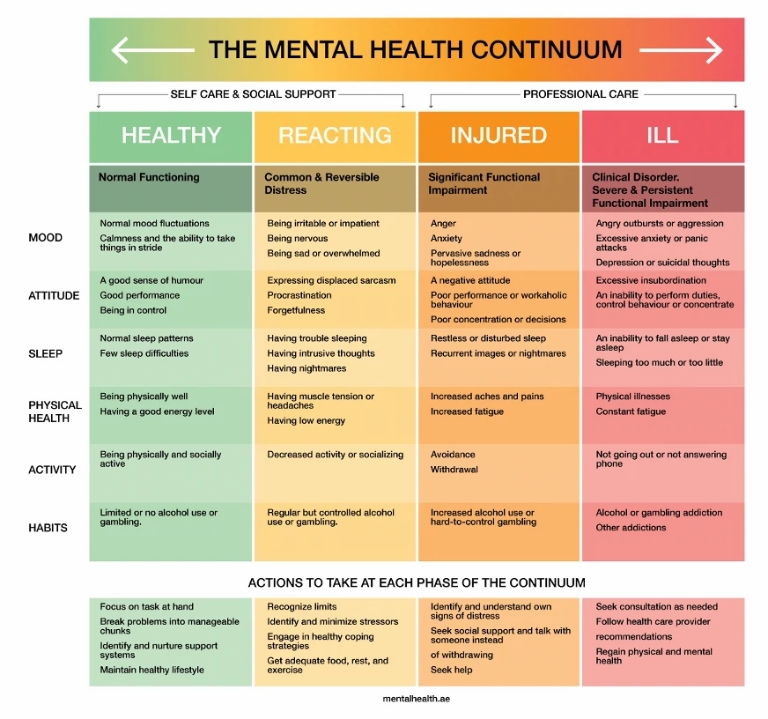 There is no shame in asking for help from a loved one or professional, as everyone experiences emotional distresses differently.
"It's very normal to experience some of these symptoms, and often it's a matter of degree, intensity and duration that differentiates typical experiences from ones that indicate a need for professional help," Hasan said.
As the summer warmth and sunshine fade, people need to continue to showcase self-awareness. The grayness and chill that fall and winter bring can trigger seasonal affective disorder. Additionally, because of the COVID-19 pandemic, social isolation could increase in the colder weather, with fewer opportunities to safely physically distance and interact with others outdoors.
Considering the current social climate, Hasan provided a list of self-care strategies to help combat feelings of anxiety and depression that can also be used regardless of the season:
Be flexible.
Set reasonable expectations for yourself and others.
Realize that we may not be as efficient as we typically are.
Avoid information overload if the news makes you anxious.
Acknowledge that these feelings of distress are reasonable and even expected at this time.
Recognize that by washing your hands, staying home and trusting the experts, you are doing what you can to minimize spread and that this is a service to yourself and others.
Maintain regular contact with family, friends, and co-workers.
Keep a journal of this entire experience in order to process your feelings but also as a way to review and debrief when things return to normal.
Do something for someone else.
Exercise, maintain healthy eating and sleep patterns, and keep in touch with nature.
Identify three things daily that you are grateful for in your life.
Use calming or mindfulness practices.
Resources
For anyone looking for professional assistance, IU offers students, staff and faculty support resources at all campuses.
Students
Counseling and Psychological Services, generally known as CAPS, is available at each regional campus.
Staff and faculty
The SupportLinc Employee Assistance Program, or EAP, is a confidential resource that provides 24/7 access to professional counseling and referrals.
Students, staff and faculty
The Healthy IU site is a great resource for wellness tips and offers a variety of programs and information. This includes COVID-19-specific resources and creative self-care challenges.
Hasan's mindfulness website recommendations
Crisis lines
National Suicide Prevention Line: 800-273-TALK (8255)
Crisis Textline: Text CSIS to 85511
The LGBTQ+ Trevor Lifeline: 866-488-7386