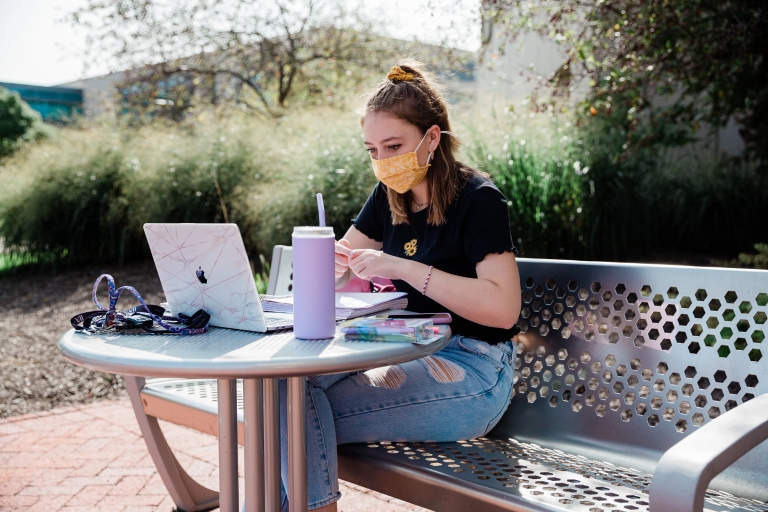 This pandemic feels so extra. Extra precautions, extra steps in nearly everything you do, extra things to remember, and on and on. Back in the spring, when COVID-19 started really affecting the U.S., our world turned upside down. We were all alert and working to incorporate the various precautions as we tried to go about our daily lives.
Now, we're six months into the pandemic, and many of us are feeling burned out and tired of all the extra.
"Routines are important, and changing a routine is a difficult prospect," said Edward Hirt, a professor in the Department of Psychological and Brain Sciences at the IU Bloomington College of Arts and Sciences. "Anyone who has ever tried to change their daily routine I'm sure has experienced this. The first few days, it's new and exciting, and you're focused on the differences. Over time, those feelings wane and most of us revert back to our previously established routine, cutting out the new 'extra' we were trying to work in."
In addition to the burden of changing your routine, motivation to keep up the changes is also a factor. If you're healthy, everyone around you is healthy and you're not seeing firsthand (or even secondhand) the illness caused by COVID-19, it's more difficult to see the reason for maintaining these extra pandemic behaviors.
Hirt said there are four stages of crisis response. In the early stages, people band together and work together to figure out how to survive. There's a sense of camaraderie and the feeling that you're in the "same boat" as others. In the third stage, called disillusionment, people start to feel the exhaustion of dealing with the crisis.
"You just become tired: tired physically, tired mentally, tired emotionally," Hirt said. "I think part of the fatigue happens when we perceive these 'extras' as work rather than just the 'new normal.' If we view it as something we want to do versus something we are being forced to do or as an inconvenience, it helps a lot."
In the final stage, the fatigue stage, people may feel that the safety precautions put in place are less meaningful, or they're more willing to take part in higher-risk behaviors, such as disregarding health and safety guidelines. In addition to taking care of yourself and asking for help if you need it, Hirt said there are a few ways to make it a bit easier to continue following the pandemic precautions.
Stay committed
Behavior change is hard. Making a promise to yourself and setting a clear goal can help you stay committed to maintaining the change.
Just the facts, ma'am
Keep up with any changes in guidelines from reliable sources and be flexible in adjusting your behaviors to match the best guidance at the time.
Practice makes perfect
The more you do something, the faster it becomes a habit. Wear your mask in public every single time you go anywhere, and you'll see that it becomes second nature over time. Practice the various pandemic safety guidelines every time to make them stick.
Have supplies on hand
Need to wear a mask in public? Keep one with your wallet or keys. Need to wash your hands more often? Keep hand sanitizer in multiple places like your bag, your car or right by the door. Having what you need when and where you'll need it will help you keep up with behavior changes.
Make it personal
Think of who you're helping by following the guidelines. Maybe you're not at an increased risk for complications of COVID-19, but is your partner? A family member? A co-worker or friend? You may also know someone who has been affected by COVID-19. Ask them to tell you their story and experience.
"For our community and our country to make progress against the pandemic, we must collectively maintain behavior change," Hirt said. "It's not easy, but we can do it.
"Consistency is extremely important. When you only apply these extras in certain contexts – on campus, at the store, around certain people – you have to constantly think about it. This takes work and will produce more fatigue. Once you repeat behaviors consistently, it does get easier and can become just another part of life. Wearing a seat belt, for example, or buckling your child into a car seat: We haven't always done those things, but today, it seems unthinkable to not do them."