When Indiana University joined other higher education institutions across the nation in shifting to virtual learning in the spring, IU President Michael A. McRobbie committed to paying all employees through June, and the university initiated robust planning efforts in preparation for summer and fall semesters.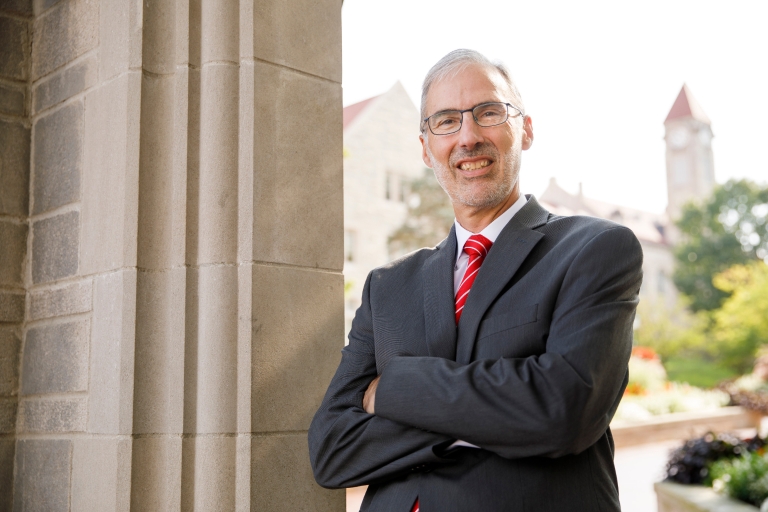 Today, with a comprehensive COVID-19 mitigation testing program underway, IU is continuing its academic and research missions thanks, in part, to its strong financial standing.
Inside IU sat down with Vice President and Chief Financial Officer John Sejdinaj for insights into the financial implications of the pandemic.
Question: Did finances play a role in the decision to return to in-person classes this fall?
Answer: Finances played no role in the decision. In fact, as decisions are made to cover key expenditures related to protecting the IU community and otherwise slowing the spread of COVID-19, costs are never a barrier. While we pursue the competitive pricing in stewarding resources, our leadership group is united in securing whatever is necessary to support our response.
Q: Is the university saving money by offering so many classes online?
A: No. Faculty salaries, a major cost associated with our teaching mission, do not change as a result of how courses are delivered. In addition, further costs have been incurred to deliver online content and to protect those students taking in-person classes and those housed in or using campus facilities.
Q: Why did tuition increase this year? Was that related to the pandemic?
A: No. IU's tuition is approved biannually, which means this year's tuition increase was approved in 2019 and was unrelated to the pandemic.
Q: What are some of the significant costs associated with the university's response to the pandemic?
A: IU's comprehensive testing program, which is a foundational element of our pandemic response, has so far cost nearly $20 million. Additional staffing and supplies for enhanced cleaning and adjustments in classrooms to support online learning and physical distancing recommendations are other significant investments made in support of the IU community.
Q: How are federal or state programs providing relief? Is more relief coming?
A: In addition to distributing half of the federal stimulus dollars (CARES funding) directly to students, IU has refunded housing fees to eligible students, increased financial aid funding and increased emergency relief funds already established at every IU campus. At the same time, state dollars were reduced by more than $38 million, making the federal support even more vital.
It's possible that IU could receive additional federal stimulus funding, depending on the actions of our government, yet it's unclear how much – if any – funding will be available and, if so, what type of restrictions for its use would be included in the legislation.
Q: What is IU doing to help students and families struggling financially?
A: In addition to the CARES money shared with our students, IU has added more money to its financial aid buckets every year. Every campus has a student emergency fund, which were created to support our students. The Pandemic Health Disparities Fund, designed to support vulnerable members of the university community by broadening their access to important health and wellness resources, is another example of support. We recognize that many of our students are struggling financially and in other ways, and much work is being done across all campuses to help where we can.
Q: How did IU's financial position prior to the pandemic support the university's response?
A: At the start of the calendar year before the pandemic was declared, IU was in a favorable financial position, with a strong balance sheet, a AAA credit rating, well-performing investments and a relatively modest level of debt. All of this was accomplished despite a thin operating margin, reduced state appropriation and a modest tuition increase.
In addition, budget reduction and reallocation over the last six years have significantly contributed to IU's continuous efforts to maintain student affordability and fund new and existing academic and research programs.
Q: Even with this strong position in mind, what did IU do once the pandemic was underway to further secure its financial position?
A: Leaders were called on to trim budgets by 5 percent, and they exceeded the target, ultimately identifying just over 6 percent in reductions. Hiring and salary freezes were implemented for the majority of positions, supporting further reallocation of dollars to fund priorities in teaching and research.
Q: What if the public health crisis is prolonged?
A: To date, IU has been fortunate to maintain staffing levels and avoid taking on debt or otherwise funding shortfalls. A prolonged public health crisis would prompt additional financial considerations, but we are fortunate that to date we have not had to consider steps that other universities have taken.
Regardless of what comes, we will always make the best decisions for our students and others in the IU community. Our strong financial position heading into the pandemic simply made those decisions easier to accomplish.