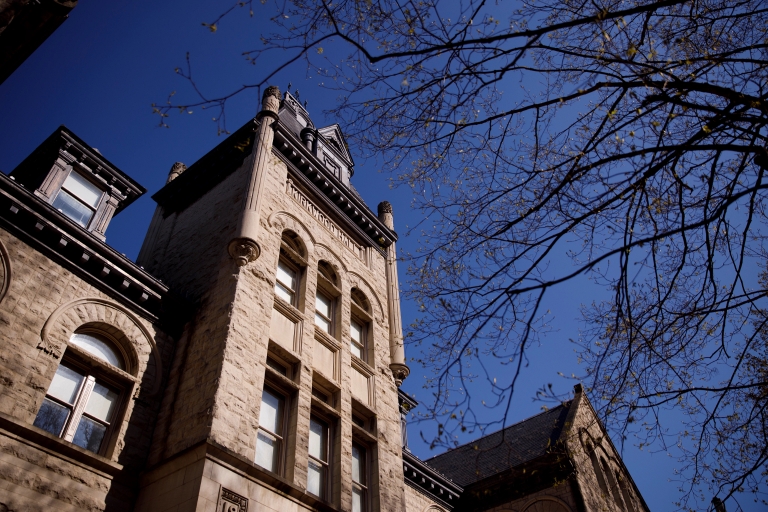 BLOOMINGTON, Ind. – Tackling pandemics new and old, Indiana University is investing in additional racial justice research and is creating a task force to address the negative impact COVID-19 has had on female researchers at IU.
The university is funding 31 research projects exploring racial justice, including the pandemic's impact on Black-owned businesses, a partnership with school districts to encourage racial justice youth activism, storytelling to heal racial trauma and other critical topics. The projects are funded with support from IU's Racial Justice Research Fund, which continues to accept new proposals on a rolling basis.
"I continue to be impressed with the research proposals submitted and ultimately selected to address racial inequity and social injustice in our communities and across our nation," said James C. Wimbush, vice president for diversity, equity and multicultural affairs; dean of the University Graduate School; and Johnson Chair for Diversity and Leadership. "IU's faculty consistently conduct research resulting in innovative and creative initiatives, I look forward to the progression and outcomes of this very important work."
Examples of projects supported by the fund, established in June, include:
Racial disparities among small businesses
While loans from the Paycheck Protections Program that Congress enacted early in the pandemic appeared to be low-barrier, Black businesses struggled to secure these loans and, in some cases, received smaller loans than those given to white business owners. Candace Miller, a visiting assistant professor in the O'Neill School of Public and Environmental Affairs at IU Bloomington, will analyze racial disparities in the loan distribution process.
Miller, who is also a postdoctoral fellow at the Center for Research on Race and Ethnicity, hopes her study will inform debates surrounding economic justice for Black communities, spurring policy-makers and others to look at how long-standing racial disparities shape access to resources during crises.
Supporting young Hoosier activists
Working with Bartholomew County's Council for Youth Development, school districts and local organizations, Stephanie Serriere will research ways to better support and encourage Hoosier youth activists working for racial justice. Serriere, a professor of social studies education at IUPUC, will lead survey and interview research involving more than 200 Hoosier youth activists for racial justice.
Her work will engage Hoosier youths in order to better understand how Indiana's schools and communities prepare, support or impede student involvement in informed racial justice activism. Serriere's findings will have direct implications for renewed anti-racist frameworks in teacher preparation programs and K-12 public schools.
Storytelling and racial trauma
"Living while African American" in the United States, as IU South Bend professor of psychology Dé Bryant puts it, can be a "relentless burden." Bryant's newly funded project will explore how the arts, particularly storytelling and poetry, can help alleviate the stresses of dealing with systemic racism and offer remedies for burnout related to racial trauma. The project will feature a podcast series focused on issues such as identity, power, loss and recovery combined with spoken word poetry and an opportunity for listeners to upload their own creative responses.
Phase 1 funding for nine Racial Justice Research Fund projects was announced in late August. Since then, 22 additional projects have been funded.
IU's Racial Justice Research Fund is administered jointly by the Office of the Vice President for Diversity, Equity and Multicultural Affairs and the Office of the Vice President for Research.
A full list of projects receiving financial support from the IU Racial Justice Research Fund is available on the Office of the Vice President for Research's website.
Gender Equity in Research Task Force
The COVID-19 pandemic is exacerbating many longstanding, systemic issues, including gender inequity.
"As we facilitate research to understand and respond to racial injustice throughout our society, we also must address issues of injustice within IU's research community and in the research environment more broadly, including those exacerbated by COVID-19," said IU Vice President for Research Fred H. Cate. "Scholars such as IU's own Cassidy Sugimoto have documented how the shift to work from home meant many women scholars have taken on increased domestic responsibilities, especially child care, and as a result, have experienced increased pressure on their scholarly productivity. No one expects easy answers, but I look forward to both what the work of the task force reveals and to their recommendations on ways we can enhance equity among researchers at IU."
The Gender Equity in Research Task Force, formed by Cate, will explore the negative impact the pandemic has had on research productivity at IU and suggest both short- and long-term actionable solutions within the IU research context.
About IU Research
IU's world-class researchers have driven innovation and creative initiatives that matter for 200 years. From curing testicular cancer to collaborating with NASA to search for life on Mars, IU has earned its reputation as a world-class research institution. Supported by $854 million last year from our partners, IU researchers are building collaborations and uncovering new solutions that improve lives in Indiana and around the globe.