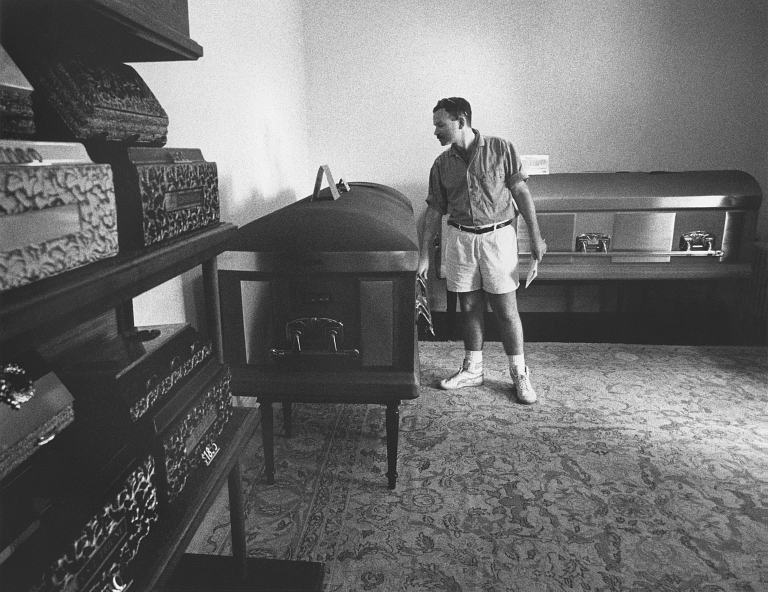 Nearly 30 years have passed since the peak of the AIDS epidemic in the United States. The incredible amount of suffering and loss faced during the 1980s has left a deep imprint on society that inspires journalists and scholars to revisit stories from these years amidst a new pandemic.
Tom Fox was a Bloomington native and Indiana University alumnus who died from AIDS on July 11, 1989. His legacy lives on in the form of deeply touching photographs that illustrate definitive moments throughout his less than two-year struggle with the illness. The photographs, taken by photojournalist Michael A. Schwarz, were published alongside a piece written by journalist Steve Sternberg, who was then a medical writer for the Atlanta Journal-Constitution, chronicling Fox's experiences, travels, friendships, struggles and eventual death.
The 16-page story and collection of photographs, titled "When AIDS Comes Home," became widely recognized and was nominated for a Pulitzer Prize. The project will be highlighted in a virtual exhibition, "Wild Horse Running: The Courageous Journey of Tom Fox," sponsored by IU's Kinsey Institute and the Untitled Light Gallery.
Panel discussion
"What Steve and I hoped to do with the story was introduce our readership to someone with AIDS, and hopefully in a way that would let them feel like they knew Tom and thus deepen their understanding and empathy of what people with AIDS were going through," Schwarz said. "It's 30 years later, and it's so gratifying for me to see that there's still interest in this story. You know, I just hope that everybody who sees the photographs gains an appreciation for how difficult it was for people with AIDS and gay folks back then. It was really hard times for them."
"I think history is teaching us today that pandemics are a part of human experience," Sternberg said. "Whether its HIV or SARS or COVID-19, these are a phenomenon that we have to deal with."
The right person
When he first had the idea for the story, Schwarz struggled to find the right person to document.
"We knew that to tell the story properly, we would have to find someone who would totally open up their life to us, because we couldn't only tell part of it," Schwarz said. "That would not give our readers a full understanding. We also needed their concentric circles around them, their friends and their family and all of that as well."
He talked to a number of people he wouldn't be able to fully document because of concerns about employers or families that were not willing to be involved in the process. Another obstacle was that Sternberg was still hesitant about taking on such an emotionally heavy project and needed convincing. Everything shifted when Fox sent him a note.
"What changed my mind and saved the story, changed my life really, was this note that I received from Tom one day," Sternberg said. "Saying, 'Hey, I work one floor up and I have HIV and would love to talk to you about it.' And the first thing that hit me was that this is just three years after HIV had been identified, and I was seeing it all and I was writing about HIV and AIDS here and there. But the fact that it was one floor up, that I worked with somebody with HIV, that was a stunner."
Fox, who worked in the advertising department at the Atlanta Journal-Constitution, seemed to be a perfect fit for the story.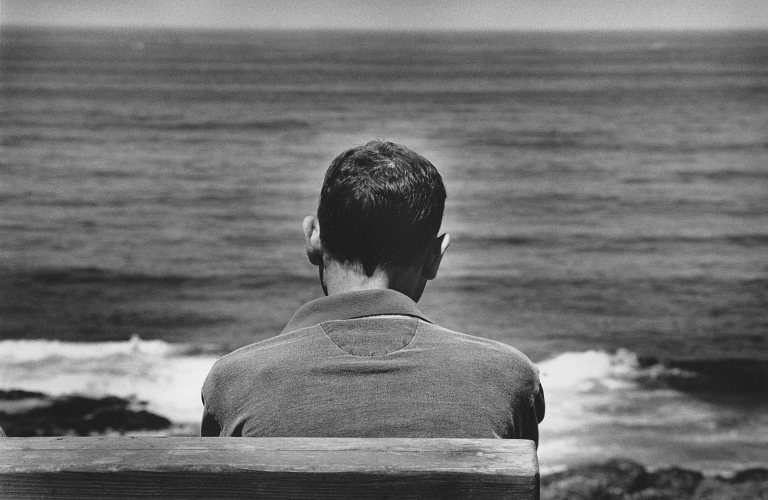 "Tom was so engaging and so funny and so articulate," Sternberg said. "And he had such a huge circle of friends who were also funny and engaging and articulate that it was obvious to me that I wanted to do this story."
The fact that Fox had the same employer as Sternberg and Schwarz posed a new level of ethical concerns for the two. They worried whether documenting his experience would be a conflict of interest for the newspaper.
"What happens if they fired him because they're afraid that he'll infect his co-workers?" Sternberg said. "How do we handle that?"
After going back and forth for weeks with their editors, they were able to move forward with Fox as their subject.
"To the paper's credit, they recognized the uniqueness of the story and how Tom was such a good character for it," Schwarz said. "From our side, we made them understand that anything that happened with Tom, even if it put the paper in bad light, we were going to report on it. And they were very supportive."
Overcoming fear
They also had fears about the reception of the story and whether they would accomplish their goal of humanizing people with AIDS.
"I was petrified," Sternberg said. "We were in Georgia, and this was going to be an entire section of the newspaper. You open your morning paper, and it was going to be the front news section and the metro section and sports, and then 'When AIDS Comes Home.'"
Schwarz pointed out that to have the support of a newspaper in the South was gratifying to them, because it was published as a special section at a time when homophobia and the fear of AIDS were rampant.
Difficult moments
The Kinsey exhibition has been dedicated to Fox's parents, Doris and Bob Sr., who died in August and September and helped make the original story possible by their willingness to work with Sternberg and Schwarz.
"We told Tom and we told his parents, 'Look, we're going to be there when there are times when you're not going to want anybody there, and you're going to feel sick and you're going to be sad, and we need to be there at those moments,'" Sternberg said.
After they agreed to participate in the story, those difficult moments eventually came. Sternberg notes how hard it was the day Fox died, with his family surrounding his hospital bed.
"Michael was shooting his photographs, and I'm crying on my notebook," Sternberg said. "I didn't think to use waterproof ink. Somewhere I still have that notebook, and it's pretty much unreadable because all of the ink sort of ran down the page with my tears."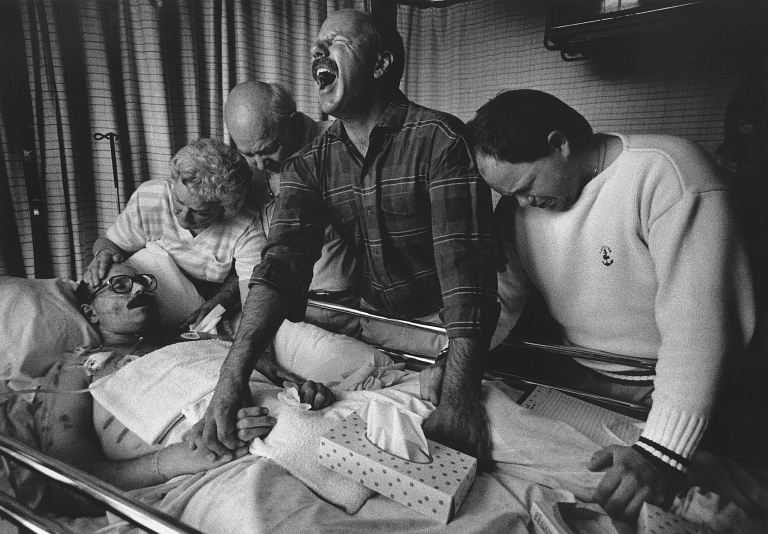 Eventually, Sternberg and Schwarz left to give Fox's family some alone time. Sternberg unintentionally left his tape recorder running in the room, and when it beeped to signal that it was out of tape, Fox's father flipped the tape and turned the recorder on so he would not miss anything.
"I'm sitting here, and my heart is breaking thinking about it," Sternberg said. "I mean this family was miraculous."
They also note the impact that Fox's parents had on his friends and other members of the community.
"Bob and Doris reached out to be kind of pseudo parents to other people whose parents had kind of gotten rid of them," Schwarz said. "Doris had three sons, but I always felt like she was a mother to so many others – folks whose own mother might have taken themselves out of their life."
Fox's parents, who were longtime Bloomington residents, inspired the Kinsey exhibition after they donated over 230 photographs given to them by Schwarz, along with memorabilia, to the Kinsey Institute in 2019. Schwarz and Sternberg hope that the exhibition inspires a new perspective on AIDS while continuing to achieve their initial goal of creating a reader connection to someone with the disease.
"I hope that anybody looking at it now will maybe try to gain an appreciation of how far we've come since then, how things have changed – hopefully for the better – and how difficult it was for people with AIDS back then," Schwarz said. "Now, I see commercials on TV touting pharmaceuticals that allow you to live a 'normal life' with HIV. Back then, when we did the story, it was pretty much a death sentence."