An opportunity to experience art, culture and live performances will return to the Indiana University Bloomington campus Sept. 3, but First Thursdays will look different this fall because of health and safety precautions necessitated by the COVID-19 pandemic.
The Arts and Humanities Council's First Thursdays Festival celebrates the university's rich traditions in creativity through student and faculty performances, and interactive exhibits and activities. While the event typically takes place on IU Bloomington's Fine Arts Plaza surrounding Showalter Fountain, the fall 2020 festivals will be spread out from the Conrad Prebys Amphitheater to the Arboretum. These First Thursdays "trails" will allow for creative exploration and activities while complying with physical distancing and other public safety requirements.
"It was important for us to bring First Thursdays back to campus this semester," said Ed Comentale, director of the IU Arts and Humanities Council. "The arts and humanities have tremendous power to promote wellness and give people a sense of belonging during difficult times. This semester, more than ever, our students can benefit from the community-building that comes from sharing in performances and other creative activities in a safe environment."
Those who attend are being asked to wear a mask at all times, even if physically distant from others. The festival will mark the first performances at new Open Air Venues on campus this semester, and audience members should maintain a distance of at least 25 feet from the front of stages. Some artists may perform without a mask on but will put one back on once their act is over. Hand sanitizer and disposable masks will be available for audience members at every performance venue and activity station during the festival.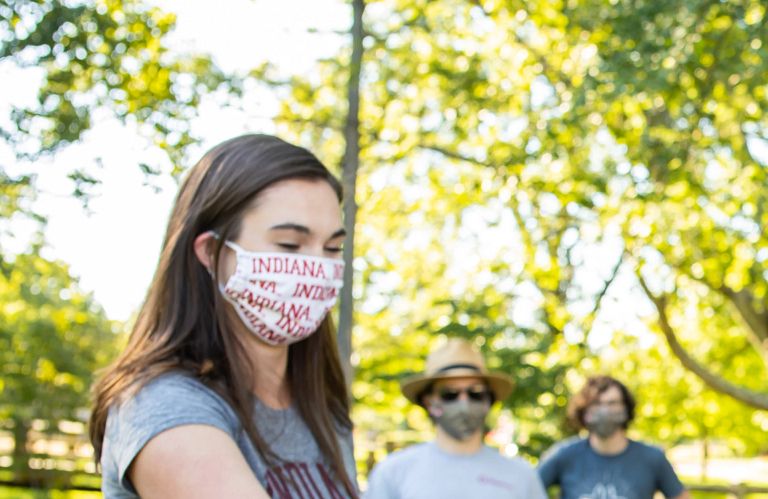 In addition to changes in the festival's landscape, those who attend First Thursday are asked to register online before the event, or upon arrival, and provide their IU email address. This information will only be used by public health officials if contact tracing is necessary.
The Sept. 3 First Thursday will be from 3 to 6 p.m. The Arts and Humanities Council will distribute creativity kits to students, which include art materials and a series of prompts that encourage students to explore, create and share their own forms of created expression. First Thursday will also feature the following performances and activities:
Arboretum
Tiny Dorm Concerts will feature student performers and DJs on a stage near the Arthur R. Metz Memorial Carillon.
IU Corps will screenprint custom T-shirts that let students declare what they stand for.
Seventh Street/Arts Plaza
Indiana Memorial Union Late Nite will have an interactive station in front of the Sidney and Lois Eskenazi Museum of Art devoted to painting.
Piano recitals from Jacobs School of Music students will take place on the Eskenazi Museum of Art terrace.
The Museum of Archaeology and Anthropology will host an activity that explores the question "What is culture?"
Themester 2020 and Political and Civic Engagement, known as PACE, will give away free T-shirts and host a pop-up exhibit of student-designed posters related to the theme of democracy. This station will also have information about the upcoming election, voter registration and the Big Ten Voting Challenge.
Conrad Prebys Amphitheater/Jordan River
IU Libraries will host a pop-up exhibit on women's suffrage, in recognition of the recent 100th anniversary of the 19th Amendment.
Ballet students from the Jacobs School will perform at the Conrad Prebys Amphitheater. Baba Stafford, director of the African American Dance Company, will also lead an interactive dance.
A stage in front of Woodburn clock will feature dance demonstrations and interactive yoga from Contemporary Dance.