Make a nomination for Staff Merit Awards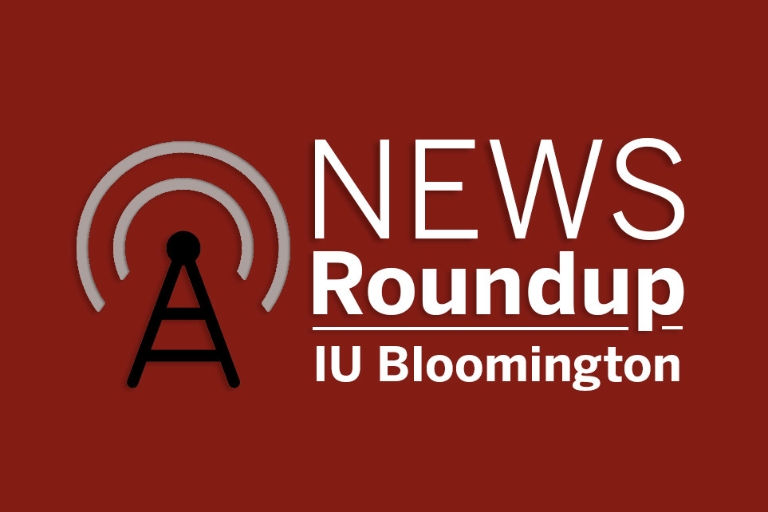 Nominations for the IU Bloomington Staff Merit Awards are being accepted through Oct. 2. The awards recognize and celebrate the contributions, dedication and accomplishments of exceptional staff members.
Two awards are given annually in each of the following categories:
Service staff: Includes all service staff.
Support staff: Includes support staff/nurses/nursing assistants.
Professional staff: Includes Levels 4 and below and general supervisors.
Full-time appointed staff members working on the Bloomington campus are eligible, and nominations may come from anyone. A committee of faculty and staff will choose six recipients from these nominees for the 2020 awards.
The award recipients will be honored at 3:30 p.m. Dec. 2 via Zoom.
The nomination form should be completed and submitted electronically along with the requested supporting documentation. Questions can be submitted at stmerit@iu.edu or 812-855-8114.
Patten Lectures offering virtual events
Because of the COVID-19 pandemic and efforts to protect everyone's health, the in-person visits to the IU Bloomington campus by the 2020-21 Patten Lecturers, Frances Moore Lappé and Susan Neiman, have been postponed to the 2021-22 academic year. Dates for these visits will be announced during the spring semester.
The Patten Lecture series invites eminent writers, scholars and artists for weeklong visits to the IU Bloomington campus.
However, the lecturers have agreed instead to hold one virtual event each during the 2020-21 academic year. The first is by Neiman, director of the Einstein Forum in Potsdam, Germany. Her work has focused on issues of race, racism and the memory of the Holocaust in Germany. "Monuments, History and Value: What We Can Learn from Germany About Facing a Racist Past" is planned for noon to 1:30 p.m. Sept. 30.
English faculty member wins top prize in Indiana Authors Awards
Ross Gay's collection of essays "The Book of Delights" was named the 2020 nonfiction winner in the Eugene and Marilyn Glick Indiana Authors Awards. Gay is a member of the Department of English's core faculty.
Every two years, the Indiana Authors Awards recognize books written by Hoosier authors in the children's, emerging, fiction, genre, nonfiction, poetry and young adult categories.
Panel discussion about addictions, naloxone training Sept. 14
Indiana University's Responding to the Addictions Crisis Grand Challenge and the Center for Rural Engagement at IU Bloomington are hosting a panel discussion and an introduction to the "In This Together" community conversation series from 5:30 to 7 p.m. Sept. 14 via Zoom.
"In This Together" is a community resource for those wanting to learn about substance use disorder and ways to make a difference in the lives of Hoosiers. Panelists include Robin Newhouse, dean of the IU School of Nursing at IUPUI.
Following the discussion, learn how to administer naloxone, an emergency treatment used to reverse opioid overdose. Upon completion of the training, participants have the opportunity to sign up for two free doses of naloxone.
Register online for the event.
Register for IU Rural Conference
The Indiana University Rural Conference, presented by the Center for Rural Engagement, will take place virtually via Zoom on Sept. 29 and 30. It's an opportunity to connect with leaders from across Indiana, IU researchers and colleagues from a variety of fields to learn and share perspectives on the opportunities and needs facing rural Indiana.
Matthew Fluharty, executive director of Art of the Rural, will participate from rural Minnesota as the keynote speaker Sept. 30. He is a TEDx speaker who builds innovative rural arts collaborations. Jay Chaudhary, director of mental health and addictions at the Indiana Family and Social Services Administration, is also participating to introduce the new state strategy.
Register for the event on the IU Rural Conference website.
Renovated IMU features dining options
Staff, faculty and students looking for dining options have a variety available at the Indiana Memorial Union, which has undergone renovations.
For example, Sugar and Spice and The Chocolate Moose are back and in a joint location in Sugar and Spice's old location. The Globe, which has moved to the former Circle Café location, offers a taste of Bloomington restaurants. All restaurants inside the IMU use Grubhub's service and offer takeout dining only, except for The Tudor Room, which offers reduced dine-in capacity by reservation only. Food trucks from local restaurants are parked outside the IMU on a rotational schedule.