A new outdoor space perfect for students' studying and dining needs has opened at the Indiana Memorial Union: A tent has been erected in the IMU garden, right outside of the Tree Suite meeting rooms.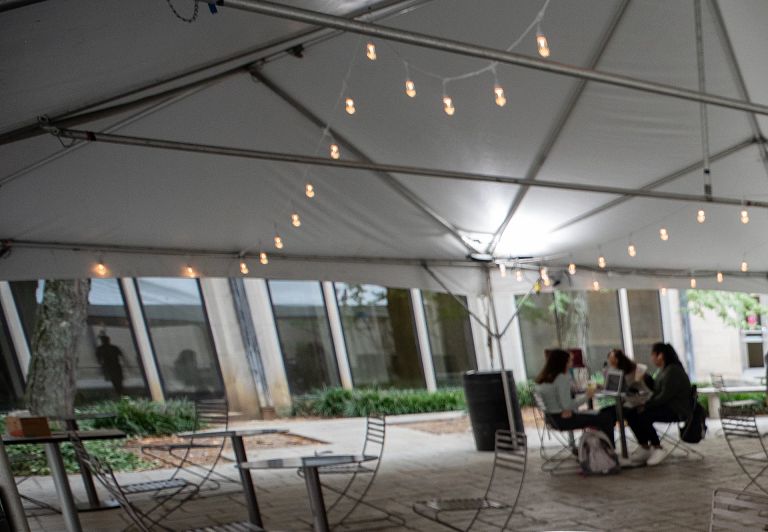 The tent is 30 feet by 40 feet, under which 14 small tables offer seating for 20. String lights adorn the space, and charging stations for electronics and hand-sanitizer stations are available. When the weather gets cooler, space heaters will be added to help keep students warm.
"It's beautiful. Students are using it quite a bit. At lot of the time, at midday, it's full," said Hank Walter, the IMU's executive director.
Rachael Splain, IU Dining's director of retail dining and interim director of catering, said the tented space is a perfect place to enjoy food and beverages from renovated eateries inside the IMU while observing COVID-19 physical-distancing guidelines.
Sugar & Spice reopened after eight months and is offering traditional favorites such as Special K's, no-bakes and iced sugar cookies, while also serving Chocolate Moose ice cream and Brown County coffee. The Globe moved to the Circle Café, which is nearby, right off of Circle Drive.
Users of the space are encouraged to follow physical-distancing guidelines and sanitize their area before and after use.
The tented space was created because the IMU's lounges couldn't hold any more students with respect to the university's physical-distancing policies, Walter said.
"What better way to provide additional study space?" he added.
While the tented space in the IMU garden has been added, a well-known dining option inside the building is temporarily unavailable. The Tudor Room, a restaurant popular with staff and faculty, has closed for the remainder of the fall semester.
The Tudor Room had reopened for the fall as an a la carte restaurant under the direction of Dave Tallent, executive chef of IU Dining and Catering.
"We decided to close it for the remainder of the semester to reallocate staff to other areas on campus that are seeing greater volume," Splain said.
Eateries such as Gresham, Read, Woodland and Wright are experiencing higher volumes and need additional help, she explained.
Walter said he expects that the Tudor Room will reopen sometime in the future.