Given the evidence that the chances of transmitting coronavirus are lower outdoors than indoors, dining, exercising and socializing al fresco have become the norm. In addition to decreasing the chances of transmission, going outside can also help relieve some of the stress and anxiety that come with the coronavirus crisis.
Luciana Guardini, a licensed clinical social worker, counselor and outreach coordinator for Counseling and Psychological Services at the IU Student Health Center, said she recommends a safe trip outside, complete with masks and physical distancing, to her patients for several reasons.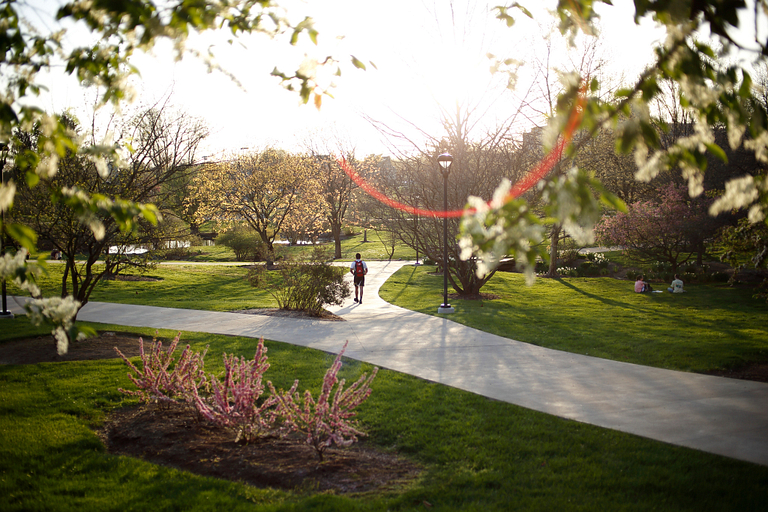 Spending time outdoors and observing the nature that surrounds you can help give you a break from your own negative patterns of thinking and take a stress pause, Guardini said. Connecting with nature and contemplating your surroundings could be the perfect setting for you to practice mindfulness, a key coping strategy for anxiety and depression. Students interested in learning more about practicing mindfulness can also participate in virtual mindfulness workshops offered by Counseling and Psychological Services.
"You can witness the most beautiful colors in the sky, but if you're not present, it won't help you as much," Guardini said. "If you are present, it can generate great feelings of joy and well-being."
Moving your body outside can also help combat the "fight or flight" reflex that is activated by stress. Guardini said you don't have to be a fitness fanatic to achieve this outcome. Any form of movement – including stretching, dancing or walking – will help. And ultimately, it's hard to improve your mental health without some attention to your physical health.
"We are one unit – mind and body," Guardini said. "In college, it's easy to only think about your head and not make time for the rest, but you need to take care of everything. During a challenging time when we don't have control over many things, we do have control over the nurturing of our own bodies."
IU has scheduled several opportunities to get outside, including outdoor group exercise classes offered by IU Recreational Sports; scavenger hunts hosted by First Year Experiences; and outdoor films, performances and lectures that utilize IU's new Open Air Venues. But considering that IU Bloomington is one of the most beautiful campuses in the country, there are endless ways for Hoosiers to enjoy the great outdoors. Here are a few suggestions.
Learn to name the trees in the Arboretum
In the 1980s, the Little 500 racetrack was moved to its current location north of campus, freeing up its former spot on 10th Street next to the Wells Library. Legend has it that the fate of this prime piece of campus real estate was left up to a vote by the members of the IU Bloomington community. Instead of choosing a parking lot, the people chose a sprawling green space.
Now, the Arboretum boasts one of every tree indigenous to Indiana, along with other species from North America and around the world. You may have walked through the Arboretum a hundred times, but have you ever stopped to read the identifying plaque under each tree?
Check out the best places for fall foliage on campus
The Technicolor trees that line the Bloomington campus are the centerpieces of the university's marketing materials and a source of nostalgia for IU alumni. Even though the coronavirus has altered many events this academic year, the changing of the seasons is not canceled.
Grab a pumpkin spice latte, curl up in your favorite cardigan and find your favorite spot on campus to enjoy the reds, oranges and yellows featured in nature's works of art.
Start watching campus critters
The particularly plump squirrels who seem to have no fear of humans may be the most infamous campus critters, but there are plenty of other forms of wildlife to observe at IU Bloomington. Head outside to count the cardinals – Indiana's state bird – in the trees in Dunn Woods, identify the fish swimming in the Jordan River and admire the herons who feast on them.
But if you're out after dark, be warned that you may encounter a skunk or two.
Cycle down the B-Line Trail
Whether you're training for a future Little 500 or sightseeing on a cruiser, there is no better place to cycle in town than the B-Line Trail. Located about a half-mile west of the Sample Gates, the trail extends a total of 3.1 miles from Adams Street to Country Club Drive and connects to the Bloomington Rail Trail at Country Club Drive, offering a total of 5.1 miles of trail.
The entire trail is paved, lit with LED lights that shine from dusk until dawn, and lined with picnic tables, fitness stations, and public art.
Play pickleball at Switchyard Park
Pickleball, a sport that combines elements of tennis, badminton and pingpong, is the perfect activity for folks who are hoping to stay physically distanced. And now, IU students and Bloomington locals have access to a brand-new, top-notch outdoor court, complete with spectator seating, at Switchyard Park.
The B-Line Trail runs right through the park, which is located two miles southwest of the Sample Gates. The city recently converted a long-unused railway switchyard into this 57-acre park in the heart of the city featuring basketball, bocce and pickleball courts; a performance stage; a pavilion; a dog park; and many other attractions.