It's an unusual sight: Indiana University Jacobs School of Music students wearing long, fabric face masks as they play their instruments during an ensemble rehearsal. But the image reflects the reality of the coronavirus pandemic, which has forced music students and professors to get creative to accommodate safety and health precautions.
Tom Walsh, professor of saxophone and chair of the Jazz Studies Department, spent much of the summer preparing necessary changes for the fall semester. With the help of his mother Julie Walsh, who has been sewing hundreds of masks throughout the pandemic, he examined what options were available for masks.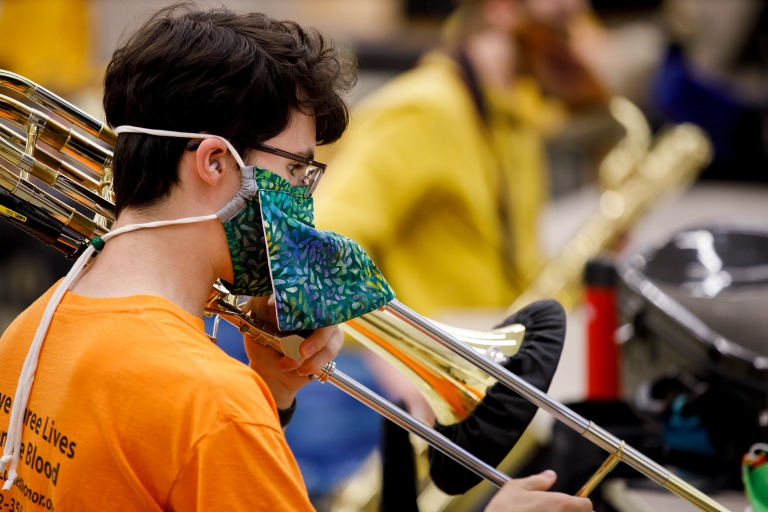 "The problem that we were trying to solve was, 'Is there a mask that we can wear while playing a wind instrument?'" Walsh said. "So, the first idea was to have a flap, where there would be an opening in the mask that would be big enough to put a wind instrument mouthpiece there."
After several trial runs, input from family members and inspiration from other musicians on social media, Walsh developed the unique masks that would allow the students to play their instruments while also filtering the air around them. The masks would have a long flap over the mouth area.
"Eventually I came around to the idea that you could extend the flap, and then if the flap was long enough, you could lift it up to put the instrument up to your mouth, but then you could also close the flap around it," Walsh said. "If the flap is long enough to close it around the neck or the lead pipe, then there would be some coverage of your mouth while you were playing, and it would filter some of the air."
The masks have magnets in the bottom of the flaps, so that when students close the flap around the instrument, it stays shut off from outside air. Walsh said the magnets make it easier for the musician to quickly close the flap with one hand while holding the instrument with the other hand.
"It makes things a little more cumbersome, but everybody has been really willing to use the masks and positive about it," Walsh said. "Those of us who are teaching in person are so proud of what our students are doing, because it is a hassle. And I would say I'm very proud of our faculty too, because everything that we have had to put in place in order to be able to meet in person, it's been a very steep hill to climb."
The masks are just one part of a number of health and safety precautions taken by students and faculty to be able to meet face to face, which is a vital part of practicing for performance groups.
"The feeling of being in the room with an ensemble and playing together is just so great," Walsh said. "That first day when we got the band playing together, we were just thrilled. We were ecstatic to have met all of the guidelines that had been given to us, and to be playing music together in person was just thrilling."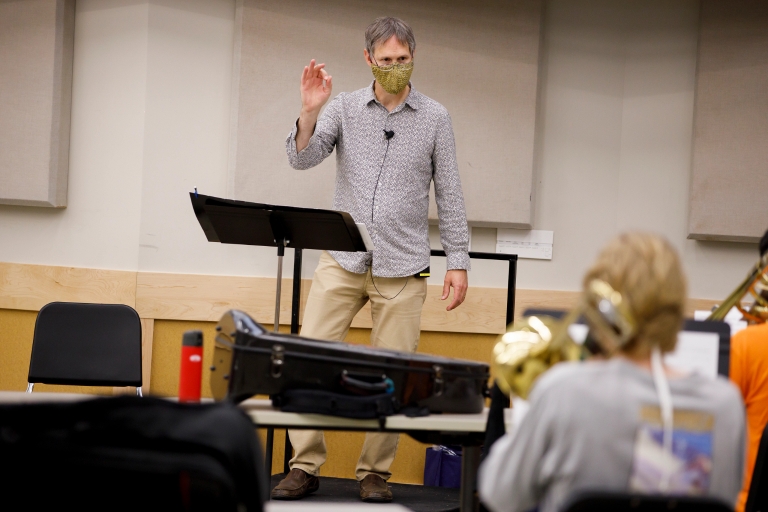 Walsh said that he and other faculty members have been setting up rooms before rehearsals to make sure each student is 10 feet apart as opposed to the typical 1- to 2-foot distance for ensembles. Other classes and performance groups have been carrying out lessons and rehearsals outdoors.
"To me, that is a unique sign of this particular moment," Walsh said. "It's showing us that we can do this, whereas at other times we would probably be self-conscious about taking a group outside to rehearse, have a lesson or do coaching. It's a total sign of the times to see all this outdoor activity. I was so moved to see all of this musical activity happening, it was just really fantastic."
Julie Walsh made 81 of the special instrument masks, along with hundreds she's donated to various organizations throughout the summer. She and Walsh have a website with instructions to share with those interested in learning how to make the masks.
"Our goal really was just to be able to meet in person and to demonstrate that we can implement measures to mitigate against the virus that will be successful, and it will allow us to carry on in person," Walsh said. "It's been very important to us to address health and safety and to use the available research to try to approach it as intelligently as possible."
Fall 2020
Indiana University is dedicated to creating a safe environment for teaching, learning and research this fall. The university has provided safety guidelines for students, faculty and staff, including an academic calendar, FAQs, and campus-specific guidance for testing, teaching and learning at fall2020.iu.edu.