Big Ten football resumes action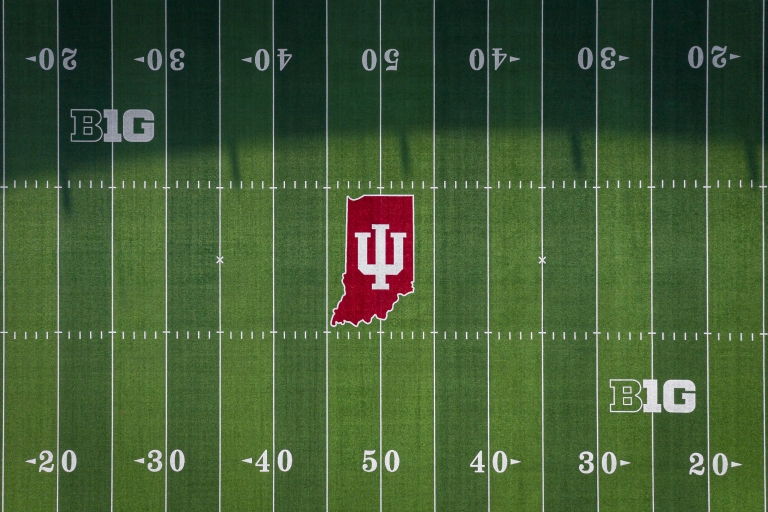 Indiana University's football program will finally get to play the 2020 season after the Big Ten Conference announced the resumption of football starting the weekend of Oct. 24. The conference had previously postponed the season because of concerns about COVID-19.
The announcement includes details of stringent medical protocols, including daily antigen testing of players, coaches, trainers and other on-field personnel. However, the Big Ten also announced that fans would not be permitted at games.
Indiana's schedule includes nine games, the first of which is Oct. 24 at home against Penn State. The Hoosiers will host Purdue in the Old Oaken Bucket game on Dec. 12.
IU Libraries adds access to Washington Post Online
IU Libraries has added Washington Post Online to its collection of national, subscription-based journalism available to all IU Bloomington faculty, staff and students.
Other publications include The Wall Street Journal, The New York Times and The Chronicle of Higher Education.
In some cases, such as The New York Times, a required activation with an IU email will allow for personalized access. In other cases, like The Washington Post, links from IU Libraries lead directly to online publication access.
Strong support IU gave United Way in '19 needed again
Indiana University Bloomington is the largest supporter of the United Way of Monroe County. IU faculty and staff raised $766,220 for the 2019 campaign, which represented 66 percent of the overall community total of more than $1.1 million.
The 1,147 IU Bloomington employees who donated to United Way in 2019 helped to support its 24 member agencies that touch one in three lives in Monroe, Owen and Greene Counties. During the 2019 IU Bloomington United Way campaign, six departments across campus hosted food drives for Hoosier Hills Food Bank that provided enough food for 413 meals, and three departments assembled baskets of baby supplies for young low-income mothers.
Now, with the racial and economic disparities that COVID-19 has brought to light, the need has become even greater. You can join local leaders and IU Bloomington faculty and staff for the United Way kickoff for the 2020 Campus Campaign, from noon to 1 p.m. Sept. 23, and help reimagine a better future for everyone in the community. Register online for the virtual event.
For more information, call 812-855-3762 or send an email to iuevents@iu.edu.
Social Justice in America Series features 3 events
The College of Arts and Sciences' Department of History is sponsoring three virtual events in the 2020 Social Justice in America Series that touch on issues of concern as we approach a presidential election during a tense political climate.
The events, scheduled for Sept. 30 and Oct. 1, are all based on the theme "Defending Democracy: Confronting Voter Suppression and White Supremacy in the New Millenium." They include a justice fair, a workshop and a town hall meeting.
Ash-Lee Woodard Henderson, co-executive director of the Highlander Research and Education Center, is the speaker for the town hall.
IU Rural Conference tackling issues such as health, housing
The Indiana University Rural Conference on Sept. 29 and 30 will bring together rural residents and leaders and IU faculty, researchers, staff and students in a virtual forum to address some of Indiana's greatest challenges and opportunities.
Hosted by the IU Center for Rural Engagement, the IU Rural Conference includes 15 breakout sessions on topics including health, quality of place, housing, the arts and community resilience. The two-day conference will also feature keynote remarks from Hancock Health President and CEO Steve Long, IU Bloomington Provost and Executive Vice President Lauren Robel, and Minnesota-based Art of the Rural executive director Matthew Fluharty.
Registration, a full list of presentations and additional details about the conference are available on the event website.
Ostrom Workshop presents online symposium honoring Ostrom's work
Few scholarly books have been as influential as Elinor Ostrom's "Governing the Commons," published in 1990. The book inspired not only an immensely productive research program at Indiana University, its ideas also earned Lin Ostrom the Nobel Prize in economic sciences in 2009 and fostered generations of researchers, students, practitioners and policy-makers who grappled with the issues surrounding governance of common pool resources in a rapidly changing world.
On Oct. 2, the Ostrom Workshop will celebrate the impact and continuing relevance of Ostrom's work with a special conference. Called "Governing the Commons: 30 Years Later," the virtual symposium will bring together a small sample of Ostrom's vast list of past collaborators and students, from IU and around the world. Short keynote speeches and four dynamic panels will discuss the impact of "Governing the Commons" on social-ecological systems thinking and practice, polycentric governance, the "new commons," and environmental justice and policing studies, the latter related to Ostrom's early work on U.S. metropolitan policing.
"The findings and analytical tools provided in 'Governing the Commons' are more relevant and needed than ever as we grapple with unprecedented environmental problems and the collective action dilemmas posed by the COVID-19 pandemic," said Eduardo Brondizio, Distinguished Professor of anthropology in the College of Arts and Sciences at IU Bloomington, and organizer of the event. "Lin and Vincent Ostrom continue to inspire and give us a sense of optimism about the power of individuals and groups to overcome our collective challenges and tragedies, an inspiration needed in the U.S. and globally."
"Governing the Commons: 30 Years Later" takes place from 9 a.m. to 12:30 p.m. Oct. 2. The event will be preceded by the seventh annual Ostrom Memorial Lecture by Frank van Laerhoven at noon Oct. 1. Advance registration for the live webinar conference is required. Find complete conference information and registration details on the symposium webpage.
WTIU hosting virtual conference about aging
WTIU Public Television is hosting a free, virtual conference to explore, explain and navigate some of the issues of growing older. The third annual WTIU Conference on Aging will be held online at 10 a.m. Saturdays, Oct. 3 through Nov. 21.
WTIU is pulling together area experts and resources to help participants find the answers to many questions associated with getting older. Attendees will learn how to make wise decisions now that keep their options open as they age.
The conference will include eight sessions, covering topics such as Medicare 101, Supplemental and Long-Term Care Insurance; Saving for and Making Money in Retirement; and What You Need to Know About Social Security. Each session will include a live chat feature so participants can ask experts questions.
Maurer 2020 grads have high pass rate on bar exam
The Maurer School of Law's pass rate for its 52 first-time takers of the Indiana Bar Exam was over 98 percent in July. The pass rate for those taking the Indiana Bar Exam from the Class of 2020 was 100 percent. The school's overall pass rate, which includes repeat takers, was over 93.5 percent.
"A big congratulations to our Class of 2020, who worked hard this summer and made the school proud under challenging circumstances," said Austen Parrish, dean and James H. Rudy Professor in the Maurer School of Law. "And a special thank you to everyone – faculty, staff, alumni and others – who supported our students."
IU Athletics pausing on Election Day
IU Athletics will not be in action on Election Day as part of the department's efforts to help its student-athletes be informed about and vote in the upcoming election. Nov. 3 will be a mandatory off-day from all athletically related activities.
Announced by IU Vice President and Director of Intercollegiate Athletics Scott Dolson and his predecessor Fred Glass on June 8 in an email to students and staff, it is one of a series of steps IU Athletics outlined to find and implement ways to fight racism and secure racial justice and equality.