While many student internship opportunities vanished this summer due to COVID-19 concerns, the Indiana Sustainability Development Program persevered and continued to serve Indiana University students and the state.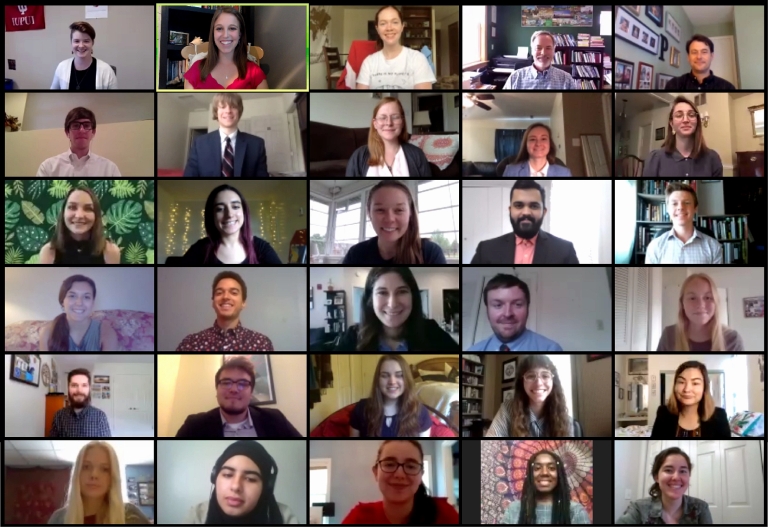 The Indiana Sustainability Development Program combats the loss of workforce talent in sustainability by connecting the wealth of talent produced by IU's academic programs to sustainability needs across Indiana. The program trains students and places them with Indiana businesses, nonprofits and municipalities over the summer to assist with sustainability work, including climate change mitigation and adaptation.
Funded by the McKinney Family Foundation, the Indiana Sustainability Development Program is a program of the Sustain IU office and is open to students on all Indiana University campuses. Sustain IU works closely with the Environmental Resilience Institute, the IUPUI Office of Sustainability, the Center for Rural Engagement, the Integrated Program in the Environment and others for a unique externship experience.
In March, amid growing COVID-19 concerns, program manager Danni Schaust redesigned the Indiana Sustainability Development Program to operate virtually for the summer. The program has thrived; 26 students attended a two-day virtual sustainability and climate change "boot camp" training in early May and then spent the remainder of the summer teleworking with their placement organizations.
One of the program's stated goals is to normalize sustainability work across all sectors, retaining talented students in state after graduation. The program provides students with hands-on, real-world experience to help them understand the multidimensional nature of sustainability work: economy, environment and equity.
Logan Pollander, a Master of Public Affairs student in the Paul H. O'Neill School of Public and Environmental Affairs, gave back to his hometown of Fort Wayne this summer as an Indiana Sustainability Development Program extern.
He said the program "has given me the opportunity to professionally invest myself in a cause that has always mattered to me: environmental sustainability."
"I want to see Fort Wayne become a leader amongst cities, both in Indiana and across the United States, in climate mitigation and sustainability.Working for Fort Wayne added a personal dimension to all of that for me, in that it allowed me to apply my passion to the places I am most familiar with. It's empowering, knowing exactly where the benefits of my work are going, and I am grateful for the opportunity to give back in such a profound way to the communities that made me who I am."
Pollander is continuing to work with the city of Fort Wayne to complete its Climate Action Plan this fall.
In addition to gaining experience working full time in a professional setting, Indiana Sustainability Development Program externs serve as leaders in sustainability for their host organizations. Pre-law and environmental science senior Amani Khoury worked with the Indiana State Museum.
Reflecting on her summer experience, Khoury said she was proud "to integrate sustainable practices into the infrastructure of the museum by assisting in the development of a solar lighting solution for the Limberlost historic site. I am looking forward to furthering sustainability in Indiana, a place I will always be proud to call home."
Because of the benefit it provides for students and communities, the Indiana Sustainability Development Program has been recognized by the National Association of College and University Business Officers with the 2020 Excellence in Sustainability Award.
Beyond each annual cohort, the Indiana Sustainability Development Program continues to have long-term beneficial effects on its alumni. Alumna Lauren Travis serves as the assistant director of sustainability for the city of Bloomington. Among a myriad of initiatives, Travis leads the implementation of Bloomington's Sustainability Action Plan, which focuses on areas such as climate action, local food and agriculture, transportation, energy, and waste.
"I am grateful for the community engagement experience I gained through participation in the 2017 Indiana Sustainability Development Program cohort that has served me well to this day," Travis said of her time as a program extern.