Adventure and discovery are at the fingertips of Indianapolis art lovers.
Take a virtual tour or start a real-life scavenger hunt with Indy Art & Seek, a partnership between Keep Indianapolis Beautiful and the Arts Council of Indianapolis that uses an app to offer a self-guided public art tour. More than 100 public art interventions or "moments of delight" have been commissioned for the interactive experience around Indianapolis.
Herron School of Art + Design at IUPUI is well-represented throughout the project, with 15 staff and alumni contributing to the event.
To experience Indy Art & Seek, download the Otocast mobile app and search "Indy Art & Seek." You sign in to earn badges for any visits to the art pieces. The app also has a searchable component to look for different topics and names. Each art display is clickable with background information and pictures of the installation, and some also have audio components to accompany the art page.
Inside IUPUI chatted with some of the artists with Herron ties.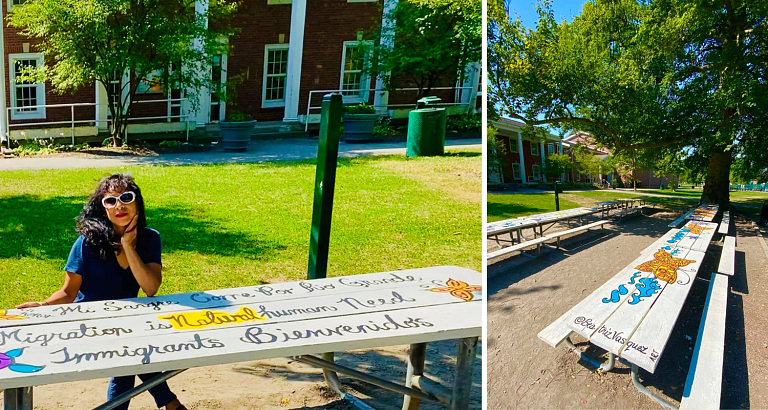 Beatriz Vasquez
BFA general fine arts from Herron, '06
Vasquez created two installations for the Indy Art & Seek event. "Monarch Sanctuary" is a paper sculpture inside the Christian Park Center, and "Monarchs Are Immigrants" is a welcoming mural on eight picnic tables at Christian Park.
Q: What was your inspiration for the artwork?
A: I consider myself an "Artivist" – I am a social justice artist, and I believe that representation matters. My inspiration for this project was to create an inviting and welcoming space for immigrants living in the Christian Park community.
Q: Considering the COVID-19 pandemic and resulting limitations on social activities, how neat of an event is this for people to explore?
A: The space allows safety – with a mask – of preventing contamination of COVID-19, it's outdoors, and the park is very pleasant. It's the perfect atmosphere during these times of the pandemic.
Cory Robinson
BFA woodworking '96; professor of furniture design
Robinson's artwork "Codex signs" are street sign-style creations that will be installed at the busy intersection of Emerson Avenue and 34th Street. The versatile Herron professor's contribution to Indy Art & Seek is finishing up at the production facility and will be installed soon. Robinson is using the installation space to "make artworks that present as a series of signs" with a personal artistic style that he describes as having "a language- and symbol-like quality to it."
Q: What was your inspiration for the artwork?
A: I felt like this work would have multiple audiences – from the daily commuter who sees the corner of Emerson and 34th almost daily in their car, to neighborhood residents of Forest Manor neighborhood, to the residents at the Walnut Ridge Apartment Community, who is the site partner.
With all of these various audiences, including those who are deliberately using the Indy Art & Seek app to find these neighboring art installations, it is my hope that presenting my artworks in this way would spark a certain amount of curiosity about the project and lead a percentage of the viewers to find out more about me, my work and the nearly 100 other artists working on this project in 2020.
For another percentage of this audience, I imagine that their curiosity may not go beyond recognizing the artworks, and for those folks I hope my pieces create enjoyment and add to the site in a way that is unexpected from a public art project.
Q: Considering the COVID-19 pandemic and resulting limitations on social activities, how neat of an event is this for people to explore?
A: As the stay-at-home order took over in March and the weeks turned into months of dealing with new COVID-19 guidelines, I began to see a call from our neighbors to place stuffed teddy bears in the front windows of houses to help create a scavenger hunt for young family members stuck at home and away from school and the stimulus that comes from being out of the house.
This project was coming online in a similar time frame, and I liked the idea that a similar thing would happen with the Indy Art & Seek projects around Marion County. Some would see the artworks as random placements or new beatification for the neighborhood in their daily commute or walk, while others would seek out the sites as part of the app-supported scavenger hunt.
This project was not designed to be a relief for COVID-19-related stresses or to show and exhibit artwork in this time, but it serendipitously creates a new opportunity for artists to show their work to a wide audience that fulfills all the rules of social distancing and neighborhood engagement.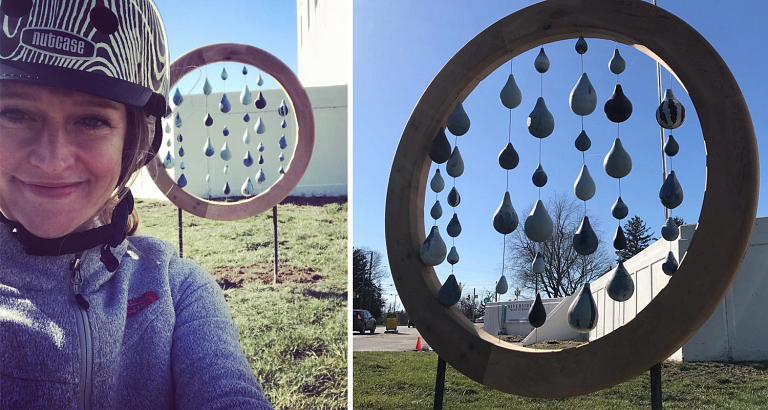 Kimberly McNeelan
MFA visual art, '16
McNeelan's wood-and-paint installation "Not A Drop to Drink" celebrates the Riverside neighborhood's commitment to cleaning up the White River and calls for more local and national action to preserve the river's health. The Indianapolis-based furniture-maker and sculptor worked with children from the Riverside neighborhood and art students at Riverside High School to help make and paint the water droplets. She is working on two other installations for Indy Art & Seek that are in the process of being installed, called "By: Current, Past, and Future People" and "Bat Haus."
Q: What was your inspiration for the artwork?
A: Nature has always been an inspiration for my work, and the ideas surrounding ecologically focused projects come to me by spending time in natural environments. 
The Riverside neighborhood is surrounded by three waterways: White River, the Central Canal, and Fall Creek. I've recently attended events about cleaning up White River, which is an amazing and complicated undertaking, and I dream of a day when it is safe to swim in this wonderful natural resource.
I wanted my first Art & Seek installation to remind passersby of the waterways. Through community conversations, it became clear that a sculpture about water would be a good reminder of the beautiful resources in the neighborhood.
Q: Considering the COVID-19 pandemic and resulting limitations on social activities, how neat of an event is this for people to explore?
A: Art & Seek is a wonderful activity for people to check out during this challenging time. Folks can stay safe, enjoy art outdoors and find parts of the city that might be new to them!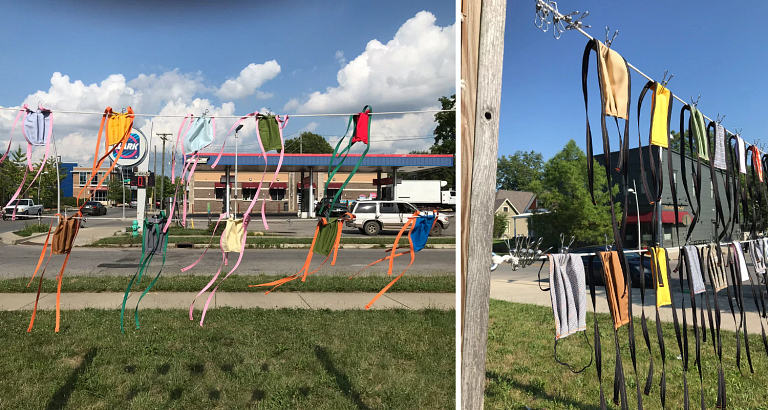 Philip Campbell
BFA general fine arts, '89
Campbell, who manages a team in the emergency department at Eskenazi Hospital, has two installations off 10th Street titled "Free PPE" and "BRASS Flag" as part of Indy Art & Seek. "Free PPE" offers free masks for any visitor that needs one during this time of the COVID-19 pandemic. "BRASS Flag" is a quilted flag made with fabrics from people living in the surrounding neighborhoods of Brookside, Rivioli Park, St. Clair and Springdale to represent unity and inclusion.
Q: What was your inspiration for the artwork?
A: I had been making masks since March – first for family, and then for Eskenazi Hospital. We do wraparound services for patients who have opioid use disorder. We help them with treatment, housing, food, medications and so on.
It is staggering how many people do not have access to the simplest things or knowledge of how to acquire it. Offering free masks to the public and asking others to participate was an easy transition from what I was already doing.