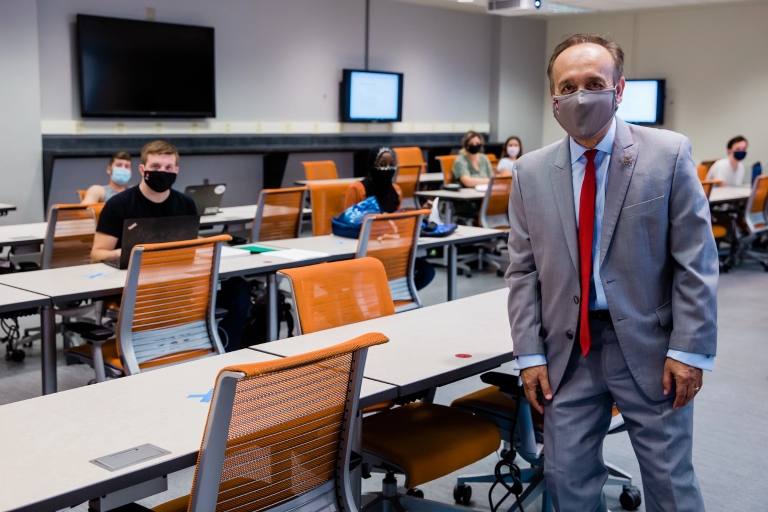 With the semester successfully underway, here are some of the frequently asked questions – and answers – from the September staff and faculty town hall meeting with Chancellor Nasser H. Paydar.
Q: Given that a seasonal flu vaccine will be required for all IUPUI faculty, staff and students, could you offer any information about the timing and locations of on-campus clinics?
A: Typically, on-campus flu shots are available in late September or early October, and this year will be no different. We will be designing the flu shot clinics to promote health and safety, with required masks and safe physical distancing as well as additional personal protective equipment for those administering the vaccinations. More details regarding on-campus flu shot clinics will be available in the coming weeks, including a story in next week's Inside IU newsletter.
Q: How do you submit confirmation of receiving your flu shot from an alternate provider (PCP, CVS, Walgreens, etc.)?
A: There will be a mechanism by which faculty, staff and students can submit documentation. Once this mechanism is in place, the campus community will be notified. Please watch your email, as well as the Inside IUPUI and JagNews newsletters, for more information.
Q: What is the appropriate way to approach a situation where someone on campus is either not wearing a mask or is not wearing it correctly?
A: If someone is not wearing a mask or is wearing it incorrectly, the best way to approach the situation is with understanding and information. A simple statement that masks are required on campus might be enough. Directing the person to a nearby office where extra masks are available is also helpful in the event that someone just forgot to bring a mask. With compassion, respect, health and safety as our guides, we will get through this together.
Check the face-covering section in the Fall 2020 site's FAQ for more information on the policies, including a way to report noncompliance.
Q: Will the IUPUI campus close over the winter session like it did in March?
A: The campus will not close over the winter session, just as it didn't close in March. In the spring semester, all instruction shifted to remote delivery, and faculty and staff were asked to work from home if possible. But critical research functions continued, and campus facilities were consistently maintained throughout the spring and summer months, with essential employees remaining on campus.
All classes will again move to a virtual format in late November. Student services will be offered virtually, but the campus will not be closed. The goal during the winter term is to reduce the on-campus population during the height of flu season. Those essential staff members whose presence is needed on campus during the winter session will continue to follow the safety protocols to mitigate the spread of influenza as well as COVID-19.
Q: How can faculty, staff and students request IUPUI face masks if they did not receive them?
A: Send an email to vcfiad@iupui.edu with a request.
Q: Are there special cleaning protocols for campus spaces, including laboratories, if someone who has used them tests positive for COVID-19?
A: Campus Facility Services is notified through the IU COVID-19 contact-tracing process of any building spaces that may have been used by anyone testing positive for COVID-19. This includes labs, classrooms, offices and so on. CFS responds by deep-cleaning these areas per the COVID-19 deep-cleaning instructions provided by Environmental Health and Safety.
Q: Is IUPUI doing anything to measure faculty, staff and student engagement and satisfaction considering the fact that many people are learning, delivering instruction and providing services remotely?
A: In the spring 2020 semester, IUPUI Institutional Research and Decision Support administered surveys to faculty and students to assess their level of engagement and satisfaction. Results of those surveys can be reviewed at the following links (CAS authentication required): student surveys and faculty and staff surveys.
IRDS is currently planning a student check-in survey designed to assess their levels of engagement and satisfaction as well as connect them to resources if they are struggling.
Q: Do guests to campus, including guest speakers, have to get a flu shot?
A: The university is strongly discouraging having guests on campus as we work to mitigate the spread of COVID-19, especially with flu season around the corner.
If faculty members want to have guest speakers in their classes, they are encouraged to host those speakers via Zoom or have them present via prerecorded video. Off-campus vendors and other service people must abide by the university's policies on masks, physical distancing and hand-washing when they are on campus. The university does not have the capacity, resources or infrastructure to provide flu shots for those vendors or to track whether they have been vaccinated.
Q: Would someone walk us through the mitigation process?
A: The strength of our weekly mitigation-testing program depends on widespread participation. If you are selected, you are expected to either take the test or complete the exemption form.
Those selected for weekly mitigation testing will receive an email with a link to schedule an appointment. Setting up these appointment times allows IUPUI staff to manage the flow of people and maintain physical distancing during the process. You can request an exemption at this time if you meet the narrow set of exemption criteria. This same email contains a link to request an exemption.
Be certain to hydrate in the hours prior to your appointment. However, in the 30 minutes prior to your testing appointment, you should not eat or drink (including water), smoke, vape, or chew gum. Please enter on the east side of Barnhill Garage on the IUPUI campus for your appointment. When you arrive, on-site staff will work with you to make sure you have the Vault registration webpage up and opened on your smart device. If you do not have a smart device, equipment will be available onsite to finalize your registration process. Be sure to use your local (campus or other) address. This is important to the proper routing of your test results.
Note: If you are displaying symptoms of COVID-19 (or have in the last three days), including new fever, cough, shortness of breath, chills, muscle pain, or loss of taste or smell, please do NOT show up for mitigation testing. Make an appointment for screening via the IU Health Virtual Clinic as soon as possible. Also report this by returning to the invitation e-mail and completing an exemption form, indicating that you have symptoms and are seeking medical attention.
At the testing site, you will go through a COVID-19 symptom check. In addition, you will be asked whether you have been in close contact with someone who has COVID-19, have tested positive or have been told that you were positive for the virus in the last 90 days. If you have symptoms or answer "yes" to these other questions, staff will direct you toward other health care options to keep you and the rest of the community safe and healthy.
After the symptom check, you will be officially checked in for testing and will receive a test kit. The kit includes a unique barcode that, when entered into the Vault registration website, links your account with that particular test kit so you will receive your results in a timely manner.
With your test kit, you will go to a designated physically distanced spot and deposit your saliva in the test kit vial. Although it appears that you will have to produce a great deal of saliva, in reality, you need a relatively small amount (3 milliliters).
After you've finished and a staff member has verified that your sample meets the requirements, you will remove the funnel and screw on the provided top to your vial, which releases a preservative into your sample. You will then shake the vial to mix in the preservative, clean off the entire vial with an alcohol wipe and deposit the vial as instructed so it can be properly packaged for shipping.
Hand sanitizer is available, and you will exit Barnhill Garage to the west so the flow of people remains orderly. On average, the process takes between 10 and 15 minutes.
Q: I'm interested in learning more about the comprehensive testing program on campus. Where can I find more information?
A: There is a wealth of information available regarding mitigation testing on the Fall 2020 website.