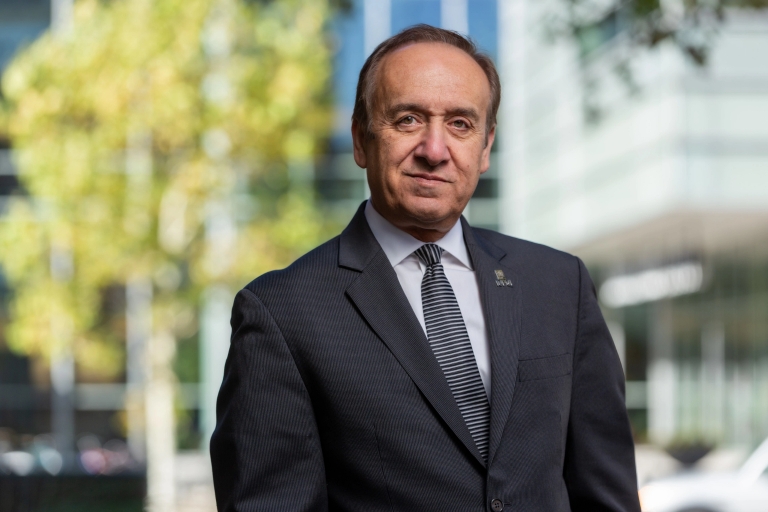 We are in the midst of our fifth week of classes at IUPUI. Before turning to our campus's continuing fight against COVID-19, I want you to know that we are deeply concerned about the two reports of recent criminal incidents on campus. We continue to stress that, especially with fewer people present on campus, we need for everyone to be aware and report any suspicious activity right away to the IUPUI police department.
We are committed to the safety of our campus community and will continue to work with campus partners to identify additional security measures. To that end, the IUPUI Police Department has already instructed its officers to make additional patrols in academic buildings to provide visibility and to enhance safety. IUPUI Police Chief Doug Johnson will be joining upcoming town hall gatherings to answer questions and share updates, including the Faculty and Staff Town Hall that will take place from 10 to 11 a.m. Oct. 8.
COVID-19 has truly transformed our campus. Many of you are adapting your teaching, research and other activities to meet the needs of students and our broader community. I know we have asked a lot of each of you, and I am proud of how you are rising to the challenges imposed upon us by this ongoing pandemic. Even as we continue to face hurdles, I appreciate all you are doing to promote the health of our community. We have tested thousands of people over the past few weeks, and only a handful have tested positive. This is a point of pride for our campus, and it should also strengthen our resolve to continue our good work.
Our weekly mitigation testing is a vital part of the work to promote health and safety across our campus. This testing allows us to identify and isolate people with asymptomatic cases of COVID-19. It combines random testing of all members of the campus community with more intensive testing of those who may – for different reasons – be more vulnerable, such as those living in residence halls.
As flu season and colder weather arrive, we are aiming to increase the number of people tested to better allow us to find and mitigate COVID-19 before those people showing no symptoms unknowingly spread the disease to others.
When you get a notification about testing, please respond to it immediately. Just last week, 10 percent of our faculty and staff selected for testing did not respond at all to the email notification, neither scheduling their test nor requesting an exemption. This causes us to worry about their health and welfare. It also jeopardizes the effectiveness of our testing program. With all that everyone is doing to keep the campus safe, the last thing we need is to require additional work from our colleagues in order to track down people who are not complying with the testing requirement.
All of this is part of the commitment we made to take care of ourselves and one another this summer when we signed the Community Responsibility Acknowledgement. Our goal with this and our other safety precautions – wearing masks, observing safe physical distance and washing hands – is to take care of our families, friends, colleagues, students and ourselves.
If we all do our part and strengthen our resolve in the fight against this deadly disease, we can get through this together.
Nasser H. Paydar is the chancellor of IUPUI.