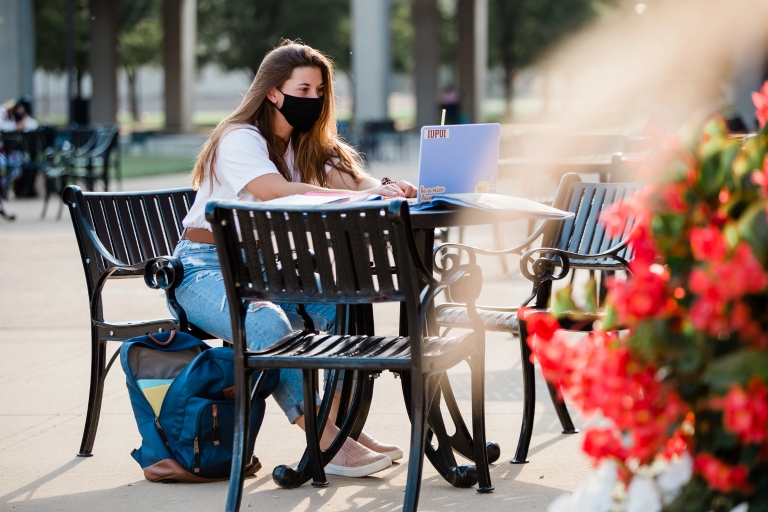 We've all been on them. Our days have been filled participating in them. Indeed, the COVID-19 pandemic has granted most of us a minor – and for some, a major – in Zoom meetings. But do we know the best practices and protocols for how to handle Zoom meetings, months into conducting most of our professional and personal gatherings virtually?
The communications tool has been an integral part of keeping the university functioning, both educationally and professionally, through the pandemic.
"Zoom has been essential to continuing the day-to-day operations of IU during the current situation," said Beth Nolen, senior IT education specialist with UITS Digital Education Programs and Initiatives. "Without Zoom, the transition to working and learning remotely would not have gone as well as it has."
We talked with Nolen about Zoom etiquette and common issues with our most frequently used videoconferencing tool.
Be aware of your audio
This might be the most important Zoom etiquette tip: Awareness of your microphone being on or off is crucial. We've seen comical examples shared on social media or have witnessed some ourselves. None of us wants to be embarrassed or bring unwanted attention.
Most people have developed the habit of keeping themselves on mute unless they are talking, but there are still instances when background noise can affect the meeting. Try to take meetings in a quiet place or somewhere where distractions are limited.
"While those audio distractions might be something you're used to on your end, others in the meeting may find them distracting. And at times, they might drown out whoever's talking, which makes it hard for anyone in the meeting to understand what's going on," Nolen said.
Lights, camera … action?
An enriching part of Zoom is being able to see our co-workers and friends smile and react. But is it always necessary to have your camera on? A variety of factors dictate whether it's best to have your camera on or off.
In large meetings, it's often better for the connection speed if everyone keeps their camera off unless they are speaking or presenting. When you are actively participating in a meeting, it's recommended to keep your camera on.
Nolen cited having self-awareness for determining your camera status. If there's something distracting happening in the background or you have to step away briefly, turn off the camera.
She also recommends setting your Zoom profile picture to a photo of yourself.
"Even when your camera is off, people will still get to see you," Nolen said. "Even if it's only a still image."
Take notice of your surroundings
Everyone might have a set spot where they take all of their Zoom meetings, but it's important to be aware of what's around you and can be seen in the background.
Nolen suggested if you are taking a meeting in a different location, do a test first to see what's visible around you.
"If anything needs to be moved, or if you need to adjust your lighting so you can be seen more clearly, it's better to take care of that before any meetings you need to attend," she said.
Use Zoom backgrounds appropriately
It's a fun experience to see the variety of different Zoom backgrounds in meetings, and it can be helpful in eliminating possible background distractions. But be aware of the tone of the meeting and whether it's appropriate to use a background.
Nolen said in more relaxed meetings, it's fine to look like you're on the beach or in space. But for a formal meeting, consider a simple background or none at all.
Home distractions are going to happen
Whether it's a ringing doorbell, a screaming kid or an attention-seeking animal, when we work from home, distractions can reveal themselves in Zoom meetings. Everyone loves seeing kids and pets, but Nolen said to try to limit appearances to not be consistently distracting.
The context and setting of the meetings obviously factor into the involvement of these guests. Sometimes the distractions are out of our control, and that comes with the territory of working from home.
Dress for the meeting
If you're wondering what to wear, again, it's all about the context. In a more relaxed meeting, casual clothing is fine. But if you're in a more formal meeting or are going to be presenting, dress for the part. Nolen mentioned that when teaching a workshop over Zoom, she dresses like she would when teaching in a physical classroom.
Use Zoom's tools to help enhance meetings
Zoom offers a wealth of features that can help make it easier to communicate in meetings. The chat function can serve as resource for additional information or to ask questions.
Nolen also cited the annotation tool as important when screen-sharing to be able to mark up the screen. There's also a whiteboard option, instead of a screen share, to which everyone can add notes.
The small selection of emojis can be used to take a quick poll or for attendees to offer simple feedback.